Chicago Bulls: Why the Rest of the NBA Should Be Very Worried Right Now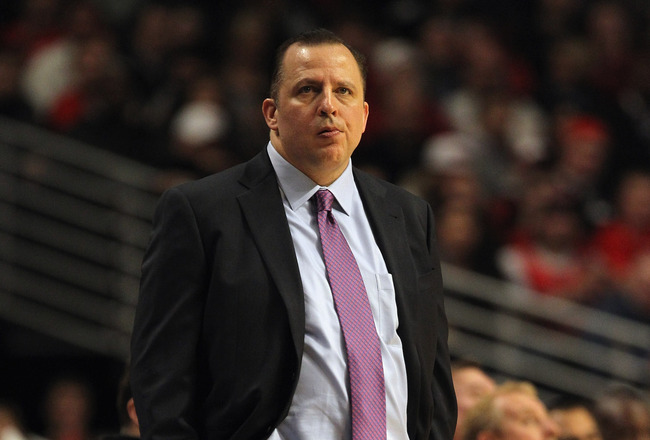 Jonathan Daniel/Getty Images
Going into this year we all knew the Bulls would be good. Most thought the Heat would be better. And possibly the Celtics. And maybe the Knicks?
We are now getting a glimpse of what the Bulls truly will be this year - dominant.
We are only 7 games in, I grant you that. But with the cross section of teams the Bulls have played thus far I believe it can be viewed as a microcosm of the upcoming season.
Los Angeles Lakers - Average game for the Bulls against one of the West elite on the Lakers' home court, Christmas Day. Rose game winner. That's what winners do.
Golden State Warriors - Not an unusual let down, but a team they should have beaten.
Sacramento Kings - A good team playing on their home court - couldn't hang with the Bulls.
Los Angeles Clippers - A sleeper team in the West with the addition of Chris Paul. Rose made All-Defensive 2nd Team Paul look old, slow and average.
Memphis Grizzlies - Oh Dear God. This was a team many thought would emerge after their nice playoff run last year. The Bulls made them look like the JV team from my high school.
Atlanta Hawks - Never say die in a game where they could not have shot much worse through two and half quarters.
Detroit Pistons - Even on the road, a team the Bulls were expected to beat and they did.
Emergence of the Boozer of Old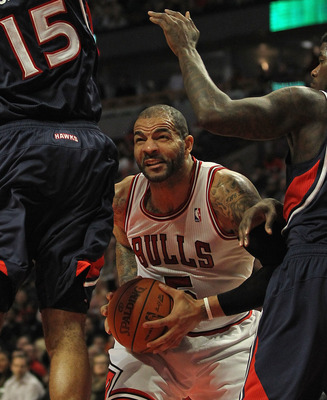 Jonathan Daniel/Getty Images
Carlos Boozer has always been a very emotional player. It's one of the reasons I liked the guy so much in Utah.
When I heard he was coming to the Bulls I was thrilled. Derrick Rose would take on the Deron Williams role and we would be off and running.
Then the injuries happened. (Stupid, suspect injury to boot.)
Everyone jumped all over him.
Well, everyone got what they wanted. Boozer is mad and he's playing like it. He's playing with every bit of emotion but with more control.
A smarter, fresher Boozer is good for the Bulls and bad for everyone else.
Luol "Gosh" Deng!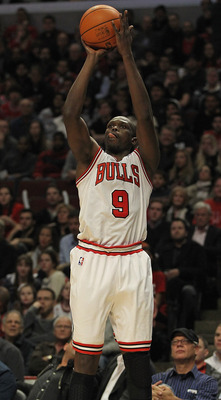 Jonathan Daniel/Getty Images
Last year we started to see what kind of player Luol Deng could be. Who knew he was that good a defensive stopper? Who knew his outside game could catch fire?

Now we're seeing the whole player. He's playing with confidence. He's playing like a veteran. He's taking more shots, looking for more shots.
Taj Gibson's Thunder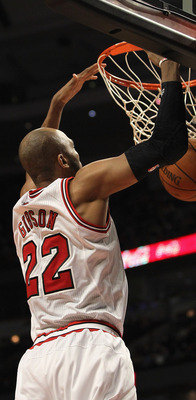 Jonathan Daniel/Getty Images
It was the dunk heard 'round the playoffs. http://www.youtube.com/watch?v=BmN-MIbvLks
Sorry, dunks, heard 'round the playoffs. http://www.youtube.com/watch?v=oQTlYUTt844

Two of the greatest dunks in the history of the NBA playoffs. These dunks changed Taj Gibson. They changed him into the player he is now - a confident, super 6th man, who many have chosen as the potential 6th man of the year. He will be a starter in this league. I pray it's with the Bulls.
Having this Taj Gibson, a year older, a year wiser... Bulls opponents' heads will be on a swivel trying to keep up.
Mr. Rose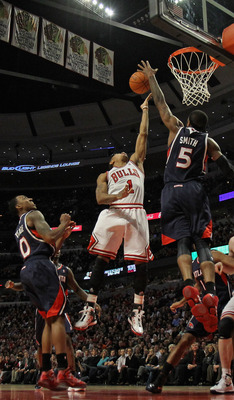 Jonathan Daniel/Getty Images
Mr. Rose is Derrick Rose. Mr. Rose is healthy. Mr. Rose is coming off an MVP season.
Mr. Rose scored the game winner against the Lakers after a subpar, pass-first game.
Mr. Rose scored 17 points in the 4th quarter to fuel a furious comeback against the Hawks, in a game they never should have had a chance to win, much less actually win. As Al Horford said "We dominated for most of the game. Just Derrick Rose happened."
That's going to be a recurring theme this year.
Mr. Rose has always had the confidence. Now he has the MVP hardware. Next up? NBA Finals. That's all he wants.
Mr. Rose gets better in the 4th quarter. The rest of the league can't do anything to stop it. Every team should feel a bit more worried about their chances and a certain Miami Heat player should take heed of the shot across the bow.
Dwight Howard... or the Lack Thereof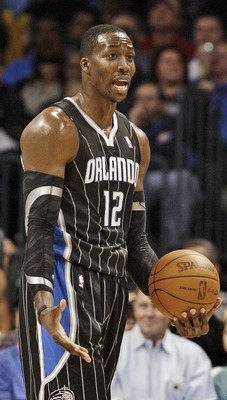 Brett Deering/Getty Images
Whether the Bulls called Orlando about Dwight Howard remains to be seen. Did they really say take any three players outside of Derrick Rose?
Or did the conversation never happen?
I am drawn to the latter. I don't believe the Bulls were ever that serious about Howard.
Regardless of whether the Bulls were on Howard's list of teams he would consent to be traded to, if the Bulls were interested, they would have made it known.
I don't think they were all that interested. Yes, Howard is a brilliant talent and one I would love to see in a Bulls uniform... but...
There is no way in Sam Hill I would give up Noah, Deng and Gibson to get him. Not a chance. Not after 3-4 vodka tonics, not after shots of Jameson, not after pounding a mini keg.
The fact that the Bulls' roster is intact has had a domino affect on the team. Everyone is feeling more confident, more "untradeable." They feel wanted.
The family is staying together. That's the way the players like it, the way management likes it, and the way the city likes it. We started this thing together and we're going to finish it that way.
Keep Reading

Chicago Bulls: Like this team?