NFL Offseason 2012: 3 Radical Options for the Washington Redskins
January 5, 2012
Patrick Smith/Getty Images
In the last decade, no fanbase has been exposed to the horrors of the "win now" mentality more than the that of the Washington Redskins.  D.C. has an infamous reputation as a destination for stars to immediately decline and end their careers with a whimper.  The list of failed free-agent projects is too extensive to discuss, and it seems to happen with every big name brought into the nation's capital.
But 2012 could be a different case for the Washington Redskins.
Yes, the Skins were 5-11.  Yes, they were quite bad.  But Redskins fans can generally agree: this team is a few players away from being quite good.
Most teams can make this claim but for the Redskins it's a different story.  They already have a solid defense that needs a few upgrades, an offense that has talent but lacks direction and a coaching staff that has proven it has the ability to win.  And there is a wealth of young talent that made 2011 watchable and exciting.
So, what can the Redskins do?  Below, I list three ways the Redskins can use the 2012 offseason to their advantage.  These aren't low-risk examples; on the contrary, they are ideas that could completely reshape the direction the Redskins go in for the next several years.  But what fun is low-risk decision making?  Let the debate begin.
1. Sell out on the wide receivers.  
Wide receiver has been a problem area for the Redskins for a number of years.  Santana Moss has been serviceable for several seasons and has had a superb attitude despite all of the losing.  But the fact remains that he's getting old and he doesn't have the ability to be a legitimate No. 1 option anymore.
And who's behind him?  Jabar Gaffney, the inconsistent possession guy?  Anthony Armstrong, the inexplicably seldom used deep threat?  Or Donte Stallworth, who killed a guy?
Check out the list of unrestricted free agent WR's in 2012: Dwayne Bowe, Marques Colston, Braylon Edwards, Steve Smith (the other one), Pierre Garcon and Plaxico Burress, among others.  The Redskins are way under the salary cap so money isn't an issue.  If they draft a QB in Round 1 of the 2012 Draft, that QB will need a good receiver to throw to.  A guy that's tall.  A guy to take the pressure off of Moss.
Bowe is a proven commodity and a hard worker.  Edwards has character issues but his talent can't be denied.  Colston has been a surprisingly good player for several years now.
The Redskins don't need to address receiver in the draft, because they can get one through free agency.  
How about more than one?
2. Trade for Peyton.  
This move has "failure" written all over it but it could be a very good deal for a team that many consider to be a quarterback away from a contender.  Peyton Manning has arguably been the best quarterback of the last decade and I'm sure he still has some juice left.  
The Redskins would have to sell a lot—a high draft pick and some good young talent — but it would give the team some legitimate hope.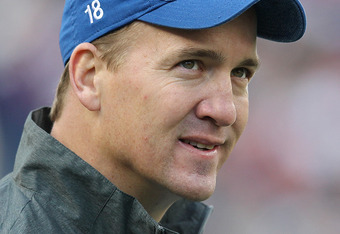 Jim Rogash/Getty Images
I know, I know.  We all remember the Donovan McNabb experiment.  Let me state: Peyton Manning is much, much better than Donovan McNabb.  I think we can safely assume a Peyton deal would work out much better than a Donovan one.
This deal probably won't happen.  But if it does, it signals to the rest of the NFL that the Redskins are ready to make a splash.
3. Bring back Carlos Rogers and sign another defensive back.  
Ridiculous.  Carlos Rogers?  Well, he had a pretty good year with the 49ers and will probably re-sign, but the Redskins could find a way to get him back.  He's familiar with the system and is a pretty decent player (he also learned how to hold onto interceptions this season).  Defensive back is not one of the Redskins' strengths, so they need to improve it in any way necessary.
They also would need to sign another proven DB, and options could be players like Leon Hall (a long shot but we know Snyder can break the bank) or Jason Allen, along with several others.
I am aware that Redskins fans may disagree with the "win-now" strategy, but it doesn't even have to be called that; the Skins could sign a bunch of good players and still develop the talent they have.  I will say one thing — they shouldn't give up more than one draft pick this offseason.  Those are absolutely essential.