Los Angeles Clippers Rebounding Concerns Are Exaggerated in a Weird NBA Season
January 5, 2012
Patrick McDermott/Getty Images
Did anyone really think this would be business as usual in the NBA?
Let's start the season with an end to a lengthy lockout that felt more forced on both sides than agreed upon. Great start.
Then let's veto a trade that was already announced. Players saying goodbye, commentators commentating, GM's shaking hands until the NBA hits pause, rewind and erase. Smooth sailing, right?
Follow all that drama with a shortened and rushed preseason followed up by a shortened and rushed regular season. What could go wrong?
The 2010-2011 NBA season has a "kid with a new chemistry kit" feel to it. I'm not sure if those are even available anymore, but I remember as a kid seeing kits with all sorts of chemicals and experiments in a box. Grab that test tube, pour in a little of this, some of that and a pinch of whatever this is and hope for the best.
POOF!!
Welcome to your 2010-2011 NBA season!
I feel bad for whoever is going to win it all this year. With his luck, it will probably be LeBron James and his Miami Heat. Instead of screaming into the mic as the confetti falls how "ANYTHING'S POSSIBLE!!!" like Kevin Garnett, James will be forced to spend his career defending the championship with an asterisk.
Consider that in this shortened NBA season, a player with a career average of four assists per game is leading the league with 10. One of the greatest players of all time is playing with one hand. One of the NBA's franchise teams fills its most glaring weakness on defense and continues to be lousy on the defensive end.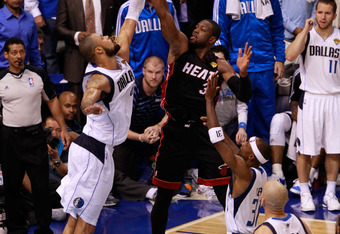 Tom Pennington/Getty Images
This isn't an NBA season as much as an Alfred Hitchcock movie. It's weird, hard to follow, impossible not to watch and at the end it leaves you feeling, kinda empty.
When Kyle Lowry leads the league in assists, Kobe Bryant is playing with his wrist muscles bouncing around inside his shooting hand and Tyson Chandler can't help the Knicks, you know something is off.
Add to that the Clippers' rebounding woes.
It's odd isn't it that a team with a PF who averaged over 12 rebounds last season and a center who brought down seven in a part-time role can't seem to out-rebound anyone? Odd yes, cause for concern, no.
Welcome to your 2010-2011 NBA season!
Lowry is a great player, but he won't end the season leading the league in any category. Kobe is an other-worldly player but the damage he is doing to his wrist will come back to haunt him. Chandler and the Knicks will be OK, but maybe not before Coach D'Antoni is looking for work. The Clippers, well, like everything else here, will adjust in time and they will be OK.
Adding Reggie Evans to the rotation, which is expected to happen soon, will certainly help.
The Clippers will be fine, rebounding isn't a weakness for this club, just a symptom of the wackiest NBA season, ever.