John Elway Wants Tim Tebow to "Pull the Trigger" to Denver Broncos' Demise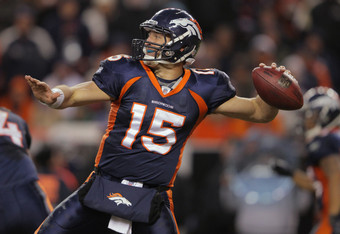 Doug Pensinger/Getty Images
Denver Broncos executive vice-president and Hall of Fame quarterback John Elway is now calling for current quarterback Tim Tebow to "pull the trigger" in the passing game against the Pittsburgh Steelers in their upcoming wild-card matchup.
Elway, while understandably nervous about the upcoming game, is suggesting a course of action that will cause the Broncos to suffer their own demise.
The last three games have been frustrating for Broncos players, fans and front office personnel, and the team has lost them all on their way to a backwards slide into the 2011 NFL playoffs. During that stretch, Tebow posted these stats:
30-of-73 for 439 yards with one touchdown and four interceptions
I have a hard time looking at these numbers and justifying any more passing from Tebow. If anything, the last three games show he's pulling the trigger too often.
During the same stretch of games, Tebow only ran the ball 28 times for 143 yards and three touchdowns. I'd much rather see him take off and run than see all these incompletions that account for nothing.
The key thing for (Tebow) is to go out, put everything behind him, go through his progressions and pull the trigger, Elway said. Sometimes I think I do need to be more aggressive in certain routes and throws. I think especially the more you get into tighter games, playoff games you've got be aggressive ... you've got to be smart, but also be aggressive and pull the trigger at times and that's something that we'll have to do.
While I appreciate what Elway is trying to do here, pumping his young quarterback with confidence, there is a fatal flaw in his reasoning: Tim Tebow isn't an accurate quarterback.
If Tebow takes Elway's advice, I foresee an embarrassment of turnovers on the horizon for the Broncos against the veteran, savvy Steelers defense. Troy Polamalu would like nothing more than for Tebow to start slinging the rock all over the field.
Unfortunately, it seems like Tebow is listening to his boss. Who can blame him? Tebow said this about Elway's statement:
It's trying to be smart and not put your team in a bad decision, because that's the fastest way to put your team out of a game. Sometimes I do need to be more aggressive with certain routes and throws.
You can't find much fault with their rhetoric, in principle, but the message that is being sent and received will lead to the demise of the Broncos.
The key for the Broncos, if they have any chance at all against the Steelers, is to run the ball, and then run the ball some more. Play-action passes will work, as long as Willis McGahee and Lance Ball continue to pound the rock on a consistent basis.
Now is not the time to be encouraging Tebow to change the way he plays the game. After the season is over and the dust settles, the Broncos can then begin to develop Tebow's understanding of the passing game and encourage him to "pull the trigger" more often.
Until then, the Broncos should concentrate on what made them successful in the first place with Tebow under center and focus on the things he does well.
This article is
What is the duplicate article?
Why is this article offensive?
Where is this article plagiarized from?
Why is this article poorly edited?

Denver Broncos: Like this team?