Fantasy Football: 7 Players You Should Give Up on in Dynasty Leagues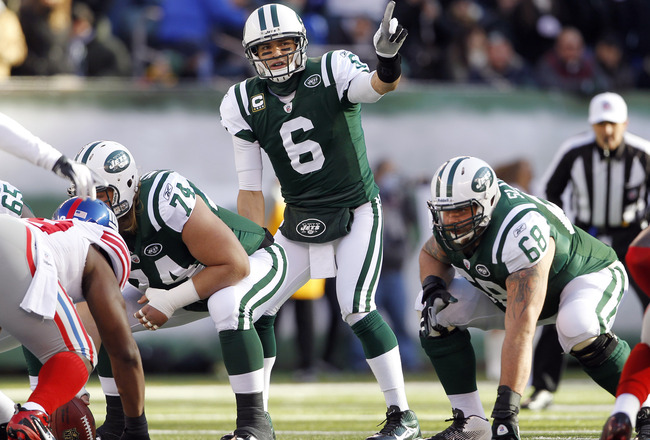 Rich Schultz/Getty Images
After the NFL Draft, it will be time for dynasty leagues to have their draft of new players and free agents. With that will come some tough decisions.
Here is some analysis on seven players that you should consider cutting ties with to make room for players who break out in the postseason, change roles in the offseason or come out in the 2012 NFL draft.
I've also included five players with whom you should take a wait-and-see approach through the preseason.
A note on dynasty/keeper leagues:
Dynasty leagues and keeper leagues can be more rewarding to the competitive owner. Isn't it terrible when your sleeper pick from last year (who was injured or underperformed) blows up the next year for a new owner?
The appeal of dynasty and keeper leagues is that you don't have to deal with that. With that said, it takes more commitment and more research to be successful predicting player development and decline over multiple seasons.
Matt Hasselbeck, QB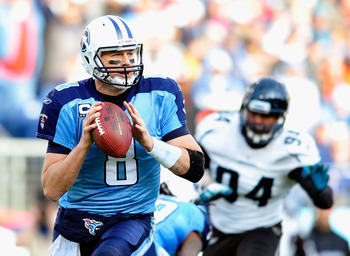 Grant Halverson/Getty Images
Hasselbeck has been a solid QB in the NFL for 13 seasons. He's 36 years old now and at the tail-end of his career. While he's a short-term solution for the Titans, there's no reason to keep him around on your fantasy dynasty.
Jake Locker is the Titans future at the QB position and will likely take over at some point next season. I don't foresee a Kurt Warner/Matt Leinart situation coming about.
Given the option, I'd use the roster spot on Locker instead.
Mark Sanchez, QB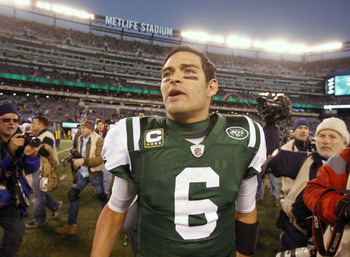 Rex Ryan says he's confident in Sanchez, but are his teammates?
Rich Schultz/Getty Images
Despite numerous assurances from Rex Ryan that he's the guy they want at QB, I think it's more of a situation where he is just the guy they have.
Worst of all, it seems as if some of Sanchez's teammates have (privately) lost confidence in their QB. Santonio Holmes' recent outbursts point to this dissatisfaction with Sanchez.
My opinion is that Mark Sanchez is a starting QB in the NFL right now and will be for at least a few more seasons. However, I don't see a huge amount of fantasy potential.
I don't see him as a long-term fantasy solution. As he's not a top-10 or top-12 QB for next season, I'd use this roster spot on either a veteran who could produce in 2012 (like Jason Campbell, FA) or a rookie/young player that could produce in the future (Andrew Luck, Robert Griffin III, Matt Flynn).
Ryan Grant, RB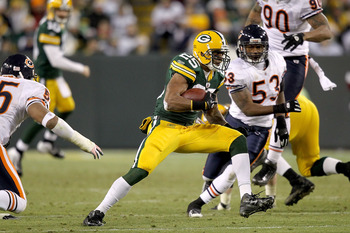 Matthew Stockman/Getty Images
Ryan Grant is a 29-year-old back in a pass-heavy offense. Need I say more?
James Starks (25) will be getting the majority of the carries in Green Bay if he can stay healthy.
Also, 29 is usually considered the drop-off year for NFL RBs. It's an inexact science, but something to be cognizant of.
LaDainian Tomlinson, RB
Tomlinson and his next-gen self, LeSean McCoy.
Patrick McDermott/Getty Images
Tomlinson will be a free agent this offseason. If he wants to play another season or two, I'm sure he could find a team, but he'll be less of an RB2 and more of an RB3 at this point in his career.
He's primarily a receiving threat out of the backfield now, and while that can be of use to an NFL dynasty, there are better options to stock on your fantasy bench.
Deion Branch, WR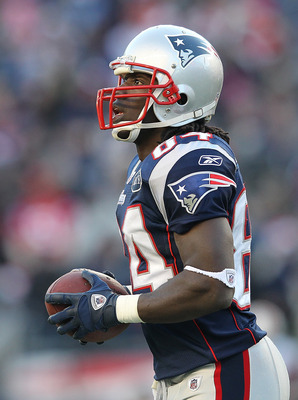 Jim Rogash/Getty Images
Branch is 32 and an undersized receiver at 5'9", 195 lbs. He caught five TDs this year, which tied a career high.
Still, that number isn't likely to go up with the increased red-zone targets of TEs Rob Gronkowski and Aaron Hernandez, two of the best in the league.
Wes Welker is a free agent this offseason, but it's hard to believe the Pats will let him go.
Branch will probably be productive for another year or two, but I'd rather fill his roster spot with someone who has more upside.
Any Denver Wide Receivers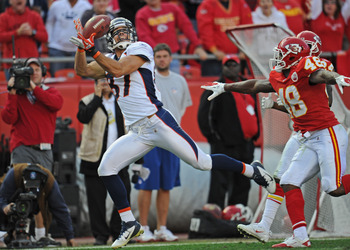 Peter Aiken/Getty Images
As long as Tim Tebow is the quarterback in Denver, production from Broncos WRs will be terribly inconsistent.
Let me be clear, I'm not knocking Tim Tebow as a player. I'm knocking Tim Tebow as a passer.
The winning formula for the Tebow-led Broncos relies on big plays from Tim Tebow. Occasionally, that's a long TD pass.
Usually, it's a half-dozen Tebow runs and options to Willis McGahee.
I think there's an extra level of difficulty for young receivers to develop with an inconsistent passer as their starting QB. For this reason, I would only stash Eric Decker or Demaryius Thomas on my bench if I was in a league with extended rosters.
Todd Heap, TE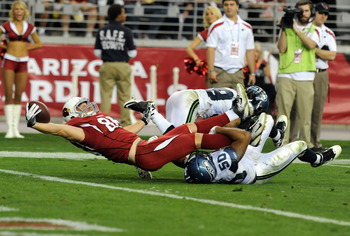 Norm Hall/Getty Images
Heap was a Pro Bowl TE with the Ravens, but was released after the 2010 season. A disappointing and injury-filled season with the Cards followed.
Continuity at the QB position might help Heap, but he is 31.
Heap will likely have a better 2012 than 2011, but I wouldn't expect anything like his Ravens numbers for the rest of his career.
Hold Through the Preseason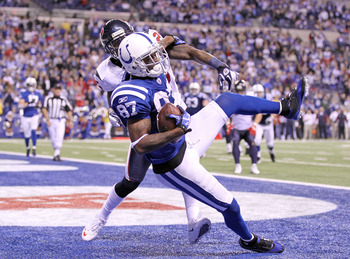 Andy Lyons/Getty Images
Reggie Wayne, WR
Wait until the QB situation gets sorted out for the Colts. Wayne is worth keeping if Manning is back (and healthy) because of their much-celebrated chemistry.
Jeremy Shockey, TE
If Shockey and Greg Olsen are both back with the Panthers next year, Shockey is not worth as much.
Still, if you don't have an elite TE (Gronkowski, Graham, Gonzalez, Davis), Shockey can be a placeholder.
Zach Miller, TE
Miller was a top TE with the Raiders from 2008-2010 before this year's lackluster season with Seattle. He's still only 26 years old. I'd give him another chance.
A QB change might help as well; Tarvaris Jackson isn't the most receiver-friendly QB.
Santonio Holmes, WR
He's certainly talented, but if his attitude and work ethic continue to be questioned, things could get worse for his NFL and fantasy owners.
Holmes is locked in with the Jets, but who knows what could happen. This situation seems volatile.
Christian Ponder, QB
It was an up-and-down rookie campaign for Ponder, but not all of the great QBs come out hot their first year. Some of the criticism of Ponder is a result of great seasons from fellow rookies Cam Newton and Andy Dalton.
For now, cut Ponder some slack.
Keep Reading