NBA Rumors: Gilbert Arenas Is Going to Play in the NBA This Season but for Who?
January 3, 2012
Sam Greenwood/Getty Images
It's no secret that Gilbert Arenas is far from his 2004-2007 form in which he averaged well over 20 points per game.
Since his locker room firearm incident and ensuing suspension, Arenas's numbers have steadily declined across the board, culminating in Agent Zero's pitiful 2010/2011 campaign split between Orlando and Washington, in which he was only able to put up a little more than 10 points a night.
After being amnestied by the Magic last month, it would be easy to write off the once great Gilbert Arenas as having nothing left in the tank. So should the teams on Arenas' free-agent wish list—the Knicks, Heat, Lakers or "whatever team trades from Dwight Howard" according to ESPN's Mark Stein—pursue Gilbert now that he's an unrestricted free agent? The answer is yes.
While it's easy for the woeful numbers put up by Arenas during his tenure with the Orlando Magic to scare off any rational NBA executive, you have to remember that Arenas was once a top three guard and a guy who could easily match Kobe bucket for bucket in his prime.
It's safe to assume that Agent Zero's days of 50-plus point games are in the rear-view mirror, but he's still only 29 and his legs have at least a few more good years left in them. Because he's still cashing in on that colossal contract he signed with the Wizards back in '08, salary should't factor into his decision too much this season; and it wouldn't be surprising if he does take the $1.4 million veterans minimum or a midlevel exception to play for one of the contenders on his short list.
While the Knicks appeared to be one of the front-runners in the Arenas sweepstakes during the last two weekends of the shortened offseason, their decision to sign point guard Baron Davis to the veteran's minimum quells their need for a distributor (though it remains to be seen how long it will be until the bearded one is healthy enough to run the floor again).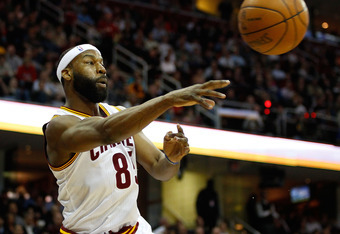 Jared Wickerham/Getty Images
It wouldn't be unreasonable to think that the Knicks could sign Arenas, but based on Imam Shumpert's strong showing—both during the preseason and against the Celtics on opening day—New York's front office would be hesitant to take minutes away from Shumpert and other developing guards, Landry Fields and Tony Douglass, by signing a player that needs substantial minutes to be effective.
The Miami Heat seem like the most feasible destination. Miami quietly signed Shane Battier to a two-year deal earlier in the month; a move that could make an already exceptional team into the true beast of the East. Despite this, Miami still lacks depth behind their big three—especially at the guard spots.
Though the Heat's offense mostly ran through James and Wade, Mario Chalmers and Mike Bibby split time as Miami's 1-guard last year..With Bibby's departure, and despite being an average-at-best distributor, Arenas would provide the Heat with an immediate upgrade at the 1-spot. Arenas brings a scoring ability that demands defensive attention, further stretching the D and granting LeBron, Wade and Bosh clearer lanes to the hoop.
The Lakers seem like a long-shot to sign Gilbert, but after losing Chris Paul to the cross-town Clippers, the Lakers seem poised to make at least some kind of move at point guard in their push deep into the playoffs .
Arenas grew up in Los Angeles—a fact that could help the Lakers woo Arenas to the West Coast, but there is cause for concern over how Arenas' volatile personality would mix with that of Kobe. While there could be debate over who is the better distributor, Arenas' scoring ability certainly exceeds that of Derek Fisher.
The Nets, who seem to be the front-runner to land Dwight Howard this season, have also exhibited interest in Arenas in the offseason. If they were able to land both him and Howard, New Jersey could very well have a formidable big three in Deron Williams, Howard and Arenas.
Whether or not a trade will actually be pushed through remains to be seen, especially with Brook Lopez—the pivotal part of New Jersey's offer—suffering a stress fracture on his right foot that will sideline him indefinitely.