NFL MVP: Not That I Can Vote, but Aaron Rodgers Should Be the Winner
January 1, 2012
Jonathan Daniel/Getty Images
With the regular season done and dusted and the good sorted out from the bad, there's only two real things left to talk about—playoffs and award races.
And whilst there are plenty of chances to discuss the playoffs, and I'm sure we will in due course, the award races are almost finished. Especially the big one, the Most Valuable Player.
With the 50 voters heading to the ballot on Tuesday to determine a winner, the talk and argument about who will win has seriously started to heat up.
And after 16 games and thousands of snaps, it all comes down to two players.
You might want to argue three, but it's really just two. Tom Brady has had another stellar year, and the Patriots loom as the ominous squad in the AFC, but he's not in the same league as Aaron Rodgers and Drew Brees. Not this year anyway.
It's just Rodgers and Brees this year.
And if you had asked six weeks ago, Brees wouldn't have even entered the discussion, considering the incredible start to the season that Rodgers and the Packers were having. However, the Packers dropped to the Chiefs, Drew Brees has had a brilliant two months, and this one is back to being tight again.
I'm not one of the lucky 50 that get to make the final call, but Aaron Rodgers is the favorite for the MVP, he should be the favorite for the MVP, and he will win the MVP.
It's nothing on Drew Brees; he and the New Orleans Saints have had a season to remember, and the playoffs haven't even begun yet. Not only did he break Dan Marino's long-standing passing record, but he also broke NFL records for completions (468), completion percentage (71.2 percent), 300-plus-yard games (13) and consecutive 300-plus-yard games (7).
Throughout the season, he averaged 342.2 yards per game and 8.3 yards per attempt. Pair that with 46 touchdowns, 14 interceptions and a quarterback rating of 110.6. And the Saints finished 13-3 for the year, just to top it off.
If you need to catch a breath after that, then you've realised the year that Brees has already had. And simply put, it is incredible, and he has been incredible to watch this year.
But, he is simply not the NFL's MVP this year.
Records, yards, completions and the like aside, Aaron Rodgers is the front runner.
Not only are the Packers 15-1 for the season, the No.1 seed in the NFC and the hot favorites for the Super Bowl, but Rodgers' season is superior to that of Brees.
He didn't put up the same yards or completions that Brees has, considering that Rodgers didn't play in the final quarter on several occasions nor in the final week against the Detroit Lions.
That's how dominant the Packers have been offensively this year behind Rodgers.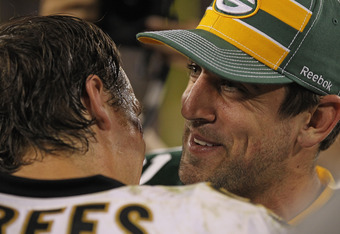 Jonathan Daniel/Getty Images
And despite his time on the sidelines, Rodgers has averaged 309.5 yards per game and 9.2 yards per attempt to go along with 45 touchdowns and six interceptions for a quarterback rating of 122.5, which just happens to be a league record of his own.
But to measure whether a player should be MVP or not, can we look beyond passing yards? Matthew Stafford threw for over 400 yards on a losing team today, showing that throwing the ball a lot doesn't make you a winner.
Passing yards aren't an effective tool to measure the winner, and the quarterback rating is only an indication of the level of play of a quarterback. Look at Tampa Bay's Josh Freeman who had possibly the league's most disappointing season, throwing five more interceptions than touchdowns, yet coming out ahead of five other guys in quarterback rating.
Completion rates are helpful to look at, and Brees and Rodgers clearly lead the league in that regard, but to gauge truly who has had the better year, look at the touchdown-to-interceptions ratio.
In less time, Rodgers has thrown 45 touchdowns against six interceptions, leaving him with a difference of plus-39. Brees, on the other hand, has tossed 46 touchdowns with 14 interceptions—a difference of plus-32.
Also, keep in mind that Aaron Rodgers has done that not only in less playing time, but also behind an inferior offensive line, which has allowed 12 more sacks this season than the Saints.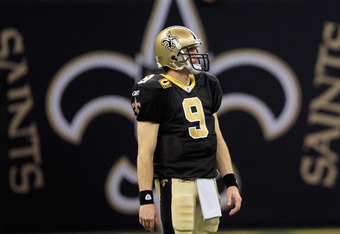 Chris Graythen/Getty Images
Now, the distance between them starts to truly appear.
And for all the talk about the Most Valuable Player being an individual award, at some level, the award hinges entirely on the team. No matter how valuable a player is to a team, your team's got to win for you to be considered a winner.
Whilst this might seem obvious and rather trivial, it's worth noting for a minute. Take Maurice Jones-Drew as an example, or even Marshawn Lynch. Both guys have an irreplaceable value to their teams, and without them, both Jacksonville and Seattle would have even worse seasons than they already did.
Nobody will question their impact on the game, and nobody will doubt their value to their teams, but at the same time, nobody would consider them ahead of Rodgers or Brees.
Why? Because the Packers finished 15-1, the Saints 13-3, and the other two finished with losing records. And if we're going to get really honest, the Packers and the Saints could both win without Brees and Rodgers, but the Jags and Seahawks couldn't win without their running beasts.
But no matter how valuable you are, if your team loses, then you lose. It's harsh, but it's true.
Please don't hear me saying that just because the Packers went 15-1, Rodgers deserves to be the MVP; it's simply a fact that the Packers topped the league, and the Saints finished third in the NFC.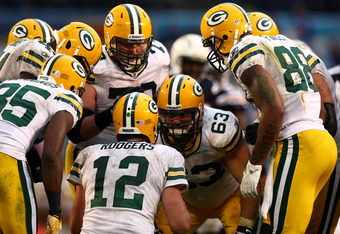 Donald Miralle/Getty Images
And they finished third partly because of Brees' poor play in their shocking losses to the St. Louis Rams and the Tampa Bay Buccaneers—teams whose quarterbacks both rank in the bottom six, ironically enough.
For all those that want to state that Drew Brees hasn't had a poor quarter, they have some explaining to do as to why they finished 13-3 then. Rodgers had one bad game all year, and the Packers still nearly managed to pull out a victory.
Again, I'm not saying that it's the 15-1 beats 13-3 thing, but rather, the records highlight the skill of both quarterbacks when their sides win and their poor play when they lose.
At the end of the day when all is decided, however, both Drew Brees and Aaron Rodgers could easily win the Most Valuable Player. And if they were in different eras, we wouldn't even need to have this debate.
I hope the National Football League doesn't award a tie like it has done twice before, for that would simply spark more debate and would demonstrate that it's all about how much you can throw the ball rather than how good you are.
Is Rodgers better than Brees? I think he's shown that in 2011, he is. You don't throw for a plus-39 and take your team to the top of the league at 15-1 if you're not pretty darn good.
And to do it in the cold and the snow, as opposed to the covered dome, also speaks volumes about both Rodgers and the skill of the Packers offensive unit.
If the two sides meet in the NFC Championship game, which I hope they do, then we shall get our answer to all the questions that we have about Rodgers and Brees. But until then, Rodgers is still ahead of Brees.
ESPN's Trent Dilfer described Rodgers' unique skill set:
[Rodgers] is the only quarterback that can beat you four ways. He beats you with his mind—his decision-making; he beats you with his release; he beats you with his speed and rotation on the ball—he can change speeds and locate; and he beats you improving—with his legs.
Rodgers will win the MVP because he is the best player in the league and is the most significant player to both the Packers and every defense he comes up against.
Just how good Drew Brees is when the two hopefully meet in late January remains to be seen, but for now, the debate should be settled with Rodgers as the winner.
Not that my vote counts or anything...
Read more articles by Dan Talintyre here or follow him on Twitter: @dantalintyre