Raiders vs. Chargers: 8 Oakland Players Who Need To Step Up This Sunday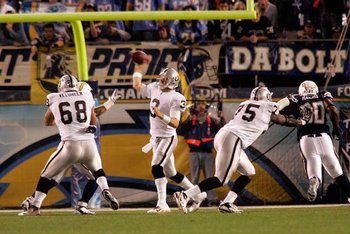 I don't want to go through all of the crazy arithmetic that is the AFC playoff picture this year.
So I'll just say that the Oakland Raiders are likely to get in the playoffs if they beat the San Diego Chargers on Sunday.
That makes it the biggest game the Raiders have played in since the Super Bowl in 2002. In order for the Raiders to get this one done on Sunday, a few players are going to have to step up their games.
Turn the page to see who they are.
Michael Bush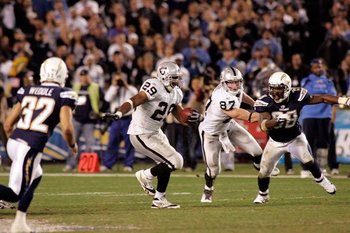 Michael Bush started out doing damage in star running back Darren McFadden's stead at first but has since fallen off.
Bush needs to get back to the same form he was in the first time the Raiders played the Chargers this year.
The Raiders are built to run the ball and throw the deep ball off of play-action so Bush must run and he must run hard.As we saw last time he played against the Chargers, he is good catching the ball and in the screen game.
His pass-blocking looked to have improved in the last week or two.
It all has to be in full effect on Sunday.
Samson Satele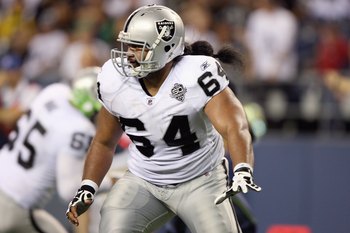 Otto Greule Jr/Getty Images
So far this year, the Raiders are at their best running the ball up the middle when Samson Satele isn't in the game.
The Raiders ran it all over the place with Bush last time with rookie Stephen Wisniewski in for an injured Satele.
Every time I hear about how great of a game he played, it's always against a 4-3 team that doesn't line a big, nasty guy up over him.
Every time I've seen him against a big-nasty, he has gotten handled, and the Raiders can't run the ball up the middle.
Sunday is Satele's chance to shut me up, and help the Raiders run the ball up the middle.
Jacoby Ford Is Stepping Up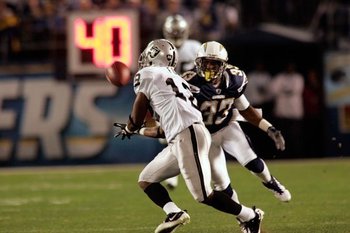 Jacoby Ford has played well when he has played this year, but injuries have stopped him from play that much.
Therefore, I have to mention that Ford has stepped up just by playing.
He caught a deep ball in the last game against San Diego, which was the play that he got injured on, so the Chargers will have to watch out for him and rookie sensation Denarius Moore.
The Chargers won't be able to roll the coverage to Moore's side with Ford in there.
I expect Ford to make some plays too.
Khalif Barnes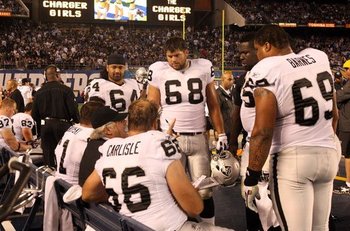 Khalif Barnes has only allowed 3.5 sacks this season so far—so pass-blocking hasn't been the problem for him.
But what Barnes needs to do is a better job of run-blocking and stop jumping every time the player lined up on him says "boo."
I can't get mad when an offensive lineman holds because he's trying his best, but false starts kill me. Giving up five yards before a play even starts has to be about as frustrating as it gets.
Remember the snap count please—no matter who's lined up over you.
Lito Sheppard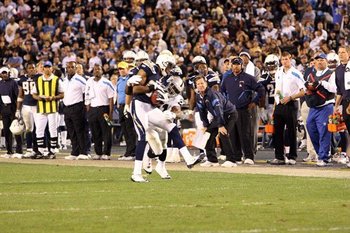 Lito Sheppard has been a decent pickup for the Raiders this year with the injuries, youth and loss of Nnamdi Asomugha. But he hasn't been so good lately, giving up nine catches for 135 yards last week in Kansas City.
Vincent Jackson is questionable with an injured groin, but Sheppard is going to step up regardless. Malcolm Floyd is playing and they always have good receivers over there in San Diego, no matter how known they are.
Philip Rivers is lurking so Sheppard must be ready.
Mike Mitchell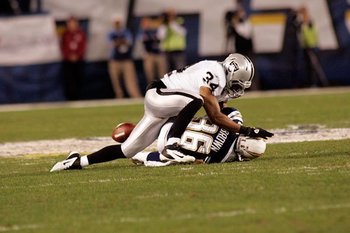 The Raiders really need to start Mike Mitchell at strong safety on Sunday over Tyvon Branch, because Branch struggles in coverage against tight ends and Mitchell is a shut-down safety when it comes to tight ends.
Every since Mitchell came back from injury this year, the Raiders haven't had problems with opposing tight ends. That's because Mitchell has shut down all of the big-time tight ends he has faced this year.
He held Green Bay Packers tight end Jermichael Finley to no catches earlier this month.
Rolando McClain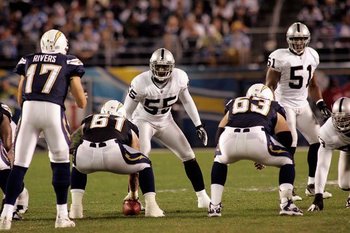 The on-again, off-again Rolando McClain needs to be on in Sunday's colossal game.
The encouraging thing about McClain is that he has played well ever since he was arrested for an alleged assault and gun firing.
His assignment Sunday is Chargers running back Ryan Mathews, who has rushed for over 1,000 yards this year. Mathews is also a good receiver out of the backfield so McClain will have to cover him too.
With the Chargers receivers and tight end hobbling, this may be the key to the Raiders winning.
Carson Palmer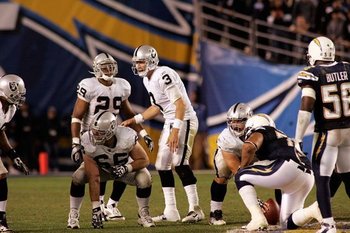 Speaking of on-again, off-again, Carson Palmer is going to have to bring his A-game Sunday. One game he looks like Peyton Manning and the next game, he looks like JaMarcus Russell.
I understand he didn't have camp and is getting to know the receivers, but he's already demonstrated that he can do it in a given game.
This is one game to play on or go home—so Palmer has to get it done for this one game.
We'll go from there on Palmer if he gets this one done.
Overview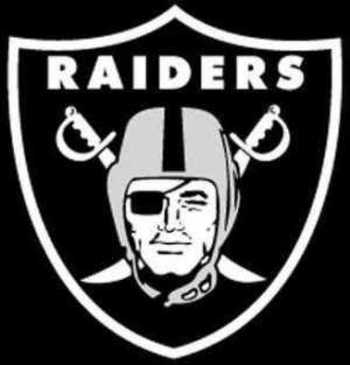 This is a huge game for the Raiders so these eight guys need to step up majorly.
Everyone on the team obviously needs to step up, but I didn't mention certain guys because they are either playing well now or have been stars on the team all year.
But these eight players have to step up for the Raiders to get themselves into the playoffs.
Palmer is the No. 1 man on my list.
Just win baby!
Keep Reading

Oakland Raiders: Like this team?