Portland Trailblazers: 2011-12 Season Outlook
December 29, 2011
Jonathan Ferrey/Getty Images
Much like the 2011-12 NBA season, my Blazers preview is a little late. How appropriate. Although Portland is two games in to the lockout-shortened season, plenty of time remains for predictions and critiques, so let's begin.
Brandon Roy's sudden retirement was a terrible shock to NBA fans, and especially Blazer nation. The prodigal son was gone just like that, before he hit his prime, with knees or without. Blazer fans lost a part of their family that day when B-Roy decided to hang 'em up and the team lost a leader and star player.
My hope is that eventually Roy's knees will heal enough for him to attempt a comeback, but that's very wishful thinking. Even if Roy does come back in a year or two, it may end up being more of a nostalgia trip for Rip City, as nobody can expect Brandon to play at the level he did before suffering numerous knee injuries.
He will always be remembered for his ability to take over games and give the league's best defenders quite a difficult task. Not to mention his 32-foot buzzer beater against Houston in '08 and what will be remembered as his best performance of his career in Game 5 against Dallas in the 2011 first round, when he scored 18 points in the fourth quarter to keep the Blazers alive for one more game.
Whatever Brandon Roy decides to do, whether it be to attempt a comeback, return to the sidelines as a coach or simply watch from afar with his family, all Blazer fans wish him the best and will always miss and remember him (This is not an obituary, although it might as well be.).
Another blow to the Blazers offseason was a disappointing, yet not surprising, negative result in the Greg Oden injury saga. Oden is once again doubtful for the season with an ailing knee injury that has combined with a foot injury to hold him out of three quarters of games in his career.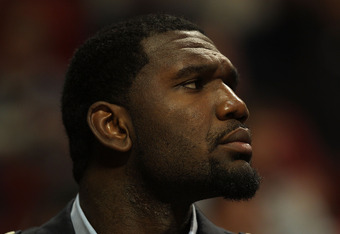 Jonathan Daniel/Getty Images
This forced the Blazers to sign the oldest player in the league in 39-year-old journeyman center Kurt Thomas. While Thomas is highly experienced and will bring much veteran leadership, the last thing the Blazers need is another old post. Marcus Camby, 37, is in the twilight of his career, and Thomas isn't any closer to his glory years. Hopefully, the duo can pass off some of their wisdom to young wild-card Chris Johnson, who has a ton of athleticism and potential.
The three amigos actually won't make a bad frontcourt trio, as Camby and Thomas can carry a majority of the minutes, while Johnson can step in when they need to hit the oxygen tanks.
Alright, enough ragging on the vets. I think they're both quality players and will contribute to Portland's success.
Back to Oden. He has struck fear in my heart of turning into another Sam Bowie. Bowie was selected second overall by Portland in 1984, one pick ahead of Michael Jordan. Bowie was the right pick at the time, but ended up being oft injured and a bust, while MJ went on to be the best player in the history of basketball. Basketball gods really do hate the Blazers.
Oden was undoubtedly deserving of being selected No. 1 in 2007, a seven-foot center who could grab 15 rebounds a game and be as dominant as Dwight Howard. Any team would be stupid to pick Kevin Durant over him.
Meanwhile, Oden has played in just 82 games over four seasons, while Durant won the scoring title last season and is in preseason MVP considerations with the likes of LeBron and Chris Paul. Even a more painful reality is that the Thunder (formerly the Supersonics and Portland's arch rival) are one of the top teams in the Western Conference whom many have picked to win the conference and/or NBA title this season.
Fifteen years down the road, will the Blazers be the subject of, "Top Five Reasons You Can't Blame the Blazers for Picking Oden Over Durant?" Oden seems like a really nice guy, and his ongoing injuries have to be killing him more than anyone else, both literally and figuratively. He wants to get out there and be the 18 and 15 per night guy he has the potential to be, but his enormous body simply won't let him. Rip City fans and NBA fans alike hope he can get healthy once and for all, and be a relevant name in the league.
So, Greg, on behalf of myself and all Blazer fans, break a leg?
A much-needed bright spot for the Blazers this offseason was the signing of veteran shooting guard and former Sixth Man of the Year Jamal Crawford. The deal is for just two seasons with a player option for the second year, and many believe Crawford will bail after one season and seek a long-term contract.
I believe Crawford will fit in very nicely to Portland's newly adopted fast-paced offense, and hopefully, he learns to love the Pacific Northwest and the incredible environment the Rose Garden provides each and every night. It will take a few more games for Jamal to get comfortable in Portland and their offense, but once he does, he will be an excellent contributor and will provide a ton of energy off the bench.
The Blazers backcourt lost veteran point guard Andre Miller this offseason via trade with Denver in exchange for seventh-year court general Raymond Felton. Felton brings some much-needed youth to the starting lineup, and while Miller's career averages are slightly better, Felton is just hitting his prime and is a much better outside shooter. Once he gets the Blazers offense down pat and develops the Andre to LaMarcus lob pass, Felton will prove to be very valuable and will only get better for Portland.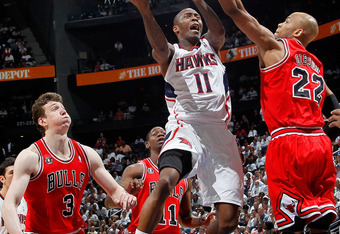 Kevin C. Cox/Getty Images
Key Players
Along with newcomers Crawford and Felton, Portland has a lot of underrated talent that has yet to be recognized by much of the league.
LaMarcus Aldridge
This will be the year for Aldridge to step out of Brandon Roy's shadow and take over as a superstar player for the Blazers. Although he had a breakout season last year and developed into such a player, Roy is completely gone this season, so "LA" can step into the spotlight even more. Aldridge averaged a career high in points and rebounds last season (21.8 and 8.7, respectively), and at age 26, those numbers will only get better. He solidified himself as a premier power forward in the NBA and is now Portland's superstar to replace B-Roy.
"Crash" came over to the Blazers at the trade deadline last year, and it has taken little time for him to impress Rip City. In 23 games last season and the first two of this year, Wallace has displayed a nonstop motor and extraordinary hustle in 35.1 minutes per game.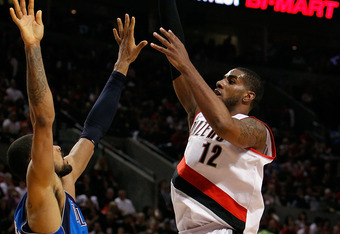 Jonathan Ferrey/Getty Images
Wallace is a guy who will get you 15 points, seven rebounds, three assists, a block and a couple steals every game, without ever showing a single emotion. He and Felton played five seasons together and built a chemistry in Charlotte, so look for them to build on that this year and be a huge part or Portland's success.
Wesley Matthews
It's just Matthews' third year in the league, but he has already proven himself as an excellent scorer. He has yet to miss a game and averaged a career-high 15.9 points per game last season while shooting 40.7 percent from behind the three-point line and 84.4 percent from the charity stripe.
It's been a rough first two games for Wes this season, but he needs to and will keep shooting, and eventually his shots will fall.
Playoff Chances
The Blazers are easily one of the top eight teams in the Western Conference and should have no trouble making the playoffs. Their downfall in previous years has been injuries, and with Oden already out, in addition to having the two oldest centers in the NBA, it is easy to expect more of the same.
The lockout-shortened season provides less time for players to get hurt, but if there are any injuries, potential losses will hurt the Blazers even more, as every game is so important this season. Basketball gods have hated the Trailblazers recently, but this year could finally be the one in which Portland breaks through the first round of the playoffs.
The team still has a lot of youth other than Thomas and Camby, and everyone in the starting lineup except Camby is either in their prime or has yet to hit it. There are many bright spots for the Blazers this season and for years to come.