Arsenal: Why They Will Lose Champions League Spot to Tottenham Hotspur
December 29, 2011
Julian Finney/Getty Images
Anathema and totally ridiculous, must be your first thought at reading the title of this article if you are an Arsenal fan and you miss the "why" for the "will."
For diehard Gooners, there's no greater abomination. Before I continue, then, l should change the "will" in the title to "may."
"Arsenal: Why They May Lose Champions League Spot to Tottenham Hotspur." There...I only used the emphatic "will" to get your attention.
St Totteringham's Day for Gooners is taken as a matter of course. It is celebrated in honor of the fact that Spurs can no longer finish above Arsenal. Moreover, in whichever world or worldview you consider the issue—as far as Gooners are concerned—Spurs are simply not the equal of Arsenal. Quod Erat Demonstrandum.
Upon this understanding then one must situate both Jack Wilshere's and Wojciech Szczęsny's emphatic conviction that Arsenal—yet again—will finish above Spurs, even though Arsenal have occupied an inferior position on the Premiership table since the season began.
As of this writing, Arsenal are five points behind their North London neighbor and rival. They also have a minus-six goals difference. Moreover, Spurs have a game in hand, which, if they win, will extend the difference in points to eight.
Eight points: Arsenal will have to win three matches to Spurs' losses to overtake their rival.
Piece of cake, if Arsenal win all or most of their matches from this point onward.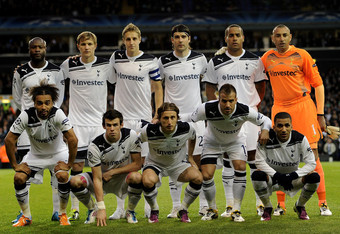 But can they?
Here's the first noteworthy thing.
Of the top six teams so far, only two managed to win their post-Christmas match: Manchester United and...you guessed right...Spurs.
This—in itself—is not remarkable until you consider that Arsenal had the chance to keep the point difference at three, but squandered the opportunity (it matters little how or under what circumstance). It's more poignant if you remember that this opportunity was against a relatively weak opponent, and at home.
If you are objective, you must wonder, at least.
Spurs have been on a blistering run of form since a shaky start to the season in August, when the two Manchester clubs defeated them. Since then, they've lost just once, in a match in which most of the refereeing decisions went against them, including a disallowed, legitimate goal.
Arsenal's unlucky draw with Wolverhampton Wanderers on Tuesday got me thinking. Before now, I have been a staunch believer in the possibility of their finishing in the top four come May. I have stated why in three different articles.
I now have doubts that they will, and here's why.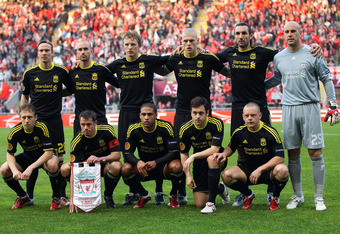 Julian Finney/Getty Images
When people—including myself—talk about a top four finish for Arsenal, it sounds possible because "four" implies that there are four spots to be taken.
However, owing to the difference in points between the top two teams and the rest of the pack, one is forced to realize that the top two spots already are taken by the two Manchester clubs. In reality then, there are only two spots left for which four clubs—Liverpool, Arsenal, Chelsea and Spurs—must compete.
To have a chance at taking one of these two spots, Arsenal would have to fight off Liverpool. On Tuesday, Arsenal had good opportunity to put a little distance between them and Liverpool, they, however, missed the opportunity. Now, they are just two points ahead of Liverpool. This is a measly lead, to say the least.
But someone could answer that the same is true of Chelsea and Manchester City. City, for example, sit above Manchester United merely because of goal difference, and Chelsea only lead Arsenal by a mere point.
We should first note, though, that those "meres" can win you a title, so in reality, they're not merely "meres."
What is more important, however, is that we're talking kings and successions here...pardon me, I mean, we're talking opportunities and slippages here.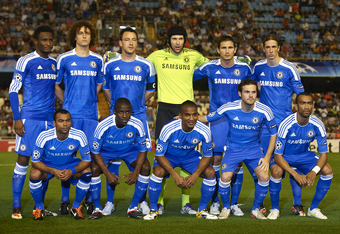 Manuel Queimadelos Alonso/Getty Images
When Arsene Wenger urged his team to begin the coming year among the top four, he spoke with the precise understanding that teams are bound to slip up, and that when they do, you must take the opportunity.
But what is more important is that, you, yourself, do not slip. Not slipping and taking whichever opportunity presents itself to you are the two factors that will ensure your finishing the season in a good position.
Arsenal did neither.
They slipped and did not take the opportunity of going above Chelsea, of starting the year among the top four and of putting some distance between them and Liverpool.
So here's the question.
Why do you think other teams—but not yourself—will slip up in the coming stretch?
You can only ensure a favorable finish for yourself if you play convincingly and win your matches. Based on Arsenal's form in her last four matches, we cannot be sure this will be the case.
They struggled mightily against Everton to scrape a win. A tactical shift at City (whether forced or not is beside the point) caused them at least a point. At Aston Villa, they turned in a raggedy performance, and against Wolves, they missed a golden opportunity to better themselves.
That's the objective reality. 
Ahead lie tougher matches to come—against Liverpool, Spurs, Chelsea, Newcastle, Manchester United, Manchester City, Everton, Fulham, etc. Can they win these matches? The Fulham match is just around the corner, so we'll see.
Will Gooners celebrate St Totteringham's Day this year?
To finish in the top four, Arsenal can afford to lose only an additional three matches if other factors work to their advantage, factors such as winning against teams in the list above and the avoidance of too many draws. See my previous article here.
In short, Arsenal must win almost all of the remaining matches of the season. This is the only way they can ensure they'll retain their customary place in the elite four.
As things stand, there's big chance that Arsenal will finish this season outside the top four. But the real ignominy—from the perspective of Gooners, at least—will be finishing below Spurs, something that hasn't happened in 16 years.
Goodness forbid, you say.
Which reminds me of story they used tell us in Sunday school. You may recall the story of Jonah and the whale. Well...there's an interesting passage in the narrative, here it is:
All the sailors were afraid and each cried out to his own god. And they threw the cargo into the sea to lighten the ship.  But Jonah had gone below deck, where he lay down and fell into a deep sleep.  The captain went to him and said, "How can you sleep? Get up and call on your god! Maybe he will take notice of us so that we will not perish."
It may be time for Gooners to wake up and face the possible and plausible reality that Arsenal may not play Champions League football next season, and that it may be time for each Gooner to "cry out to his/her own god!"
Else, "to lighten the ship," Wenger may need to do some serious signings this January.
Yes, we can finish above Spurs and in the top four, but it's not a given. Chelsea and Spurs are holding tightly to the last two spots. The question is, can we prise one of them away from one of those spots?
We'll know after the next 18 matches.
For now, please try some Bach, it may distract and calm your nerves. Adieu.