Los Angeles Lakers Need to Trade for Andre Iguodala, Not Dwight Howard
December 28, 2011
Mike Ehrmann/Getty Images
When you think of holes in the Los Angeles Lakers' lineup, small forward immediately pops out. Why, then, is all the rage still about the Orlando Magic's center Dwight Howard? It seems to me the Philadelphia 76ers' small forward Andre Iguodala would be a much better fit.
Even the smartest of NBA executives can get caught up in the same kind of hype that has caused Terry Francona to be fired and Boise State to join the Big East in other sports. We humans are too quick-triggered as a species, and it has and will continue to cost our sports teams dearly.
Superman Isn't for Lakers
Howard is without a doubt the game's most dominant player. His numbers clearly speak for themselves: 20.6 points, 13.8 rebounds and 2.6 blocks per game over the past four seasons.
But the Lakers' current center, Andrew Bynum, is no scrub. Over the same period, he has averaged 13.6 points, 8.8 rebounds and 1.8 blocks per game. For comparison, the much-praised 2010-2011 season for Memphis Grizzlies' center Marc Gasol yielded 11.7 points, 7.0 rebounds and 1.8 blocks per game.
Are the Grizzlies preparing to sell their souls to convert Gasol into Howard? The correct answer is no.
As for Bynum's injury history, that's no reason to specifically target the game's best player at his position. Did the Dallas Mavericks try to acquire LeBron James to fill in for the oft-injured Caron Butler last year? Why aren't the Portland Trail Blazers loading up on centers to back up Greg Oden?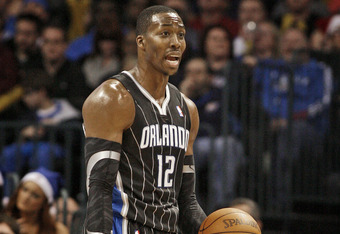 Brett Deering/Getty Images
You can't justify trading away Bynum plus draft picks, plus more younger players, plus maybe even Pau Gasol for Howard just because Bynum has a history of injuries.
A.I. to L.A.
Iguodala is one of the most underappreciated players in the game today. In his seven-year career, he has averaged 15.6 points, 5.8 rebounds, 4.8 assists and 1.8 steals per game. He fills up every category on the stat sheet.
Iguodala isn't the poor man's LeBron. He is the middle-income man's LeBron.
At 27 years old, he has already proven himself to be a dependable, durable player. He has never come off the bench in any game, starting 553 times out of 553 games. Iguodala has missed only 21 games out of the 76ers' 574 games played during his time there.
Need I say more about his consistency?
Iguodala would provide the wearied Kobe Bryant a legitimate wing man to split the ball with. When was the last time Bryant had that? Caron Butler in 2005?
As if that wasn't enough, Iguodala, a shooting guard/small forward type, would allow Bryant to play small forward from time to time, which is where he ought to be playing more often at this point in his career.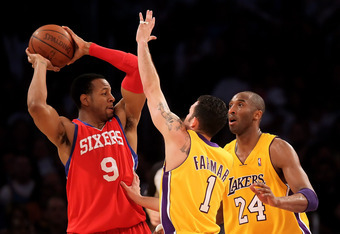 Jeff Gross/Getty Images
Final Word
What would it take to get Iguodala in the gold and purple?
I have to admit, this isn't something I'm particular good at with the NBA yet. The matching up of contracts and the valuation of draft picks is still a mystery to me, so I need some help!
The Lakers could offer rookie small forward Devin Ebanks plus a 2012 first rounder. Two first rounders maybe? That has to be pretty close.
The point is that if the Lakers want to add to the excitement of the L.A. basketball scene, they should get Howard. If they want to contend for more championships, they should get Iguodala.
Which looks better?
PG: Derek Fisher
SG: Kobe Bryant
SF: Matt Barnes
PF: Pau Gasol
C: Dwight Howard
OR
PG: Derek Fisher
SG: Kobe Bryant
SF: Andre Iguodala
PF: Pau Gasol
C: Andrew Bynum