New England Patriots: Where Does Devin McCourty Stand After Two Seasons?
December 28, 2011
Elsa/Getty Images
After a tumultuous 2011, Devin McCourty showed signs of life on Sunday against the Dolphins.
The New England Patriots entered the 2011 NFL season with some questions in the secondary, but one player who was considered a lock for a solid season was McCourty. The Patriots showed a lot of confidence in him from the start by putting him on an island.
In the end, he lost confidence in himself.
And then, of course, came Sunday. McCourty had three pass defenses, his highest of the season. He also had his first interception of 2011.
Although it came against the Dolphins, that performance could have gone a long way in building McCourty confidence once again. Could he be back on the rise?
The Millennium Man
According to Pro Football Focus, Devin McCourty is giving up more yards than any cornerback since 2008 at least (when they started tracking it), and with 985 yards against him to date, could become the first cornerback since '08 to give up 1,000 yards.
No matter how little or how much you value yards as a statistic, that is evidence that he is being targeted often, and that quarterbacks are having success when they do target him.
On the season, he has been targeted 98 times, giving up 61 receptions (10.1 yards per attempt), with six touchdowns on his watch and one interception. All those numbers add up to a 112.0 passer rating against him, which ranks 16th-worst out of 108 qualifying cornerbacks.
This is the same guy who gave up just 586 yards last season. He could almost double that total in 2011, after giving up 55 completions on 99 throws in his direction. Along with his seven interceptions, he allowed just four touchdowns, and those stats combined meant quarterbacks had just a 57.0 passer rating when throwing at him.
Peaks and Valleys
The comparison has been drawn between McCourty and Darius Butler. After a solid but unspectacular season in 2009, Butler got off to a rough start in 2010. His 2011 season got off to an even rougher start, as he was cut from the team by the end of training camp.
It's been pretty much the same story for McCourty, but to an even greater extreme—at least statistically speaking.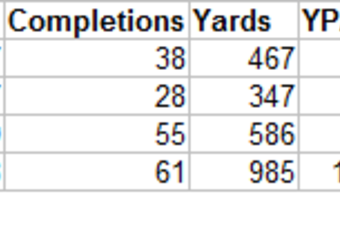 McCourty's rookie season was far better than Butler's, but his sophomore season was worse from a statistical perspective.
It's been a long season for Devin, but he's made a few plays on the ball over the past few weeks, culminating with his best performance of the season this Sunday. His two pass deflections in Week 14 tied a season high, which he set back in Week 1. He then went on to log a new season high with three pass defenses along with his interception against the Dolphins.
And while we shouldn't forget that it's been against some marginal competition, he's been doing it mostly with a separated shoulder that has probably yet to fully heal. 
What Went Wrong?
McCourty's been in position to make a lot of plays on the ball, but he simply loses sight of it in coverage. He doesn't turn his head around, making him an easy target for nearly any NFL quarterback. All they have to do is look for the big No. 32 that's not looking at him or the ball.
This was never more evident than Sunday against the Dolphins, when McCourty committed a pass interference penalty on 3rd-and-12 to give the Dolphins a first down. Granted, that was about as close to a penalty as Rosie O'Donnell is to Scarlett Johansson, but it was egregious nonetheless and McCourty should have known better.
Maybe he would have known better if he had known that the ball was sailing so far over Dolphins receiver Brian Hartline's head that he would have needed stilts to make the catch.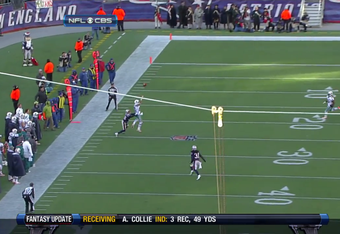 One of the few plays he's made on the ball over the past few weeks was in the end zone on a pass intended for Brandon Marshall. On 1st-and-10, McCourty played soft coverage on Marshall. McCourty kept his eyes on quarterback Matt Moore the entire time, and never got caught in trail position.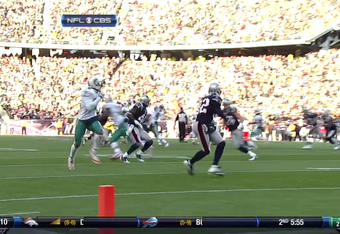 As a result of his positioning, he was able to make a play on the ball, nearly intercepting it until Marshall made a heck of an effort to knock it free.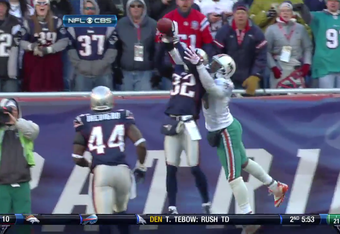 It's plays like this that remind us of what McCourty was last year, but it's plays like the one mentioned beforehand that remind us of what he's become this season.
What Comes Next?
The Patriots are famous for washing their hands of a bad decision and moving on like nothing ever happened. While the high level of play McCourty showed in 2010 may have earned him some equity, it's tough to say where he stands in the 2012 season just yet.
Can he build on his performance of Sunday, or will he continue to wear a bull's-eye on his back? How he performs this week and in the playoffs could go a long way in giving us a clearer answer.
The fact that he has been on the field for nearly every defensive snap this season (854 out of 935 in games he's been healthy) tells us that he hasn't yet completely fallen out of favor with the coaching staff—that, or there simply aren't enough other options.
Don't forget, though, that the Patriots have two first-round picks and two second-round picks. The selection of a cornerback with one of those four picks would go a long way in telling us how the coaching staff feels about McCourty.
He earned enough equity with his performance last year that he should at least be given a chance in 2012, but training camp and the preseason could be do-or-die time for McCourty.
Just one good performance doesn't wipe the slate clean on the 12 bad performances and two mediocre ones that preceded it. Don't look too deep into his performance on Sunday, but look for improved confidence.
His prospects for the 2012 season may hinge on it.
Erik Frenz is the co-host of the PatsPropaganda and Frenz podcast. Follow Erik onTwitter.