Arron Afflalo, Among Others, Are Key to Denver Nuggets Making the Playoffs
December 28, 2011
Doug Pensinger/Getty Images
The past year has been a very eventful one for the Denver Nuggets and their followers.
From the rumors surrounding Carmelo Anthony, to his eventual departure for the Big Apple, to a Collective Bargaining Agreement dispute and lockout that led to a shortened season and many players heading overseas.
One can certainly understand why some Nuggets fans may be slightly confused about what's going on. With the season getting underway last night with a thrashing of the Dallas Mavericks, it's now time for both the Nuggets team and their fans to settle in and evaluate what this team needs to do in order to win.
With the lack of big names or perennial all-stars on the roster, many believe that this season will end in disappointment for the boys from the Mile High City.
This may be true, but jumping to conclusions may not be the wisest idea, for this team does show promise, and with the proper system they can certainly succeed.
So what, exactly, are the keys to success for the Denver Nuggets in 2011-2012?
Team Defense
The Denver Nuggets and head coach George Karl have made it a priority this year to improve the team's defensive play. With players like Carmelo Anthony gone and the free-shooting J.R. Smith overseas, this goal seems to be within reach for the Nuggets.
Making adjustments like honing Ty Lawson's speed to aid him on the defensive end, as well as moving Nene back to his more natural position of power forward will surely help. Nene will now be facing smaller, but quicker players in the post while guarding his hoop. If he can learn to handle the speedier moves by power forwards, he should blossom into a great defensive power forward.
The bench is also going to be reliable when it comes to the defensive side of the ball. Chris Andersen (more commonly known as Birdman) is returning for another season, while the Nuggets also picked up defensive pest Corey Brewer to add some depth at the small forward position.
Another year for Arron Afflalo can't hurt either. Not only has he developed his offensive game since joining the Nuggets, but his work ethic and constant hustle is also helping him become a good defender as well.
The opening night game against the Dallas Mavericks was precisely what the Nuggets need to do all six games against them this year. Holding the Mavericks to 93 points and a field-goal percentage of only 42.1 percent was outstanding, especially considering it was away from the Pepsi Center, where they hold a great home-court advantage with the altitude.
What's even more impressive is the way they managed to shut down the Mavericks' starting five and best two bench players (Lamar Odom and Jason Terry), only allowing them to hit a dismal 35.7 percent of their shots.
Use a Balanced Attack on the Offensive Side of the Ball
Spreading the ball around this season may be the single most important key to success for the Denver Nuggets. Without a superstar, go-to-guy on their roster, crisp passes and finding the open man for an easy shot will be that much more important. Naturally, a few players will be relied upon more than others to score, but a balanced attack will be crucial.
Arron Afflalo, Danilo Gallinari and Nene will be the ones expected to consistently put up 15-20 points per game, while the supporting cast of Ty Lawson and Al Harrington will also need to put up double digits on a regular basis if this team wants to succeed. Rudy Fernandez was also brought in to be the Nuggets' three-point threat, and he'll need to be able to knock down those perimeter shots to ensure teams aren't able to cheat down low.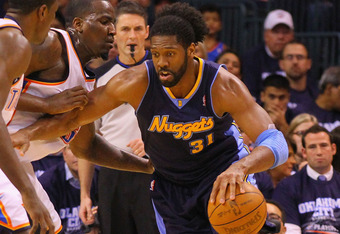 Dilip Vishwanat/Getty Images
It will be interesting to see how the Nuggets do in their first full season without Carmelo Anthony. It means they will no longer be centering their offensive game around any single player. Whether or not this squad can step up as a unit will determine how far the Nuggets go this season.
Nene and Arron Afflalo Must Lead This Team
Though he may not be one of the seasoned veterans on this team, Arron Afflalo will likely be the single most important player on this roster, along with Nene. These two guys having a bad season will likely result in the Nuggets being missing the postseason.
Even though everyone needs to step up, if there are any players that will be expected to shoulder a bit more of the load, these are the guys. With all the buzz surrounding Arron Afflalo and whether he would re-sign in the offseason, Denver will certainly be looking to him to be one of the team's premier players.
Nene will also be expected to help lift this team on nights where the supporting cast has an off night. With his move to the power forward position, many believe he will be able to score much more easily. So long as he can adapt to the speed, this should be true.
With their emphatic start to the regular season in Dallas, the Nuggets showed just how solid of a team they can be. One game, however will not be enough to dispel all questions as to whether this team can win without Carmelo Anthony.
It certainly is a new look, and there will undoubtedly be nights where the lack of a star presence will lead to the Nuggets having trouble overcoming some shaky play. But if the Nuggets stick to the points outlined above, they should find themselves playing in the postseason once again.