Ghosts of Super Bowls Past: Why 49ers QB Alex Smith Is in Good Company
December 27, 2011
Jay Drowns/Getty Images
Nobody's mentioning San Francisco 49ers quarterback Alex Smith in the same breath as former 49ers Super Bowl heroes Joe Montana and Steve Young.  But take a look at Super Bowl history, and you'll see Smith is a credible applicant to the Super Bowl quarterback fraternity.
Your first thought: I'm crazy, right?
Ah, but look at the numbers.  And look at the names. 
Bart Starr, who quarterbacked the Vince Lombardi-coached Green Bay Packers to victory in the first two Super Bowls.  Former Pittsburgh Steelers quarterback Terry Bradshaw, winner of three championships.  Twice-victorious Roger Staubach of the Dallas Cowboys.  And Fran Tarkenton, who led the Minnesota Vikings into three Super Bowls (although he won nary a time).
What's Smith doing hanging around these guys?
Looking pretty good, actually.
Smith's completion percentage so far this year is 61 percent.  That's better than the career percentages for everyone else I've just mentioned.
Then consider quarterback rating.  Again, Smith, with 90.1 this year, leads them all.
Well, statistics are one thing.  But, you rightly observe, I'm talking about old-time guys, who played in old-time systems.
Yes, I am.  And that's a big part of my point.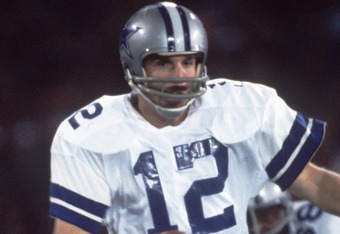 Getty Images/Getty Images
Super Bowl winners often have not been the quarterbacks who have thrown for 350 yards a game and electrified stadiums with 80-yard hookups.
Instead, they've frequently been players who have functioned well within a balanced system where they had a role to play.  And that role was to share the stage with other talented players.
Sound familiar?
As a kid watching Starr on television, I think I never saw him throw more than 20 yards.  John Brodie of the 49ers and Don Meredith of the Cowboys had better arms and certainly more exciting personae. 
Mainly what Starr did was hand off to running back Paul Hornung and throw short routes to wide receiver Max McGee.  Oh, yeah—and he won.  A lot.
Consider two other highly regarded Super Bowl names—Staubach and Tarkenton.  Both were known as scramblers as much as passers—Staubach so much that his nickname was "Roger the Dodger."  Both completed just 57 percent of their passes, and both had quarterback ratings in the low 80s.
They also had great supporting casts—think running back Tony Dorsett of the Cowboys and receiver Ahmad Rashad of the Vikings.  And then there's Bradshaw, with a 51.9 percent completion percentage, and a 70.9 rating, but surrounded by players like Franco Harris, Rocky Bleier and Lynn Swann.
The more I see the 49ers this year, the more I consider them a team from another era.  They balance running and passing.  They throw a lot of short balls, which is part West Coast, but also part mid-1960s. 
They focus on ball control and field position.  They play tenacious defense.  They look more like the old Packers than today's Packers do.
Just like the Packers from both eras, they're winning.  A lot.
Now, here's where Smith has yet to prove himself.  It doesn't have to do with numbers or the ability to function within a system.  It's what other people often call the "X-factor."  I consider it simple leadership—confidence in oneself and the ability to inspire it in others. 
Especially in the red zone, Smith has yet to prove he believes he can lead the 49ers consistently to pay dirt.  And he has yet to prove his teammates believe it, too. 
But consider that the final task in his treasure hunt to join the Super Bowl fraternity.  Because compared with some of its other big-name members, he looks like a pretty credible pledge.