Believe It or Not, Red Sox Will Win a World Series With Bobby Valentine
December 26, 2011
Elsa/Getty Images
I won't lie to you; when the Boston Red Sox announced that Bobby Valentine would be the 43rd manager in the team's history, I was severely underwhelmed.
...and then it happened.
A switched was turned on and a fire ignited.  While I find him hard to read thus far in his brief time heading up the local nine, Valentine muttered the words all of Red Sox Nation needed to hear: 
"I hate the Yankees, I don't want to waste this valuable time talking about the Yankees. This is too valuable."
At first I thought that this was a statement that should obviously be made by any player being brought into the Red Sox organization.  I mean, you have to say it, right?  Then I began to think about it more and realized Bobby Valentine has been opposing the Yankees for a large portion of his baseball career.
Let's face it, he played for the cross-town rivals for two years in 1977 and 1978, then went on to manage the Mets from 1996-2002, playing the Yankees in the Subway Series in 2000.  Valentine has the legitimacy behind the statement that I took initially as a P.R. move.
While I've had time to digest that press conference, I am prepared to jump on board the Bobby Valentine bandwagon.  More than that, I am prepared to boldly declare that the Boston Red Sox will win a World Series with Bobby Valentine.  I'll be the first to admit that I was no fan of his on December 1st, when he was announced, but Bobby V is slowly winning me over.  
I need to start my campaign for Bobby Valentine by first offering a mea culpa on the matter.  Previously on a personal blog I had written all the reasons why Bobby Valentine would not be a fit in Boston.  My article was highlighted with statements that knocked the man and what he had done:
"This is the same Bobby Valentine that was fired by the Mets in 2002 after finishing 75-86 with a star studded team that included future Hall of Fame member Roberto Alomar, along side stars Mike Piazza, Mo Vaughn and Jeremy Burnitz. This was a team whose chief problem was laziness and motivation. That sounds awfully familiar Sox fans, doesn't it?"
The problem is, the argument I made only looked at the surface of Bobby Valentine's clubs.  Recently, when I wrote a piece on 6 Prospects Who Could See MLB Time in 2011, I spoke with Will Middlebrooks and something he said reminded me to look deeper than just the numbers.  Something I've been guilty of doing from time to time.  When referring to his time in Pawtucket, Middlebrooks told me of how he had been able to get the bat on the ball well and drive it hard, but it always seemed to avoid the holes and result in outs. (I'm paraphrasing here.)
I thought about what Middlebrooks said and how it really can be applied to Bobby Valentine's coaching career.
I started to dig a bit more.  As you may or may not know, Valentine has spent 15 seasons coaching in the Majors.  Eight years for the Texas Rangers and seven years for the New York Mets.  I am going to omit his numbers in Japan, not because they weren't good; because they were, rather, because people will debate the level of talent in Japan and I want to compare apples to apples here.
THE TEXAS RANGERS YEARS
Bobby Valentine took over for the Texas Rangers after the first 33 games of the 1985 season.  When Valentine came in, previous manager, Doug Radar had the team off to an abysmal 9-23 start, or, as you would imagine, last in the AL West.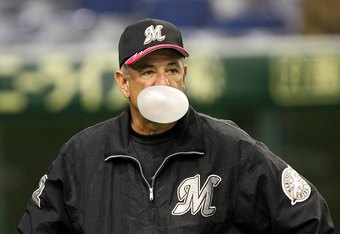 Koichi Kamoshida/Getty Images
While Valentine finished the season with a record of 53-76, the Rangers finished the season in seventh place with a 62-99 record, 28.5 games behind first having never lead the division.  The longest winning streak this Rangers club ever amassed was five games.  On the flip side, their longest losing streak was seven games.  They were shut out by opponents nine times that season, shutting out opponents five times.  Thank you Baseball Reference.
In 1986, the 62-99 team from one year before would see a dramatic increase in wins under Valentine, posting a winning record of 87-75.  They went from last place, to finishing second in the AL West.  They only were under .500 once on the season and turned around their shutout ratio significantly, shutting opponents out eight times, while being shut out only four times.
1987 and 1988 would see the Rangers take a step back posting a 75-87 record in 1987 and a 70-91 record in 1988.  This brings us halfway through Valentine's tenure in Texas, overall posting a record of 285-329 or a .464 winning percentage.  Sounds sub-par, right?  That's what I thought too until I looked at the tools he had to work with.
I challenge you to look at the 1985 Texas Rangers roster and name one player that wows you.  In 1986, the stud of the team, not just the pitching staff, was a 38-year-old Charlie Hough, who would make his first and only ever All-Star appearance, posting a record of 17-10 with a 3.79 ERA and 1.203 WHIP.  The only other name worth mentioning on that team was a rookie named Pete Incaviglia, who lead the league in strikeouts with 185.  Only in 1988 would the Rangers get another future All-Star on their roster in Ruben Sierra.
Here is where the Rangers tenure gets interesting.  Between 1989 and 1992 the Rangers would see their share of "big names" start to come through the door.  In 1989 the Rangers would acquire a pitcher you may have heard of via trade: Nolan Ryan.  On top of that, their roster hosted players by the names of Incaviglia, Sierra, Jamie Moyer, Kenny Rogers, Julio Franco, Rafael Palmeiro and Sammy Sosa.  They finished in the middle of the pack that season, finishing fourth in the AL West behind Oakland, Kansas City and California.  It is worth noting that the Athletics would go on to win the World Series that year.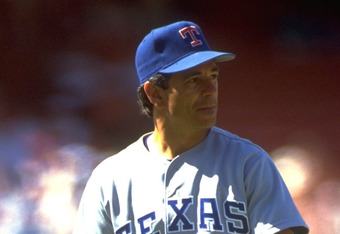 Otto Greule Jr/Getty Images
The remainder of his time in Texas would see a variety of "names" come through the door, some were rookies or yet to be proven players, while others were veterans on their last legs.  1990 would bring in Kevin Brown, Juan Gonzalez, Harold Baines, while 1991 a 39-year-old Goose Gossage, a once solid Oil Can Boyd, and rookie Ivan Rodriguez would premier with the club.
In his final year in Texas, Valentine would go 45-41, five and a half game out of first place. The roster would see Jose Canseco join the ranks that season as well.
To recap, Valentine would post a record of 581-605 with the Rangers.
THE NEW YORK METS YEARS
After four years away from managing, the New York Mets brought Valentine in at the end of their 1996 season where he lead the team to a 12-19 record, finishing fourth in the AL East.  The team finished 25 games out of first place with a 71-91 record and was only over .500 one time the entire season.
Unlike when Bobby Valentine took over the Rangers, the Mets had some players on their roster that may ring a bell: Jason Isringhausen, Carlos Baegra, Carl Everett, Bernard Gilkey and Lance Johnson.  Some of which would be gone by year's end.
In 1997 Valentine turned things around immediately, bringing the Mets 17 more wins than in 1996, finishing the season at 88-74, third in the NL East and only 13 games out of first place.  This squad would see Isringhausen, Baegra, Everett, Gilkey, and Johnson return, with the addition of John Olerud.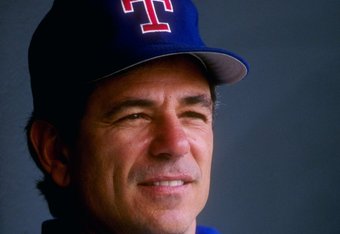 Earl Richardson/Getty Images
1998, once again the Mets would finish 88-74, which was good enough for second in the NL East on the heels of adding pitchers Al Leiter and Hideo Nomo.  A star named Mike Piazza would be added to the mix as well.
In 1999, Bobby Valentine would have the most star-studded lineup he had ever been able to manage.  While midseason Isringhausen would be traded to the A's; the team was still stacked, adding an aged, but still effective 40-year-old Orel Hershiser, reuniting with Kenny Rogers, Robin Ventura, bringing back a 36-year old Bobby Bonilla and a 40-year-old Rickey Henderson joined up with Mike Piazza and John Olerud. The 1999 Mets would finish the season with a record of 97-66 only to go home early losing in the NLCS.
I think when looking at the players on the team above, it really is important to look at the ages.. most of these men were past their prime.
In 2000, the Mets would finally make it to a World Series under Valentine, posting a 94-68 record, only to lose the aforementioned subway series to the New York Yankees.  This team would see the return of Leiter, Piazza, Ventura and Henderson while adding a name Sox fans are familiar with, Jay Payton.
On the heels of the World Series loss, the Mets would start to lose players from those (past their prime) star-studded lineups of 1999 and 2000, bringing back Leiter, Piazza and Ventura in 2001.
In 2002, Valentine's final season in New York, the team would be able to add a couple more "names" to their roster, but at this stage in their career, no baseball fan in their right mind would find Roberto Alomar or Mo Vaughn significant additions to the staff.  It is worth noting that Valentine would manage Marco Scutaro for the first time in 2002, when he broke into the league with the Mets.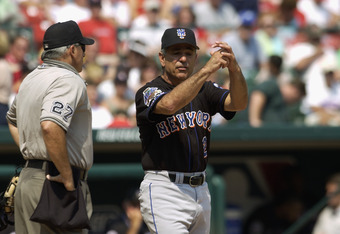 Elsa/Getty Images
All in all, Valentine would post a 536-437 record for the Mets with two deep post-season appearances.
The one thing I notice when looking at his time with both of these ball clubs is the lack of youthful talent on the rosters.  It is hard to argue how rough those first four years in Texas must have been.  The thing is, in Boston, not only will Valentine be thrushed into a maniacal fanbase, but he will also be blessed with a roster full of stars in their youthful prime.
For fun, I decided to look back at all of the players that Bobby Valentine managed prior to coming to Boston and try to put together a lineup of the same caliber that the Red Sox possess today.  When you factor in age of the players and the productivity they gave Valentine, it was actually pretty hard to make a list of comparable players to line up with the Red Sox.
Again, it bears repeating, this lineup and how I decided which player is a "better" player is purely constituted on their age when playing for Valentine and what their numbers were like for him.
For the catching role, the All-Valentine Team clearly had the edge.  It would either be Mike Piazza or, my selection, Ivan Rodriguez, behind the plate versus an uncertainty of Ryan Lavarnway or Jarrod Saltalamacchia.  Edge: AVT
At first base it is hard to refute Adrian Gonzalez as the better player over Rafael Palmeiro.  While Palmeiro had fine numbers for the Rangers, he is also tangled up in PED scandle.  Edge: SOX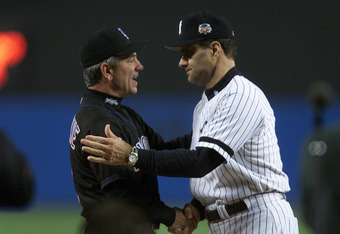 Getty Images/Getty Images
Second base was easier than I would have though.  While Roberto Alomar gets the starting nod for the AVT's, while in New York, he was a shadow of his former self and well, Pedroia is a beast.  Edge: SOX
It is hard to imagine a young Julio Franco these days, but back in the late 1980's and early 1990's he was arguably the best, if not, one of the best infielders the game had ever seen.  I have to give him the edge over Marco Scutaro.  Edge: AVT
Robin Ventura was a fine third baseman defensively for the White Sox but seemed to lose a step while with the Mets.  Offensively he was not comparable to Kevin Youkilis.  In this case, the offense will actually get him the victory in my little game.  Edge: SOX
Though his rookie year was just okay, Pete Incaviglia put together a nice career on the heels of PED use, as did Jose Canseco... just Canseco was more out there with his proclaimations and while I find it difficult to put any team together with a steroid-guy, Incaviglia got my nod in left.  By default, Carl Crawford wins. He won't be suspended at any point for banned substances... at least I think.  Edge: SOX
Center field:  PED guy Juan Gonzalez or MVP guy Jacoby Ellsbury?  Edge: SOX
Right field: a solid career player in Ruben Sierra versus another question mark, will the Sox roll out Ryan Kalish as I think they will?  In that scenario, Kalish is an unproven, thus the edge goes to Sierra.  Edge: AVT
DH:  While he didn't really DH for the Rangers, actually, only three times, Sammy Sosa was the best option to go up against David Ortiz, and obviously David Ortiz is the greatest DH of all time, is he not?  Therefore: Edge: SOX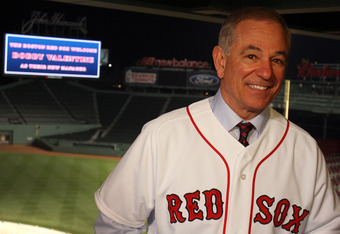 Elsa/Getty Images
Now, the pitching staff was a bit more difficult to gauge, as the Red Sox do not fully have their rotation or bullpen rounded out as of yet. However, as of today the starting five with a closer might look like this: Beckett, Lester, Buchholz, Bard, Aceves and Melancon in the bullpen.  That lineup against Nolan Ryan, Charlie Hough, Goose Gossage, Kenny Rogers, Al Leiter with Jason Isringhausen in the bullpen is an interesting one.  However, given what they did for Valentine, I think they get the nod in four of six positions.  Edge: AVT.
For those keeping score at home, if I were a betting man my money would go on the 2012 Red Sox, holding an 8-7 advantage over the All-Valentine team in my little fantasy game.
The point behind that exercise was this:  Valentine managed quite well with a patchwork of players that were all over the place in their careers.  As it stands right now, the average age of the starting lineup looks to be right around 26-years-old with a starting pitching staff average age of 27-years-old.  In short, the team, for the most part, is in the prime of their baseball careers.  This is one luxury Bobby Valentine has never been afforded before.
With that in mind, I have little to no doubt that Bobby Valentine will lead the Boston Red Sox to a World Series victory.  It may not be in 2012, it could be 2013. Either way, this is the man to bring Red Sox fans another ring and right the ship that sank... while shipping up to Boston in 2011.