NFL MVP: With No Aaron Rodgers, Doesn't MJD Deserve MVP?
January 3, 2012
Sam Greenwood/Getty Images
Maurice Jones-Drew does not get nearly enough credit for what he does on the Jacksonville Jaguars. He carries the team on his back year after year no matter what kind of talent (or lack thereof) is around him, and yet he is never even considered the best back in the NFL or an MVP candidate.
That needs to change. We can all agree that Aaron Rodgers deserves to be league MVP after the season he has had, but if he wasn't around, Maurice Jones-Drew should absolutely be the front-runner for league MVP. Why? Let's take a look at the candidates:
I am not saying in any way that Drew Brees hasn't been impressive this year. He will most likely break Dan Marino's record for passing yards in a season on Monday night against the Atlanta Falcons and the Saints have just about locked up the NFC South.
So why does Jones-Drew deserve the MVP more than Brees? Simply because of how much talent Brees has around him. The defense is roughly middle-of-the-pack, but Brees has a virtually uncoverable mix of size and speed in tight end Jimmy Graham, a huge sure-handed receiver in Marques Colston, a speedy deep threat in Devery Henderson and the best third-down back in the league in Darren Sproles.
The Saints can also boast a top notch offensive line with two of the best guards in the game. Brees's success can be attributed to his immense skill as a passer, but he also has a lot of help from talent around him.
Brady's stats are good year after year, but what really sets this season apart is the terrible play of his defense. This is definitely one of the worst defenses in the NFL and yet Brady and the Pats are 12-3 sitting atop the AFC East. Of course, two of the teams in the division are the Bills and the Dolphins. However, there is no denying Brady's skill and leadership.
The main knocks against Brady, however, are all the talented players around him. After all, even Curtis Painter could find at least some success with the Patriots offense. The Pats boast the best receiving tight end in the game in Rob Gronkowski, one of the league's best receivers in Wes Welker and an outstanding offensive line featuring the likes of Dan Koppen, Logan Mankins and Matt Light. He also has the best head coach in the league in Bill Belichick. However, Brady still deserves consideration for MVP.
Maurice Jones-Drew
Here is a guy who deserves a lot more MVP consideration than he is getting. Of course, isn't that always the case with Maurice Jones-Drew? The dude has been working hard in the Jaguars' backfield with some of the league's worst passers, and he still gets no consideration for MVP.
This year, the Jaguars had the league's worst passing attack, averaging not even 150 passing yards a game. It is safe to say Jones-Drew had to face eight men in the box more than a few times. Yet, he still led the league in rushing with 1,606 yards, 242 more than the next place runner. And it's not like he has an elite line blocking for him either.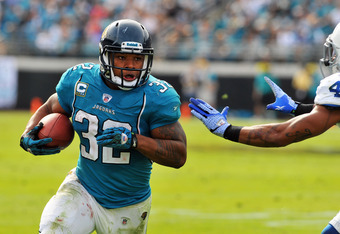 Al Messerschmidt/Getty Images
The Jaguars were only able to come away from 2011 with five wins, but in all of them Jones-Drew either had 100 yards from scrimmage or a touchdown. He accounted for almost half of the Jaguars' total offensive yards at the end of the year. Oh, and he did all of this coming off of a major knee surgery this offseason that many claimed would end his days of being a workhorse back.
Conclusion
When you compare Maurice Jones-Drew with Drew Brees and Tom Brady, there should be no comparison. The latter two may rack up more impressive stats, but they both have so much more talent around them than Jones-Drew, who has to basically get by on his own and still manages to be the league's top rusher.
Unfortunately, the few workhorse backs that still exist in the NFL never get enough credit for what they do, and Jones-Drew is no exception. Though Brees and Brady will most likely be the only other players getting any sort of MVP love, if Aaron Rodgers wasn't in the running the real MVP would be the league's most underrated player.