NBA Free Agents: Eddie House and Best Players Available on Waiver Wire
December 24, 2011
Mike Ehrmann/Getty Images
'Twas the night before Christmas and all through the NBA,
Rosters were trimmed just in time for Opening Day.
And while most of the cuts wouldn't cause any GM to perspire,
Others, like these three, have added quality to the waiver wire.
Eddie House
Looking for a scoring guard to fill out your second unit? A human microwave to serve as a spark plug off your bench?
How about one with a championship ring?
Good thing Eddie House is back on the market. The Miami Heat let House go, sparing the roster spots of such title contributors as Eddy Curry, Mickell Gladness and Terrel Harris.
House's unemployment shouldn't last for long, though, since one contender's loss figures to be another's gain. Look for teams in need of backcourt depth (i.e., the New York Knicks, the Los Angeles Lakers, the Boston Celtics) to put in a call to House's people before too long. 
It's possible that House was let go by the Heat to eventually make way for Gilbert Arenas.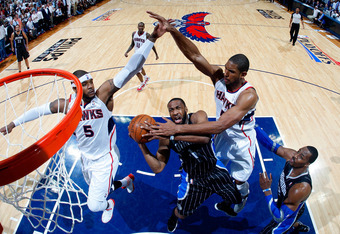 Kevin C. Cox/Getty Images
Only time will tell, but for now, Free Agent Zero remains on the market. Arenas cleared waivers after the Orlando Magic cut him loose via the amnesty clause. His wish list is thought to include the Knicks, the Heat, the Lakers and whichever team ends up with Dwight Howard, assuming the Magic ship him out at some point.
Injuries and character issues aside, Arenas would be an excellent pickup for any team in need of some scoring and ball-handling. Arenas may only be a shell of his former self, but he's still capable of putting up 20 points on any given night when he's comfortable and healthy.
At the veteran's minimum, that would make him an absolute steal. 
Manny Harris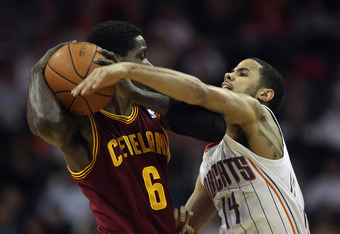 Streeter Lecka/Getty Images
Among the more perplexing roster moves made leading up to Opening Day was the release of Manny Harris by the Cleveland Cavaliers. The team signed him as an undrafted free agent prior to the 2010-11 season, during which he averaged 5.9 points, 2.6 rebounds and 1.6 assists in 17.3 minutes per game off Byron Scott's bench.
Harris isn't yet a great shooter and he's a bit skinny for his size (6'5", 185 pounds). That said, the second-year guard out of Michigan is an athletic, hard-nosed playmaker who, at the age of 22, still has plenty of upside left to be tapped.
Any team looking for a young guy with the potential to be a lockdown perimeter defender would do well to take a flier on Harris.