Penn State Football: Why Chris Petersen Is the Perfect Coach to Lead Penn State
December 24, 2011
The most recent rumor about Penn State's search for a head football coach is that the Nittany Lions are aggressively pursuing Boise State's Chris Petersen.  While I think acquiring Chris Petersen is an absolute long shot for the Nittany Lions, I think it is a perfect fit for both parties involved.
Petersen just ended his 2011 season with Boise State by leading them to a 12-1 record and a win over Arizona State in the MAACO Bowl Las Vegas.  After those results you'd have to think that Petersen's future at Boise State is looking very bright.  While Petersen's ability to coach is not in question, the fact that he is losing 15 seniors, including star quarterback Kellen Moore, from his 2011 starting lineup, makes one think that there's no better time to bolt from Boise than right now.
It is highly unlikely that Petersen will leave Boise State for a troubled Penn State program, but if he does there are certain qualities that he embodies that Penn State's tarnished football program can definitely benefit from.
First of all, if Petersen were to become the successor to Joe Paterno, he would bring much needed discipline to Penn State's football program.  Chris Petersen's head-coaching career at Boise State, with a career record of 73-6, has been marked by a stern commitment to playing disciplined football.  Watching Boise State over the past five years, consistently beating "better" major conference football teams like Oklahoma, Georgia and Virginia Tech, has been nothing short of amazing.  That amazement is in response to the discipline that defines the way they play football. 
Chris Petersen, by teaching discipline exemplified through leadership, has made average, 2- and 3-star high school recruits look like bona fide superstars.  Take, for example, quarterback Kellen Moore, who came out of high school as a 3-star recruit and ended his college career as a Heisman contender.  By the time Moore finished his career at Boise State, he accumulated 14,667 yards, 142 touchdowns and an astounding 50-3 overall record.  Just imagine what Chris Petersen could do with the kind of talent that he could recruit to Penn State.
In addition to his ability to lead with discipline, Petersen would bring his tenacious ability to recruit to Penn State, which is something that Penn State has been lacking for quite awhile.  Sure, Larry Johnson, Tom Bradley and Joe Paterno were solid recruiters, but they are nothing compared to Chris Petersen.  If Petersen can recruit above-average talent to Boise, Idaho, the middle of nowhere, just imagine the type of talent he could reel in to Penn State.  With Petersen at the recruiting helm, Penn State could finally pull in those 5-star recruits that have eluded them for so long.
I think it goes without saying that Chris Petersen also brings with him a proven ability to win big games, and that is something that Penn State hasn't been able to do as of late.  Every year, Penn State wins the games they are supposed to and loses games they're supposed to as well.  To become a great football program, Penn State needs to start winning games they aren't "supposed to," and that is something that Chris Peterson knows how to do.  Take, for example, his big wins against Oklahoma, Virginia Tech, TCU, Oregon and Georgia, just to name a few. 
More important than his recruiting skill, his proven ability to win and his ability to turn average players into college stars, are Chris Petersen's character and integrity, which have never been questioned.  Penn State is undoubtedly looking for a head coach who embodies the qualities the university as a whole is trying to promote—like integrity, character and beneficence.  Chris Petersen is head and shoulders above every other coach in college football when it comes to embodying those characteristics, and Penn State would be foolish not to offer Petersen everything he's ever dreamed of in hopes of making him their next head coach.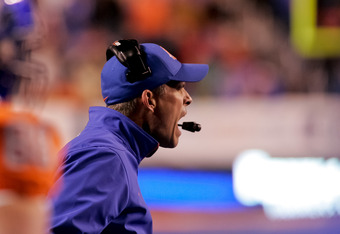 Otto Kitsinger III/Getty Images
While Petersen is clearly a perfect fit for Penn State, I also believe Penn State could be a perfect fit for Petersen.  The main reason for that is because Penn State provides Petersen with the opportunity to prove to the college football world that he can win against top-tier competition week in and week out in a BCS automatic qualifying conference—something he wouldn't get the chance to do until 2013 when Boise joins the Big East.  
Will Penn State land the head coach they don't deserve but desperately need?
I highly doubt it, but if they do somehow land Petersen, it will be the biggest head-coach acquisition in recent memory, providing Penn State with an ideal opportunity to turn their football program and their university around.  
Penn State, you need to do everything in your power to get Chris Petersen, because if you do your football program stands a chance of achieving redemption.