Cleveland Cavaliers 2011-12 Season Preview: Veterans Leading the Future
December 25, 2011
It's been a long and boring six months since the NBA lockout began back on July 1.
Unlike many fans, I actually look forward with great anticipation to all the happenings of an NBA offseason, with the best part being Summer League when we get to see our rookies in action for the first time.
So while I spent most of the past months wallowing in self-pity, I can now rejoice with all fans and say "Basketball is back!"
This is especially great news for the Cleveland Cavaliers as they begin a season with two top-four picks from the 2011 draft that we all hope will be cornerstones of the franchise for years to come.
While there is excitement and energy heading into the 2011-12 season I think all Cavs fans realize that this season will likely bring more of the same from last...though hopefully without any record-setting losing streaks.
I don't say this to be a downer but to be a realist. And also to remind everyone that this actually a good thing.
The way to get good in the NBA is very simple: you have to suck. And you have to do it for a couple years.
Having two picks in the top five of a draft is usually a huge jump-start for an ailing team. Unfortunately for the Cavs, last year may have been the worst year to have two top-five picks.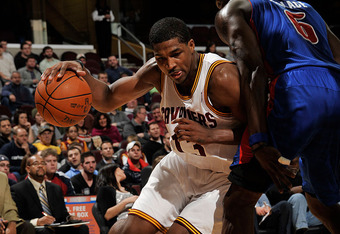 While we should all be excited about the potential of Kyrie Irving and Tristan Thompson, it's sobering to look at what the 2012 draft could be and imagine having two picks then.
But alas, that's not the hand we were dealt. So our only choice is to sit back and enjoy a bad team for another year and then reap the benefits in June.
But it won't be all bad. I hope and believe that if this team can stay healthy that the Cavs could be an entertaining team to watch throughout the season.
There are three themes that I believe will bear out over the course of the next four months.

Lack of depth
When you initially look at the Cavs roster it doesn't seem all that bad. There are five veteran players who would play solid rotational minutes on just about every NBA team.
The problem is that after you get past Ramon Sessions, Anthony Parker, Omri Casspi, Antawn Jamison and Anderson Varejao, the cupboard is pretty bare.
The only reserve players who appear competent at this point are Irving, Thompson, Samardo Samuels and Daniel Gibson.
While that seems pretty decent, the argument can be made that only Irving would be a rotational player on most NBA teams.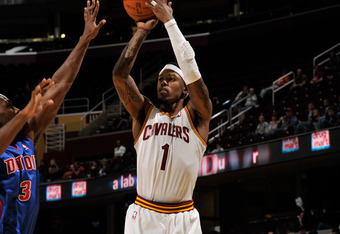 It's too bad about the freak injury to Manny Harris leading to his being cut by the team in favor of rookie Mychel Thompson. Thompson is pretty raw, but the coaches like some of the things he can do and he was obviously good enough to make the team over Harris.
The backups for the frontcourt are a major issue as it was last year, especially once injuries hit.
Ryan Hollins is a twig and really just not a very good basketball player.
Semih Erden has tons of talent but has yet to show the energy and drive to be great. Frankly, he just looked lazy and uninterested. It's clear from listening to Byron Scott that he's excited about the potential there. It's just a means of getting that potential to play out on the court.
Samuels, despite showing up to camp overweight, is still a beast. If he can get himself in shape and stay healthy then he can be the focal point of the second unit. I'm not sure if that's a good thing, but it's what we've got. It should be fun to watch his maturation as a player.
Another guy who we hope will mature well is Thompson. He plays with great energy and hustles his butt off. His offensive game will take time, but I'm pleasantly surprised with what I've seen so far considering what I'd heard coming in.
He'll need to play well and eventually take over as the starting power forward to justify his selection at No. 4 when there were other bigs on the board. I'm optimistic that he'll work out but we should expect some growing pains this year.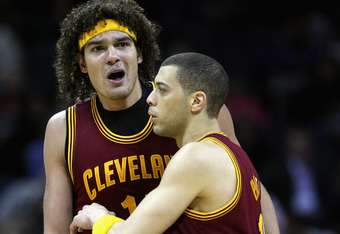 Streeter Lecka/Getty Images
The small forward spot is still a weak point on the team. While there is a lot of excitement about how Casspi fits into this system and the aggressive style of his play, he doesn't have a backup right now. Alonzo Gee still is not good. But unfortunately he's still better than Christian Eyenga.
Eyenga, the former first-round pick from the Congo, looks to be headed to the D-League to start the season. He has amazing physical abilities but just hasn't fully grasped the finer points of the game, especially on defense. I really hope that we get to see a lot of Eyenga this year, considering it's going to be a developmental year. But it might be best for him to mature in Canton instead of Cleveland, where his confidence could suffer.
The guards are another rough spot. It's really just two guys: Irving and Gibson. I like Gibson, but it's going to be asking a lot to carry the load backing up Parker.
With the second string there is a lot of youth and inexperience. There should be some good growth over the course of the season, but it will be rough at times.

Veteran Leadership
While the Cavs roster may not be very intimidating, it does have the advantage of having five veteran players who have been through the ups and downs of the league and should be a very good influence on the education of the young guys on the team.
The key leaders of this team has to be Jamison, Varejao, Gibson and Parker. I've never viewed Sessions as much of a vocal leader, but this will be his fifth year in the league so maybe he'll step it up.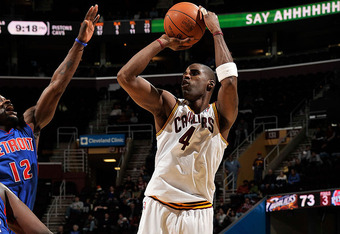 Jamison is guy that the Cavs should really be counting on as a leader on the floor. He stuck it out last year with the team all the way until the end, even though he was out for the year. He should have a big impact on Thompson this year teaching him about work ethic and being a professional. That is until he gets traded at the deadline, which I really hope happens.
Gibson is a very good leader on the floor and on the bench. He's never going to be a starting-caliber player in the NBA, but few people will outhuslte him, and that gives him the credibility to be a voice on the team. I was impressed with his leadership last year on a very bad and immature team.
It will be interesting to see how Varejao does in the "veteran leader" role this year. That's never been his calling card, but he's said that he's looking forward to acting the part more this year.
A veteran leader is really all that Anthony Parker is anymore. That's the only reason he's on the team as far as I'm concerned.
While only Varejao and maybe Gibson or Sessions will be counted on to be a part of the future of the Cavs, they are a vital function of the future. If they do not provide the leadership to the young players, then they will not live up their full potential.

Potential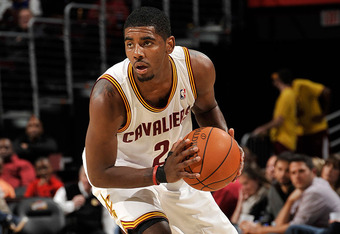 This is the best thing we have going for us: Potential.
After a strike of luck landed the Cavs the first and fourth picks in the draft this past summer, we are now on our way to redemption.
But as all NBA fans—and Cavs fan in particular—know all too well, there are no guarantees when it comes to high draft picks.
Does everyone remember when the Cavs had both the "next Allen Iverson" (Dujaun Wagner) and the "next Shaq" (Desagana Diop)?
If you don't remember, those guys were both on a team that ended up being the worst in the league and landing LeBron James.
So we don't have a sure thing with Irving and Thompson. But what we do have is potential.
And as a Cleveland sports fan, that's what I hang on to every team. There's always light at the end of the tunnel for me. I can always see that it's going to get better. And I look forward to the day that I can celebrate a championship for Cleveland.
It's not going to be this year for the Cavs. Let's not kid ourselves.
But the core of Irving, Thompson, Casspi and Varejao is solid. And with the addition of a few more pieces and some fruit from the potential we may just see this team win a championship in our lifetime.
The Cavs are going to need the veterans to lead the youth this year to reach their potential.
Sixty-six games in just four crazy months. And it all starts Monday. It should be a fun ride.
All for one and one for all.
Believeland.
You can follow Benjamin Flack on Twitter @ClevelandFlack.