Oakland Raiders vs. Kansas City Chiefs: Live Score, Video and Analysis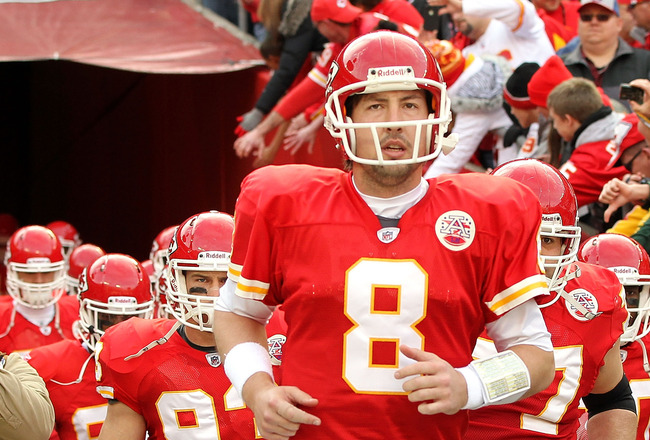 Jamie Squire/Getty Images
It was not pretty, but the Oakland Raiders found a way to survive and eliminate the Kansas City Chiefs from playoff contention as they remain alive and well to win the AFC West.
After a tied game at three, Raiders quarterback Carson Palmer threw a 61-yard strike to Denarius Moore for the first touchdown of the game in the third quarter.
Chiefs quarterback Kyle Orton and the Chiefs were ready to respond with a touchdown of their own, but safety Stanford Routt picks off a pass intended for Dwayne Bowe. Routt came away with another interception later in the game when the Chiefs offense had a rhythm going.
With a 13-6 lead going into the final two minutes, Orton finds Dexter McCluster on a screen play that takes the Chiefs inside the five-yard line for 49 yards. That set up a quick touchdown pass to Bowe, tying the game at 13.
With less than a minute to go in regulation, the Raiders struggle to get a first down and give the Chiefs a chance to earn three points before time expires. However, Trevor Scott blocked a 49-yard field goal attempt from Ryan Succop to send the game into overtime. Succop's second blocked kick of the game was the key to the Raiders success.
On the first play of overtime, Palmer throws a 53-yard pass to Darrius Heyward-Bey, eventually allowing Sebastian Janikowski to save the Raiders.
Despite being penalized 15 times, the Raiders win their fifth straight game at Arrowhead Stadium.
The Denver Broncos fell to the Buffalo Bills, 40-14. With the Chiefs out of the AFC West race, the Raiders have a shot at winning the division for the first time since 2002.
Final score: Raiders 16 - Chiefs 13 OT

Missed Janikowski's 36-yard game-winning kick in today's game?
Watch it here!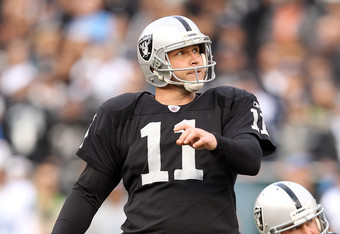 What a game! Sebastian Janikowski makes a 36-yard field goal to win the game and the Raiders are alive as the Broncos lost to the Bills 40-14.
WOW! Huge completion at the 25-yard line. This is Janikowski's range, by far.
Raiders win the coin toss and will receive.
Kansas City is 1-0 in overtime this season.
This is Oakland's first overtime game this year.
Richard Seymour just saved the Raiders with that blocked field goal!
Overtime in Kansas City.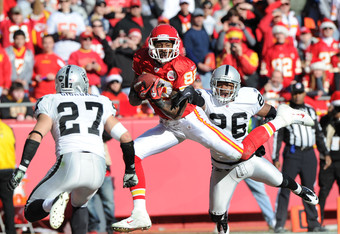 TOUCHDOWN CHIEFS
WOW! The Chiefs just turned it up. Dexter McCluster with a huge catch and run on a screen play, capped off with a huge catch by Dwayne Bowe. What did I tell you? Bowe is clutch and can come through. He just did.

Bowe has been heavily active. Two minute offense is now in play.
Great job by the Raiders offense to kill clock and get a field goal to cap it off.
It is a seven-point game with 2:57 remaining in the game.
This is Kansas City's final shot at a win. Look for Dwayne Bowe on this drive. He has had drop issues, but he has had a small history of being clutch in these situations.
Raiders defense holds on fourth-and-inches with 7:45 to go.
Another big stop by the Raiders defense.
The Chiefs are having more success on the ground than they are through the air on this drive.
You have to give the Chiefs defense a lot of credit. They have only given up 10 points as the Chiefs have had tons of opportunities to do something special.
Stanford Routt with his second interception. Routt does a good job stepping in front of the passing lane. Kansas City has a rhythm going on that drive.
Hue Jackson called a timeout, Oakland got a touchdown. Kyle Orton making that timeout call was probably the right thing to do.
As we enter the fourth quarter of this game, the Bills lead the Broncos, 26-14. The winner of this game will have a great shot at winning the AFC West next week. (Unless the Tebow magic comes.)
The Chiefs would benefit more from winning because in order for them to make the playoffs, they would need the Broncos to lose. The good part is, they play the Broncos next week and can control that.
Kyle Orton needs to shoot some pump fakes to get that defensive line off track.
The Chiefs defense comes away with a huge stop. Now the Chiefs offense needs to reward them with a touchdown. Incase the Chiefs forgot, they get touchdowns by getting the ball into the end zone.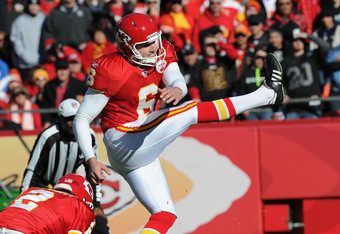 Ryan Succop begins a new streak with a chop-shot field goal. However, the Raiders still lead.
10-6 Raiders
Tommy Kelly is down on the play for the Raiders while Kansas City is in striking distance for their first touchdown of the game.
The Chiefs offense with their best play of the game. The line gave Kyle Orton all the time in the world to find a wide open Terrance Copper.
Kyle Orton is telegraphing his passes and is looking at only one player. Complete opposite of what he did last week.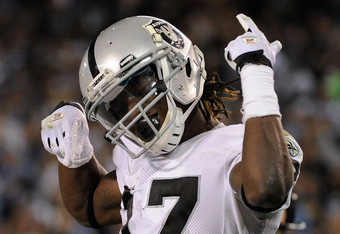 TOUCHDOWN RAIDERS
Looks like I was right! Hue Jackson's timeout call seemed to solve a lot, clearly.
A 61-yard touchdown pass from Carson Palmer to Denarius Moore.
Assuming Kansas City's offense cannot bounce back, they might need to rely on their defense or special teams to score.
10-3 Raiders.
Good idea by Hue Jackson to call a timeout. This offense really needs help.
For a tie game, this is pretty boring due to both offenses lacking execution when they have the ball in enemy territory.
Dave Rayner makes a field goal for to increase the Bills lead, 20-14.
Meanwhile, Oakland's offense has been picking up some first downs.
At this point, people are just waiting for a spark from either offense from this tedious contest.
These flags are getting out of control. The referees have more highlights than the Chiefs and Raiders, at this rate.
Both teams need to finish drives on a stronger note. Especially the Chiefs. Both teams also need to be more focused and get their heads in the game. Both teams have struggled in limiting their penalties. Just way too many in this game. 10 flags for the Raiders and eight for the Chiefs.
Carson Palmer threw three interceptions in his first, unprepared, game against the Chiefs. All of them in the second half. He was about to throw three in this half, but only threw two.
Kyle Orton and the Chiefs need to play better and keep an offense in sync so they can get touchdowns rather than field goals.
This article is
What is the duplicate article?
Why is this article offensive?
Where is this article plagiarized from?
Why is this article poorly edited?

Kansas City Chiefs: Like this team?