Nebraska Football: Ups and Downs of Making John Papuchis Defensive Coordinator
December 23, 2011
On Thursday, Bo Pelini announced that John Papuchis would be elevated from his role as defensive line coach (and special teams coordinator, and recruiting coordinator) to replace Carl Pelini as defensive coordinator. A number of commentators (including this dope) had argued that hiring someone outside the program, like Mike Stoops, would be the best course of action for Nebraska.
But Pelini stayed true to form, promoting from within. And that strategy has some advantages and some drawbacks.
ADVANTAGES
The biggest advantage to elevating Papuchis is that it makes Papuchis more likely to stay at Nebraska. At 33, Papuchis has already proven himself to be a stellar recruiter and a star on the rise in the coaching ranks. As Iowa has learned, coaching prospects can be plucked from a staff in a hurry.
Another advantage of the Papuchis move is that it leaves Pelini firmly in control of the Nebraska defense. Since his arrival, Pelini has been the defensive play-caller and the philosophical architect of NU's defense. While Carl Pelini's influence should not be minimized, there is no question that he was defensive coordinator in title only, and that Bo Pelini was calling the shots for Nebraska's defense. Bringing in an established name like Mike Stoops or Ron Zook would have likely meant Pelini would have given up some of that decision-making power on defense.
Finally, the elevation of Papuchis maintains some continuity in the coaching staff. Although Nebraska did add Rick Kaczenski from Iowa to replace Papuchis as defensive line coach, elevating Papuchis keeps the brain trust of Nebraska's coaching staff intact. It leaves the recruiting infrastructure set in place intact, although it is not yet clear if Papuchis will remain as recruiting coordinator given his new role as defensive coordinator. And, with Pelini remaining in charge of the defense, it means that the Blackshirts will not have to be learning an entirely new defensive scheme going into 2012.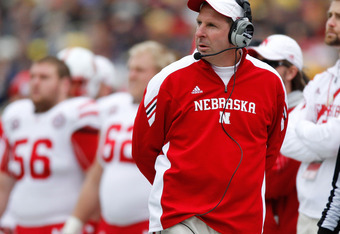 Gregory Shamus/Getty Images
DISADVANTAGES
There are a number of smaller disadvantages to Papuchis being elevated to defensive coordinator, such as throwing into question the focus on special teams and either putting a new person in charge of recruiting or overburdening Papuchis with the roles of recruiting coordinator and defensive coordinator.
But the biggest disadvantage to Papuchis being elevated to defensive coordinator is the missed opportunity to add fresh blood to Nebraska's coaching staff. After Pelini's bold "Nebraska's back, and we're here to stay" proclamation after the 2009 Holiday Bowl, Nebraska has not advanced as a program. 2010 carried with it a horrible sense of déjà vu, with another crushing loss in a conference title game, except with an embarrassing no-show of a bowl game loss added in. 2011 was actually a step backwards for Nebraska, with one fewer win and no divisional title.
Both 2010 and 2011 saw Nebraska continue the trend started in 2009 of unexpectedly losing a game at home to a mediocre opponent (Iowa State in 2009, Texas in 2010, Northwestern in 2011). Further, in 2011 Nebraska took an uncharacteristic step backwards on defense.
The hope of many Nebraska football observers was that hiring an outsider with a track record, like Stoops, would have freed Pelini from some of the defensive coordinator duties he currently takes on and allowed him to pay closer attention to other areas of the team. By handing over the defense, Pelini would have had the opportunity to focus on the team as a whole, and perhaps be better able to address some of the issues that have not yet improved as things stand.
But Pelini clearly does not perceive that as an issue that needs fixing. If anything, naming Papuchis as defensive coordinator cements Pelini as the man in charge of Nebraska's defense, meaning that the lion's share of Pelini's attentions as head coach will be focused on the defense. Elevating Papuchis is Pelini's way of doubling down on his current strategy as a head coach.
One definition of insanity is to keep doing the same actions and expect a different result. After the disappointment of the 2011 campaign, a little additional pressure has been placed on Pelini to produce better results in 2012. Clearly, Pelini has faith in the path he has chosen, and believes he is on track to making good on his promise made at the Holiday Bowl. But if 2012 doesn't produce the results he (and the Children of the Corn) are hoping for, Pelini's decision to elevate Papuchis has left him little room to hide.
But, knowing Pelini, that's likely exactly how he wants things, anyway.
Like what you read? Follow me on Twitter @patrickrunge to track my thoughts and observations about college football—and one or two other topics—throughout the year!
And if you would like to contact me directly to schedule an interview, ask a question or to get my recipe for a killer peach cobbler, you can send an e-mail to patrickrunge@gmail.com. (DISCLAIMER: Peach cobbler recipe might not be all that killer.)