NBA Trade Rumors: Nets' Trade for Mehmet Okur All About Placating Deron Williams
December 23, 2011
Warren Little/Getty Images
It appears as though the New Jersey Nets, in their desperate effort to keep Deron Williams beyond the 2011-12 NBA season, have given their All-Star point guard full general manager privileges.
If so, D-Will may yet have a future in front office management.
The Nets wasted little time moving to shore up their front line in the wake of Brook Lopez's foot injury, securing Mehmet Okur from the Utah Jazz for a second-round pick in the 2015 NBA Draft and/or a bag of peanut shells. New Jersey was desperate for some size to tide the team over until Lopez is fit to play after surgery, though there's no telling as of yet how long he'll be out.
Okur is certainly a solid pickup, too, assuming he's back up to speed from the ruptured Achilles he suffered in April of 2010. The Turkish big man appeared in just 13 games for the Jazz last season, none after the month of January.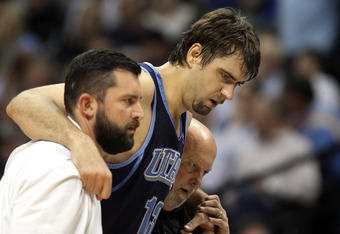 Marc Piscotty/Getty Images
When he's right, though, Okur is a lights-out shooter who, at 6'11" and 260 pounds, can bang in the post on occasion.
More than anything, though, Okur's arrival in the Garden State is nothing more than a salary dump by the Jazz and a desperate attempt by the Nets to make Deron Williams as comfortable as possible in his relatively new digs. Williams and Okur spent five-and-a-half seasons together in Salt Lake City, forming one of the more effective pick-and-pop combinations in the NBA.
Surely, D-Will won't mind having Memo around to remind him of the success they enjoyed with the Jazz, seeing as how the closest he'll come to winning in New Jersey will be through his own bouts of nostalgia, at least until GM Billy King is somehow able to swing a deal for Dwight Howard.
At this point, it makes sense, perfect sense, that the Nets would do everything in their power to keep Williams happy. Team owner and Russian billionaire Mikhail Prokhorov is desperate for a bona fide star to serve as the face of his franchise when it moves to the Barclays Center in Brooklyn next season. He gave up a bounty of young players and picks to drag D-Will to Jersey at the trade deadline last year, giving up Devin Harris, Derrick Favors, two first-round picks and $3 million.
The last thing he or anyone else in the organization would want to see is Williams simply walk away at season's end if the experiment goes south and Dwight Howard ends up elsewhere.
Of course, that may already be out of New Jersey's control. The Nets will have that much tougher a time swinging much of anything for Howard so long as Lopez is sidelined, and might find the market for Lopez to be thin even when he returns.
Nabbing Okur was a shrewd move on the Nets' part, to be sure, but winning enough to keep Williams in a Nets uniform is going to take quite a bit more than a washed-up big man who doesn't like to play inside.
Whether the Nets have what it takes is another story entirely.