BYU Football: Ross Apo Is "Going to Stay" at BYU; Is He Next One to Leave?
December 22, 2011
Erich Schlegel/Getty Images
If there's anything that's certain in life, it's uncertainty. And there's a lot of uncertainty regarding BYU football right now—that's for certain.
In what seemed to be an attempt to inject some certainty in the state of BYU football, Cougar wide receiver Ross Apo recently stated that he is certain he's not going to follow the recently departed, fellow recruit Jake Heaps out of Provo.
"I'm going to stay," Apo told the Deseret Morning News. "I never had intentions of moving anywhere, even if I did have a rough season, I don't think I'd ever leave here. I love this place."
If memory serves correctly, wasn't that Heaps' official position just six weeks ago?
In light of Heaps' exit, would Apo's departure from BYU really be that big of a surprise?

Evidence
Apo's a redshirt freshman with three years of eligibility left and there's a lot of uncertainty regarding BYU's long-term quarterback situation; obviously a position most imperative for a wideout's success.
In other words, if the guy taking snaps can't get Apo the ball, Apo's productivity is severely limited.
Riley Nelson is BYU's guy right now, but he's been injured twice in the past two seasons, one of which proved to be a season-ending shoulder injury. Nelson's proven he can play well when healthy and that he has the ability to bounce back from injury, but if he's injury-prone, he's injury-prone.
In the short term, Nelson seems to be a good fit for Apo's game, but that could change as quickly as a missed blocking assignment or an aggressive all-out blitz. That's the case for any quarterback anywhere, but with an injury-prone quarterback like Nelson, it is of much greater concern.

Apo's numbers for 2011 include 34 receptions for 453 yards and a team-leading nine touchdown receptions.
If he has any pro aspirations, those numbers aren't going to get him very much consideration. Not by NFL scouts, at least.
Apo's a product of the media-smart era of modern athletes. He knows what's what and if you think he's not keeping an eye on all of his options, you might want to climb out from the rock you've been hiding under.
Just because he's on record saying he doesn't intend to leave doesn't mean that's really what he's thinking. Especially with the team's bowl game against Tulsa in the Armed Forces Bowl on Dec. 30 looming large.
Case Study
I suspect the majority of Cougar Nation is taking Apo at his word and wants to believe the wide receiver is not going anywhere.
At least, that was the case with Heaps.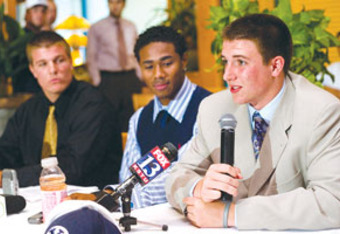 Case in point: In a Nov. 15 Bleacher Report article, the opinion was expressed that Heaps might be considering leaving Provo even though all reports indicated he was willing to redshirt in 2012 and finish his collegiate career at BYU.
That article was accompanied with the following poll question: "Where will Jake Heaps finish his collegiate career?"
From the possible responses, "BYU" and "Elsewhere," 74 percent of respondents indicated they believed he would finish his college career in Provo.
In a Dec. 5 Bleacher Report article that reported Heaps had decided to transfer, a poll accompanied the article that posed the question, "Were you surprised by Heaps' decision to transfer?"
Eighty-one percent indicated that they were not surprised by his decision to transfer.
What does this prove? Well, besides proving BYU fans are a fickle lot, mainly it is another simple affirmation that things can change in a heartbeat in the sports world.
Conclusion
For the meantime, it seems Apo means what he says. He's not going anywhere (before BYU's bowl game) and loves it in Provo (as long as there's someone who can throw him the ball).
Time will tell, but forgive me for being skeptical when an athlete says he's certain he's not going to do something when, in actuality, it's something he is seriously considering.
If a highly-recruited wide receiver like Apo does not have his eyes on the NFL, then BYU is a good place to be right now. However, if a highly-recruited wide receiver like Apo does have his eyes on the NFL, why in the world would he want to stay at BYU?