BYU Football: The Jake Heaps Predicament; Will He Stay or Will He Go?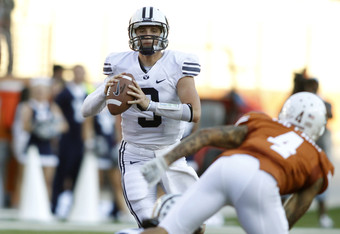 Jake Heaps may be the starter for now, but where will he finish his college career?
Erich Schlegel/Getty Images
It wasn't supposed to happen this way.
From the time Jake Heaps announced he was going to play at BYU, things were supposed to unfold in a manner that would place him on the path to becoming the next Steve Young or Ty Detmer.
Here he is, in his sophomore season, and he's already been part of a quarterback controversy that led to an experimental rotation system, the starting job, the starting job again, a benching, and now, another starting assignment. The first and most recent starting assignments, and possibly the one leading into this season, have come as the result of a Riley Nelson injury.
Had Nelson not gone down in the third game of the 2010 campaign, would Heaps have started at all? There's no way to tell, but given the unequivocal backing head coach Bronco Mendenhall has expressed for Nelson's future, one has to wonder.
During Monday's press conference, Mendenhall said Heaps has been given a golden opportunity to prove what he can do. However, he also made it clear that, regardless of Heaps' performance, Nelson is the starter when he is healthy again.
Not exactly a vote of confidence for Heaps and maybe the jab that eventually pushes him out the door.
So what's next for Heaps after this season? Mendenhall said the quarterback was open to the possibility of red shirting the 2012 season, a topic Heaps does not want to address until after the season.
Where will Jake Heaps finish his collegiate career?
Prior to Mendenhall's statement, rumors had begun to circulate that Heaps was unhappy and was considering transferring. Could this be the future for the next big hope at Quarterback U?
Only time will tell, but the thought of discontent and an eventual split is intriguing.
As a close associate of mine pointed out recently, there was a time at BYU when a quarterback—no matter how good he was—spent the first two years on the bench, probably played sparingly as a junior, then lit the football world on fire as a senior.
This was a formula that worked well for the Cougars during much of the LaVell Edwards era. Can it work now?
Heaps has been part of the starting position discussion since before he even set foot on campus. He hasn't had the comfort of an acclimation period that helped many of his predecessors prepare for eventual greatness.
Of course, for the quarterback equation employed under Edwards to work, you need a steady flow of high-quality quarterbacking talent to inject into the system. This is a luxury the Cougars haven't had for awhile.
After the starting job fell entirely into his lap during the 2010 season, Heaps led the Cougars to a 6-4 record, which included a 52-24 win over UTEP in the New Mexico Bowl. That success carried over into the 2011 campaign, earning him the starting job heading into the season.
Riley Nelson's game winner against Utah State.
Lackluster performances during the first five games led to Heaps' eventual benching in the third quarter of the Utah State game on Sept. 30.
Nelson, who led the team to a dramatic win over the Aggies, has been at the helm of the Cougar offense since, but will miss at least a month due to injuries sustained during the Cougars' 42-7 win over Idaho last Saturday.
So there you have it, Mr. Heaps. Play well and ride the pine anyway. Not much to look forward to, but if you stay in Provo for the long haul, the offense should be all yours again during your junior and senior seasons, assuming you choose to redshirt next season.
Then again, I'm sure Steve Sarkisian still has you on speed dial.
Follow Lou at Twitter.com/SenorWrite
This article is
What is the duplicate article?
Why is this article offensive?
Where is this article plagiarized from?
Why is this article poorly edited?

BYU Football: Like this team?