New England Patriots: Pats Trying to Show the Game Has Changed
December 23, 2011
Doug Pensinger/Getty Images
Ready for a shocker? The New England Patriots don't have a defense.
You may not believe it, but it's true. We've tried to come up with excuses for the unit, but they're falling through, one by one. This is no longer a group adjusting to a new scheme—the players don't just need to gel, they're not just waiting for injured players to come back.
The defense is bad. It might be getting worse. We've known since Week 1 that the Patriots can't stop the pass. That's a given. But now, after a nail-biting victory over the Washington Redskins and a momentarily terrifying win over the Denver Broncos, the run defense seems to have gone kaput as well.
And yet, even with football's equivalent to the Island of Misfit Toys for a secondary, a musical chairs linebacking corps and the 32nd-ranked defense overall, the Patriots are 11-3 and on the inside track toward the top seed in the AFC.
That's because Tom Brady and the offense, required each week to be terrific, have been. New England's 437 points are third-best in the league. Brady's rating has been over 100 in 11-of-14 games. Brady, Wes Welker, Rob Gronkowski and Logan Mankins lead the Pro Bowl voting at their positions.
The Patriots have looked unstoppable at times this year, and haven't looked better than they do now.
So, armed with the top seed in the conference, the Patriots will take on the rest of the NFL with an explosive offense and a dysfunctional defense. They're a one-trick pony, but it's a hell of a trick.
"Defense wins championships" has always been the formula. The Patriots are trying to prove that offense has taken its place.
No team has done it. A Lombardi Trophy has never gone to an offense-only team. No Super Bowl winner has been unable to survive without near perfection from its quarterback. Champions have been stronger on offense, sure, but they've either played defense along the way or had the potential to.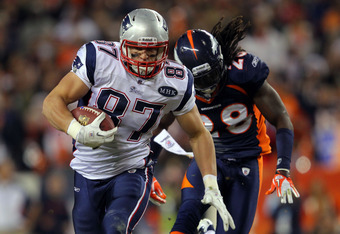 Doug Pensinger/Getty Images
The St. Louis Rams from the "Greatest Show on Turf" days get remembered for being the Kurt Warner extravaganza, but that team was sixth in total defense. The 2006 Indianapolis Colts were 21st in defense, but transformed from the worst run defense in the NFL to one of its best in the playoffs with the return of injured All-Pro safety Bob Sanders.
In fact, of the past 30 Super Bowl champions, only four ranked outside the top 10 in defense. The lowest ranked of those teams, the 25th-ranked New Orleans Saints in 2009, would seem to provide the necessary precedent for winning without defense, but that team had a proven, ball-hawking secondary that forced the second-most turnovers in the league.
The Patriots, however, are at the bottom of the league in yards given up overall and via the pass, and with Julian Edelman, Antwaun Molden and Matthew Slater handling key positions, it's clear just why they're there. They're ranked 15th in the league in points allowed, which is actually above league average, but it's tough to base a defense on red zone production and ride it for three playoff games, especially given the recent run-stopping woes.
Defense has been a prerequisite every year. The Patriots don't qualify. They're trying to prove they don't have to.
Instead, the Patriots are going to have to win in the playoffs by playing the game their way. It'll have to be quick possessions and aerial attacks, your quarterback vs. Brady. They'll have to turn the playoffs into a shootout, something that's never been pulled off before and becomes even harder when you play the games in the cold and unpredictable weather of Foxborough instead of a warm and comfortable dome.
Offense has never totally eclipsed defense with a championship squad, but this could be the year. The Patriots will play either at home or in the Super Bowl, and they're looking better than they have at any point this year. Every quote from the locker room makes it sound like they're on board mentally as well. Forget December, they're thinking about January.
If they succeed, which might just mean getting to Indianapolis, it'll prove that football, already more pass-happy than ever, has changed for good.
It'll show that offense wins games and championships, and that defense can be an accessory, much like deep-threat receivers and franchise running backs; they're nice to have, but do you need them to win?
History has shown us that, with good defense, you can win Super Bowls with Trent Dilfers and Brad Johnsons at quarterback. The Patriots want to prove that you can win titles with James Ihedigbos, Kyle Loves and Tracy Whites on defense.
It's never been done, but the transition to offensive dominance has already been in the works. The Patriots are trying to make it official.