WWE Rumors: Not Another John Cena Heel Turn Article
December 22, 2011
Speculation of John Cena turning heel on the Internet has become a degenerative pastime in and of itself.  More annoying than accurate, the standard John Cena article just isn't a John Cena article without posing the question of when he will turn heel.  
I've largely stayed as far away as possible from such an antiquated yet ongoing debate.  I have gone on record, however, in saying that a John Cena heel turn would be foolish. 
Cena apathy, personified by an increasing pocket of fans each week, is real.  Those who choose to boo Cena are doing so because they are taking advantage of a choice.  Under the right circumstances Cena has been front and center in some of the most compellingly hostile environments in WWE history. 
Turning Cena heel would undermine every real ounce of emotion in which fans project towards Cena, for better or worse.  Then, fans wouldn't be booing Cena because they wanted to.  They would be doing so because it was part of the act.  The unbearable edict would surely create rather ironic supporters of John Cena, many of whom clamored for a Cena heel turn in the first place. 
The WWE has been uncharacteristically quiet in their recent booking of John Cena.  While he is comfortably saddled in a placeholder feud with Kane until his program with the Rock saves the WWE's business for 2011, Cena was left off of the Tables, Ladders and Chairs pay-per-view entirely. 
This marked the first time all year that the WWE's surefire poster boy missed a pay-per-view all year, as Cena wasn't so much as given a token backstage segment.  No champagne apple cider celebration with Zack Ryder following Ryder's big U.S. Championship win.  No "where's Rocky?" promo.  No extra medium zebra t-shirt in which to squeeze into while assuming duties as a special guest referee.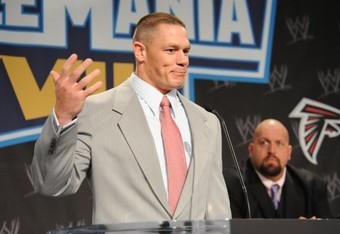 For the first time in about forever, John Cena was invisible.  The "you can't see me" jokes basically wrote themselves. 
Desperate for any semblance of pre-WrestleMania buzz, the WWE has suddenly found itself in full-on appease-the-Internet mode as of late, and the crappy ratings show it. 
Among many recent booking decisions popular with the one percent, the WWE has finally caved to the budding anti-Cena contingent and recently came out with anti-Cena t-shirts.  So despite the zeal and rebellion implied in a "Cena sucks!" chant, the WWE will soon own a monopoly on what you think of John Cena. 
The move by the WWE is a curious one, and considering the fact they have long since refused to turn Cena heel due to the merchandise sales he brings in as a babyface, an experimental anti-Cena line of apparel is one of the few legit reasons for speculation as to whether or not the WWE has begun to favor this idea. 
Should the anti-Cena t-shirts fly off the shelves, which would prove that Cena detracting as more than just an Internet hobby, it would be more than safe to say that the WWE could then internally begin to consider going all in with a full on John Cena heel turn by WrestleMania XXVIII when he faces the Rock in his hometown of Miami, Florida.
Cena, whose sentiments on Twitter are often about real as his craft, expressed frustration with the company moving forward with the "Cena Sucks" t-shirts.  In response to a fan suggesting that Cena was being disrespected, the former 12-time world champ and one-half of WrestleMania XXVIII main event responded:
"Agreed. But WTF. Ignore it no longer. Its out there so those that wanna be like that should be able to voice their opinion. Like I said doesn't change me one bit. Stay true..always have..always will."
The vast majority of those in the pro wrestling community believe that Vince McMahon does not own a Twitter account yet.  This simply isn't true as you can follow Vince McMahon on Twitter @JohnCena. 
Per a hedonistic society for McMahon that would idealistically exist in the imaginary WWE bubble, 90 percent of anything Cena says on his Twitter account is to push a storyline and should only be viewed as such.  Therefore Cena's tweets only add further fuel to the suddenly serious fire of his impending wrath. 
With the Rock on deck for WrestleMania, Cena continued his "controversial" mini-tirade against the WWE by including his WrestleMania XXVIII opponent in his crosshairs.  When asked if the WWE would ever create anti-Rock T-shirts, an evidently bitter Cena replied: 
"I can tell u right now….that would never happen."
Show me a deleted tweet, and I'll show you a controversial quip fired off in the heat of the moment that reflects legitimate, non-storyline-driven emotions. 
The tweets can all still be viewed @JohnCena.
Throw in the fact that John Cena lost out to CM Punk per fan vote for WWE Superstar of the year at the 2011 Slammy Awards, and the WWE creative team has all the juice they need and then some to logically pull the trigger on turning Cena heel, provided the anti-Cena t-shirts prove to be hot sellers. 
With the Rock set to compete in his first WrestleMania in eight years, few things can make his main event match with John Cena more intriguing than it already is. John Cena, the villain, would qualify as one of those things. 
Watch Big Nasty's review of TLC on B/R video, then follow him on Twitter @ThisIsNasty.