How Tyson Chandler Restores New York Knicks Order
December 22, 2011
Al Bello/Getty Images

When a New York Knicks crowd chants "dee-fense" in the Garden, you would swear that the crowd invented the phrase. It echoes like a subway roar, and the beat hits as hard as a New York City street.
The 2012 New York Knicks should be third best in the East, behind only the Bulls and Heat.  Last year the team was tiny, especially after the 'Melo trade. 
With Mozgov and the trade to the Nuggets, went a lot of depth. The only seven-footer in orange and blue. Ronny Turiaf, league journeyman and veteran of many a bench, was a starter and linchpin of the Knicks' low post game. 
The Knicks lack of size was their most defining feature. You can have two of the game's highest scoring ballers, but if Amare is playing post defense on Dwight Howard, and if Jared Jeffries is your five against the Celtics and the Bulls, then your team will hit a glass ceiling in the first playoff round.
The Tyson Chandler move lifts the ceiling off the Knicks' season. Chandler moves everyone to their rightful position, and all of a sudden they are big all over the floor. Their starting five flips last year's defining feature around to a brand new fact: they are a lengthy team that should rebound and defend well. 
Chandler, in a league of stretch fours is a true seven-footer. He can bang down low, defend all the big men, grab rebounds and block shots. Amare, playing four instead of five, is no longer undersized.
He is spry and springy. After a year alongside Turiaf and 6'9"—on a good day—Jared Jeffries, he'll finally have meaningful weak-side help and the biggest opponent boxed out, as Chandler patrols the paint alongside him. 
Carmelo is a small four, but a bullish and bruising three. He is unafraid under the hoop, and bangs bodies against anyone. Together, 'Melo, Amare, and Chandler are as dynamic and imposing a front court as any in the league.
The two youngsters in the backcourt, Toney Douglas and Landry Fields, are a great variable in this season's new formula. Fields is 6'7" 215 pounds. He's a big-sized two-guard. He averages 6.4 rebounds per game, and he tied Dwayne Wade last year for first amongst all guards in the league. 
Douglas, at 6'2" is around the average height for an NBA point guard. He's one of the league's better athletes. He was ACC Defensive Player of the Year back in college. He remains a quick darter and good jumper, who can jump passing lanes and get up to clean the glass.
No Rebounds No Rings
Riley coined the phrase circa five titles in the 80s with the Lakers. In the 90s he built what remains—for all New Yorkers younger than 40—the definitive New York Knicks hoops squad. 
From Oak to Mase to Larry Johnson, Starks and Ewing, the team had muscle and grit. It evoked the hardness of the city streets (Dee-Fense, stomp-stomp, Dee-Fense).
That chant should return this year. The Garden should rock as the Knicks rack up stops. The league should be on notice, that rebounds and clean looks don't come easy between 7th and 8th Ave. 
Amare's drop-step and Melo's smooth jumper aside, the size and length of the New York Knicks should be the most frightening image for guests in the Garden.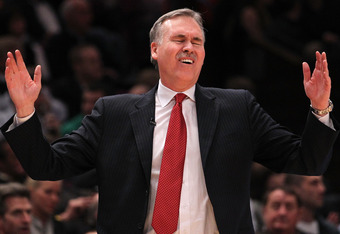 Nick Laham/Getty Images
There's only one problem with this picture. 
There's a running joke amongst New York Knicks fans that their coach should be named Mike Antoni—because there's no "D" in D'Antoni.
Coach Mike D'Antoni's preference for high-octane offense is well-chronicled. His disinterest in lockdown defense is an open secret around the league. As he looks to his bench this year, he'll see Renaldo Balkman and Jared Jeffries ready to enter the game. 
These two players both hustle and defend, but watching them play offense is like hearing an acoustic set from Metallica, or Beethoven through amps. It's just not what they do. 
Frankly, there could not be a more incongruous leader for this long-on-defense, merely-two-deep-on-offense squad than Coach Mike D'Antoni.  
No rebounds, no Rings. Defense wins championships. This particular Knicks squad will truly contend if it can channel the grit of the city. Box out, defend well, and protect the rim like your borough's honor.
They have the roster to do it. But is there any "D" in D'Antoni? Can he coax his squad into championship-level "D"-defense? 
If he can't, the Garden crowd will: Dee-Fense—clap, clap—Dee-Fense!