Jack Zduriencik's Alternative to Signing Prince Fielder
December 21, 2011
Otto Greule Jr/Getty Images
Prince Fielder. Prince Fielder. Prince Fielder. Wait, what? Is this an article about the possible acquisition of Prince Fielder? No. Let's take a step back from the Fielder hoopla and look at another possible transaction that Seattle Mariners GM Jack Zduriencik may be involved in during the upcoming weeks.
Yes, the Angels and Rangers have added some notable free agents this offseason. Clearly they've established themselves as the favorites to win the AL West, as well as long-term contenders for future AL Pennants and World Series titles. Since the signings of Albert Pujols and C.J. Wilson, and the news that the Texas Rangers have won the sole rights to negotiate with Japanese import Yu Davish, many Mariners fans have been crying out for their organization to make a high-impact free agency signing in order to keep up with the Joneses Kardashians in the AL West.
To many of these Mariners fans' dismay, Jack Zduriencik is not a short-minded individual. He will not panic nor be pressured into making an emotional decision in order to respond to these transactions. Zduriencik has had a plan for this offseason ever since it began, and he's going to stick to it, regardless of any moves that his competitors make.
This year, the often tight-lipped Zduriencik has not been afraid of sharing his offseason wish list with the media: a potent bat, a veteran starter, a left-handed reliever, and adding depth at both catcher and shortstop. The last three needs, by all accounts seem to be taken care of with the recent signing of George Sherrill, the acquisition John Jaso, and the imminent contract offer to Munenori Kawasaki. But most importantly, where will Jack Z find his potent bat and veteran starter? First, let's compare the slash lines and WAR of two possible impact bats that could be acquired this offseason:
Player A: .315 BA/.357 OBP/.525 SLG    2011 WAR: 5.5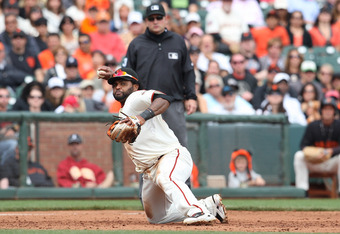 Tony Medina/Getty Images
Player B: .299 BA/.415 OBP/.566 SLG    2011 WAR: 5.5
Player B is none other than free-agent slugger Prince Fielder, but can you name the other? Would you be surprised to hear that Giants third basemen Pablo Sandoval was a five-win player last year? Thought so. Sandoval doesn't offer as much power as Fielder, but he is a much cheaper option, as he's under team control for the next three years and isn't scheduled to become a free agent until 2015. The Giants have been reluctant to offer a contract extension to Sandoval, and will be unlikely to do so if they intend to offer extensions to their top priorities, Tim Lincecum and Matt Cain. Remember, Sandoval did not start at third baseman during the 2010 World Series, and like Fielder, concerns about Sandoval's weight will likely affect the Giants' decision to sign him long term.  
It would take a tremendous package from the Mariners to rip Sandoval away from the hot corner in San Francisco, but a so called "bad" contract swap between M's third baseman Chone Figgins and veteran starter Barry Zito could be a start. Zito is owed $46 million compared to the $17 million owed to Figgins over the next, and last, two seasons of their respective contracts. 
The Giants could either eat a portion or all of the $29 million difference between the two contracts and demand top prospects in the swap, likely left-hander James Paxton and/or shortstop Nick Franklin, or trade the contracts straight up and expect to receive a lesser package of prospects in return. Figgins, returning to the leadoff spot for the Giants, and Zito, a left-handed fly ball pitcher starting half his games within the spacious dimensions of Safeco Field (see Jarrod Washburn), could both re-establish themselves as valuable everyday and rotation worthy players with this change of scenery.
The acquisition of Sandoval and Zito in exchange for Figgins and a top prospect would once again make Jack Z look like the same genius that brought Cliff Lee to Seattle for merely nothing. Zduriencik knows that the best way to add value to his team is through an upgrade at third base rather than first. Adding value to the Seattle Mariners, not signing big name free agents, is Jack's primary concern. Jack has a plan in place and always has a couple of tricks left up his sleeve.