Giants vs. Jets: Big Blue Give Jets a Taste of Their Own Medicine
December 21, 2011
Tom Pennington/Getty Images
Two New York teams talking trash to each other—what a shocker.
The Giants and Jets face off in a must-win game for both teams and the stakes couldn't be higher.
Both teams would severely damage their playoff chances with a loss while a win keeps them on track for a postseason berth.
To the surprise of nobody, the Jets got the trash talking off to a good start on Monday when Rex Ryan said his Jets were the better team the past two years.
Obviously the Giants didn't take kindly to this and directed their comeback in the direction of the players (they are, after all, those who actually decide the outcome).
Check out what Victor Cruz has to say about All-Pro corner Darrelle Revis:
Yeah, teams aren't really scared anymore. He's had to earn his money this year and teams aren't really backing down. I feel like we're going to do the same thing. We're going to go out until he physically stops us and we're going to spread the ball around.
Those words are certainly strong, and fellow wideout Mario Manningham believes Revis is a product of the Jets style of defense:
I'm not about to give all their corners credit because I feel like their defensive scheme is what makes them good in man coverage because they have to play it because of how their scheme is. [The Jets] have to play a lot of man because of how they run their defense.
All eyes will be on that matchup. Revis hasn't said much since he famously said he didn't want to fall asleep against the Broncos, only to get run over by Tim Tebow. It will be interesting to see if he has a response or if he's learned his lesson in that regard.
Then there were the comments made by running back Brandon Jacobs. He believes the Jets talk junk to fill some sort of void:
I think they're trying to fulfill something, put something in people that may not be there. And sometimes I talk because I say things that 'maybe, you know what, this won't happen, but I'm gonna make myself believe.'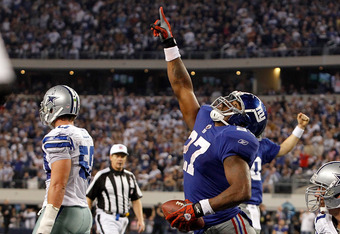 Tom Pennington/Getty Images
When asked about if the Jets own the city if they win, Jacobs was quick to respond:
They're going to need a hell of a lot more than this game to make that happen.
From the fury of all of the above comments, it sounds like this game has been circled on the calendar for a long time. The King of New York is something both teams care a lot about and having Big Apple bragging rights is huge.
With the stakes sky-high, this is the biggest game of the week and the one that directly impacts a ton of teams in the league. The G-Men didn't back down in the pre-game chatter and now it's the Jets' turn to flap their lips.
Who will be the first to talk?