Philadelphia Phillies: 5 Phillies Who Could Play Their Way onto the Trade Block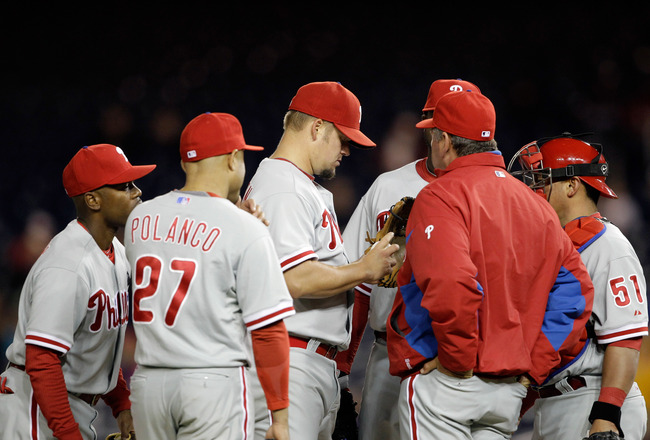 Rob Carr/Getty Images
Every season the Philadelphia Phillies make some key acquisitions to their roster when the trade deadline nears.
However, with these additions comes subtractions. The Phillies have a ton of talent in their minor league system, but if they kept trading away young prospects, they will be in big trouble in the future.
Therefore, if they want to make any moves this year, they will need to move some of their big leaguers.
The following are players that could be great possibilities, for one reason or another, to trade away as the 2012 season commences.
No. 5: Kyle Kendrick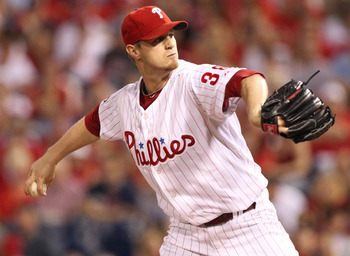 Hunter Martin/Getty Images
Kyle Kendrick's time as a Phillie has been an awkward one nonetheless. He has been a starter, reliever and was even pranked by the entire team that he was traded to a team in Japan.
That being said, he has been a vital member of this team especially in the long-reliever role. For the past two years, Kendrick has been the go-to guy if a starter gets shelled in the first couple innings.
However, he does not come cheap for the role he serves: Kendrick made almost $2.5 million during the 2011 campaign coming out of the pen.
He is good enough to be either a No. 4 or 5 starter in the MLB, but he will never crack the starting rotation on this All-Star-staffed rotation in Philadelphia. Look for Kendrick to have a great first half of the season, then look for Ruben Amaro Jr. to ship him off for a bat off the bench.
No. 4: Placido Polanco
Christian Petersen/Getty Images
Polanco could be the perfect rent-a-player at the trade deadline. Look for Ruben to deal him to an American League team before he deals Polanco within the Phils own league, though.
At 36 years of age, Polanco can still play the hot corner better than anyone else. He also is one of the most consistent regular season hitters.
He is a career .300 hitter who rarely strikes out, but come playoff time, he is nonexistent. Teams will look to trade for his experience or if there is an injury.
Also, Ruben will be willing to trade him for some young prospects to stock up the minors, and will be looking to dump his $5.5 million salary on some other teams. I could see Polanco wearing the pinstrips of the Yankees if A-Rod's injuries continue to haunt him.
He still has a lot of game left—that's why he may play good enough to get some talented young players in return.
No. 3: Domonic Brown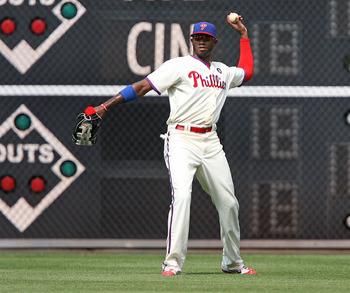 Hunter Martin/Getty Images
There's no doubt that Domonic Brown has phenomenal, raw talent. However, that's exactly what it is: raw. Brown was clearly rushed into the majors and the Phillies organization knows that.
Rant Sports MLB reported that Dom Brown is going to spend the entire 2012 season in the minor leagues. This may restore the young players' confidence and lead to his improvement.
Also, if he performs well down on the farm, he could make his trade stock go up, thus resulting in teams breathing down his neck. A couple years ago, Brown was deemed untouchable—especially when the Phillies were trying to trade for Roy Halladay the first time around.
I would be willing to bet that he is no longer deemed untouchable, and if there was a fair deal on the table, Ruben could consider moving the 24-year-old outfielder.
Most likely if the Phillies traded Brown, it would be for an already proven major-leaguer, not for more, uncertain prospects.
No. 2: Joe Blanton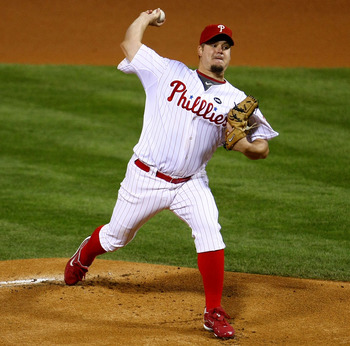 Chris McGrath/Getty Images
With the great, young arms in the Phillies organization, it's almost a guarantee Big Joe will be traded this season. If he isn't traded, he definitely will not be back in a Phillies uniform next season.
Blanton is penciled in to be the Phillies fifth starter going into the 2012 season. However, he was hurt toward the end of last season, and there are plenty of young guns who could easily be a solid No. 5 for this squad.
If Blanton can have a decent first half of the season, look for Ruben to aggressively move the big righty. Some scouts say that Trevor May is MLB ready, so if he has continued success in the minors, they will trade Blanton and bring May up.
It's not like Blanton is terrible. It's just that he isn't as good, or alarmingly better, than some of the young arms who will also be significantly cheaper.
Teams could also come after Blanton too. Some teams who have pitchers go down or need some help in their starting rotation could definitely be interested in Blanton—especially if they know the Phillies will be looking to move him.
No. 1: Freddy Galvis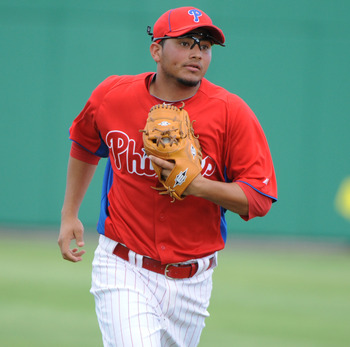 Al Messerschmidt/Getty Images
If the Phillies didn't sign Jimmy Rollins to a three-year deal, Galvis would not be on this list. In fact, he would be the Phils starting short stop come opening day.
Galvis is without a doubt MLB ready on the defensive side. However, his offense is not quite there yet, according to TTF Baseball. But it was reported that the Phillies were going to accept the decline in offense in order to have Galvis as the starting short stop.
All that being said, it will be at least three years before Galvis sniffs the MLB with the Phillies (unless J-Roll continues to get injured). In an interview with CSN Phillies insider Jim Salisbury, Ruben Amaro Jr. said that Galvis will most likely be playing in the MLB within the next couple years.
He said that after signing Rollins, so is that foreshadowing into the future? Is Ruben hinting that the Phils will be trading Galvis sooner rather than later?
Take it as you may, but Galvis is definitely now the most sought after player in the Phillies organization, and if he continues his rapid improvement, he could be traded to a team where he will have a shot at competing to be an everyday short stop.
Keep Reading

Philadelphia Phillies: Like this team?