Minnesota Vikings: 7 Ways to Use Joe Webb and Christian Ponder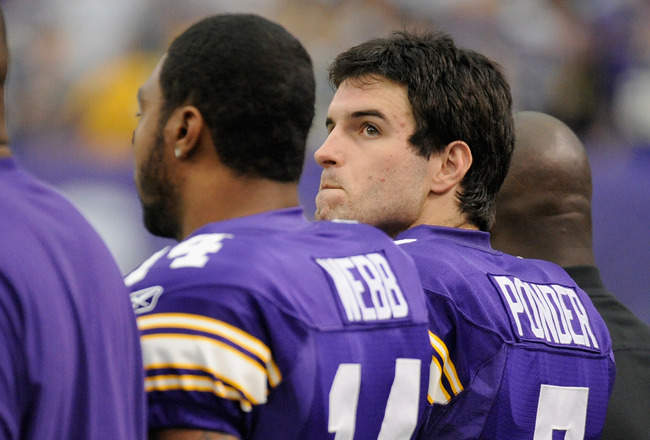 Hannah Foslien/Getty Images
The Minnesota Vikings will have some touch calls to make once this horrible nightmare of a season finally comes to an end.
Whether or not Vikings owner Zygi Wilf retains the services of Leslie Frazier and his entire staff, what, if any, of the current defensive backfield will be a part of this team next season? How will they rebuild an aging offensive line? And what do you do with quarterback/wide receiver Joe Webb?
A sixth-round draft choice in 2010, the Vikings originally selected Webb as a wide receiver. He would play in five games in his rookie season, and not catch a single pass. In Week 16 he did make his debut at quarterback, leading the Vikings to a 24-14 upset win over the Philadelphia Eagles.
Webb opened this season as the Vikings third-string quarterback, eventually becoming the backup to Christian Ponder when Ponder was named the starter in Week 7 against the Packers.
Then in Week 13 against the Broncos, Webb would make his first reception as a wide receiver for nine yards. The following week he would take over for an ineffective Ponder versus the Lions, and throw and rush for a touchdown.
The Vikings have been bouncing Webb back and forth between positions, and actually, Webb has been almost as effective as Ponder this season.
In eight starts, Ponder has a 72.3 passer rating with 13 touchdowns and 12 interceptions. With far fewer attempts, Webb has a 71.3 passer rating this season with his first touchdown pass of his career, against no interceptions.
So, what does the future hold for Webb?
Here are seven potential ways the Vikings can best utilize Webb and Ponder.
Play Joe Webb at Wide Receiver and Christian Ponder at Quarterback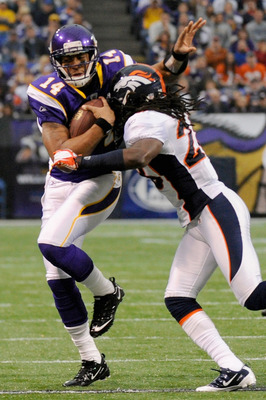 Hannah Foslien/Getty Images
With Michael Jenkins out for the season with a torn meniscus, at 6'6", Joe Webb becomes the tallest wideout on the the Vikings roster.
Webb has demonstrated that has the talent to play in the NFL. Perhaps the Vikings should use the last two games against the Redskins and the Bears to determine how effective the combination of Ponder to Webb could be.
Use Joe Webb out of the Backfield with Christian Ponder at Quarterback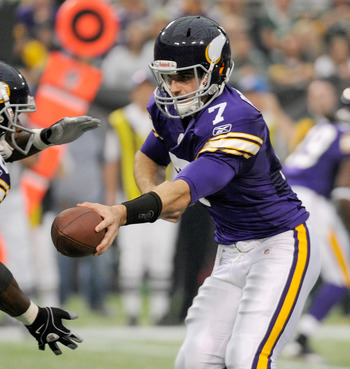 Hannah Foslien/Getty Images
Christian Ponder has been at his best when handing the ball off.
Adrian Peterson is only 68 yards short of another thousand-yard season despite missing three-plus games, and is averaging 4.8 yards per carry with 11 touchdowns.
Toby Gerhart is second on the team with 355 yards, and a 4.3 average.
Percy Harvin has the highest rushing average of any Viking to receive the ball out of the backfield at 6.8 yards.
Why not give Joe Webb a chance?
With a 9.1 yard per carry average on 13 carries as a quarterback, Webb could be very effective in the right situation.
I like the idea of having Webb and Harvin lined up next to Ponder in the shotgun in third-down situations. Think of the possibilities from this formation.
Or, put Peterson in the backfield with Ponder and Webb, and Harvin as the slot receiver. Put Harvin in motion—the resulting options available would give opposing defensive coordinators headaches.
Start Christian Ponder at Quarterback and Let Joe Webb Return Kicks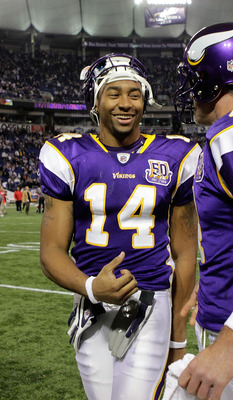 Nick Laham/Getty Images
When Leslie Frazier took over from Brad Childress, one of the first things he did was to utilize the talent of Joe Webb.
In Week 13, Frazier's second game as head coach, he used Webb to return the opening kickoff against the Buffalo Bills. He did have a 30-yard return, but unfortunately, it resulted in a mild hamstring injury.
This season however, it seems that just about everyone that has taken a turn at returning kicks has done a fairly good job.
Percy Harvin leads the Vikings with a 36.4 average on 13 returns, Marcus Sherels is second with 28.9 average on 10 returns, and Lorenzo Booker has averaged 23.7 yards on 19 returns.
One advantage would be that Percy Harvin would not have to return kicks unless the game were on the line; then he wouldn't have to sit out the first one or two offensive plays of the ensuing drive.
Play Joe Webb at Quarterback on Short Yardage Situations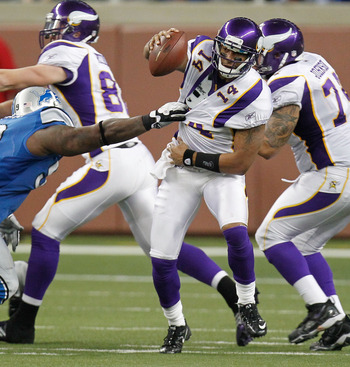 Gregory Shamus/Getty Images
Against the Detroit Lions, Joe Webb demonstrated on his one-yard touchdown pass to Toby Gerhart, that he has the touch that will prevent defenses from packing it in and solely focusing on the run in short-yardage situation.
At the same time, Webb is a greater threat to run the ball than Christian Ponder.
Start Joe Webb and Quarterback and Bench Christian Ponder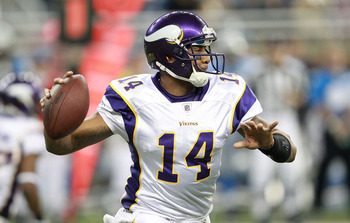 Leon Halip/Getty Images
Yeah, I know, it sounded better in my head when I was brainstorming the options.
The only reason to go this route is to protect Christian Ponder from further injury this season.
Once the Vikings have a chance to upgrade the offensive line, then put Ponder back in. Over his past five starts Ponder has been sacked 19 times.
Granted, most of these have been from hanging onto the ball too long, but Ponders seems to be getting the point as he has been getting rid of the ball when under duress (though unfortunately resulting in multiple intentional grounding calls the last two games).
Bench Both Christian Ponder and Joe Webb and Let Sage Rosenfels Start at QB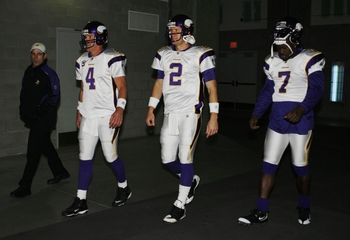 Christian Petersen/Getty Images
During the 2010 exhibition season, Sage Rosenfels was outplaying Tarvaris Jackson as they battled for the backup role to Brett Favre.
Unfortunately for Vikings fans, the team was simply showcasing Rosenfels in order to find a suitor for the long-time backup.
Rosenfels, a career backup, has a 6-6 record as a starter with an 81.2 passer rating.
The Vikings traded Rosenfels to the Giants on September 3rd, one week before the season opener, thus giving the backup role to Jackson.
Perhaps, if Rosenfels had stayed he might have gotten the opportunity to start in place of Favre and may have made enough of an impression that the team may have passed on signing Donovan McNabb.
Then again, Rosenfels has been with four different teams, including two stints with the Dolphins and Vikings. If he had the ability to start, he would have by now.
Bench Both Ponder and Webb and Start Andrew Luck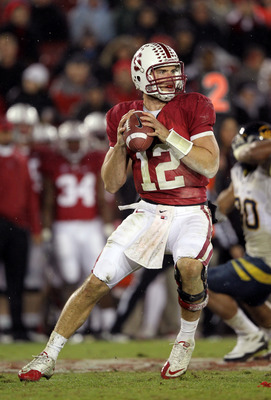 Ezra Shaw/Getty Images
All right, I know, this is about as long a shot as they get.
While it's not a stretch that the Vikings will finish the season 2-14, it would take a lot for both the Rams and Colts to finish ahead of the Vikings.
For most of the season the Colts have appeared to be the lock for the Luck sweepstakes, but with their win over the Titans perhaps they can win out the season.
The problem is the Rams close the season against the Steelers and the 49ers. While both these teams are in the playoffs, they could be playing to improve their seeding, and thus looking for an easy win.
I guess the contingency plan would be to improve the line in front of Christian Ponder and sign a wide receiver that can provide a down-field threat.
Keep Reading

Minnesota Vikings: Like this team?