Baron Davis to Knicks: Why Oft-Injured PG Is Worth Gambling on for New York
December 20, 2011
Finally, it's that time of year again. Last-minute NBA fantasy drafts are in full swing as Christmas Day tip-off approaches, and wannabe GMs everywhere are looking to round out their selections with a certain stealth pick who will give their team a competitive advantage.
High-risk, high-reward players have the ability to push one's virtual All-Star team to the top of the standings. But, it's those same players—often bitten by the injury bug—that deliver constant disappointment to their increasingly impatient owners.
The Knicks confirmed their willingness to ride this roller coaster with the Monday signing of veteran point guard Baron Davis. New York becomes the fifth stop in a career that has brought the two-time All-Star clear across the country and back.
While it seems like eons ago when the Davis-helmed, No. 8-seeded Golden State Warriors stunned the No. 1 Dallas Mavericks in a 4-2 first-round upset, it was only May 2007. Captivated by Davis' hyper-athleticism, the hometown faithful "believed" this team was capable of a run to the NBA Finals.
Despite the Warriors being over-matched in the semifinals and falling short to the seasoned Utah Jazz, the bearded wonder had made his impression felt.  Over the course of that 11-game postseason span, Davis accrued a line of 25.5 points, 4.5 rebounds, 6.5 assists and 2.9 steals per game. Oh, and he also buried 51 percent of his shots.
Between stockpiling statistics and serving up one of the nastiest facials in recent memory to a certain Russian known for his defensive tenacity, Davis solidified his status as one of the game's most electrifying players.
That playoff performance even prompted his coach, Don Nelson, to adorn him with the utmost praise. "I've coached some great players, but I've never coached a guy that's any better than Baron Davis," Nelson said.
Davis went on to spend one more year in the bay area—a campaign in which he participated in all 82 regular-season contests. However, time has not been kind to him since.
Although Davis seemed like the ideal fit for the high-flying, run-and-gun style of the Los Angeles Clippers, injuries prevented him from ever getting a stranglehold on the starting point guard spot. And he never quite developed the rapport with Blake Griffin that Chris Paul now has the opportunity to.
With a chance to rid themselves of the health issues and an eight-figure annual salary, the Clippers shopped Davis to the Cleveland Cavaliers at last season's trade deadline in exchange for younger talent.
Davis was none too thrilled to join the fray with the struggling Cavaliers. Furthermore, lingering injuries and competition with incumbent point guard Ramon Sessions resulted in playing time that was sporadic at best.
Appearing in a mere 15 games for Cleveland, Davis only broke the 20-point barrier once. Still, he did show flashes of his old self, including a 19-point, 12-assist double-double at Toronto in just 30 minutes on the floor.
It is exactly that sort of outburst that intrigued the Knicks.
Evidently, interim GM Glen Grunwald is a glass-half-full type of guy because Davis has not been injury-free since the 2007-08 season in Golden State. He also has a tendency to allow his attitude to interfere with effort on occasion.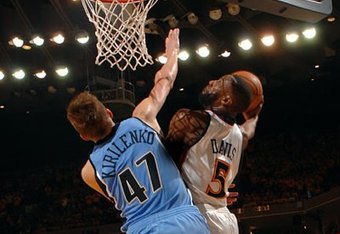 The release of Chauncey Billups opened up a gateway for future success, enabling the acquisition of Tyson Chandler, but it also put the Knicks in a very precarious situation at the point guard position.
Toney Douglas, an extremely hard worker with an affinity for performing in the clutch, has already surpassed expectations. But, the question of whether he has the gumption to assume the role of full-time floor general for a franchise facing almost insurmountable odds—in the media capital of the world no less—remains unanswered.
Bringing 13-year vet Mike Bibby into the fold will certainly help ease Douglas' transition, especially considering his experience quarterbacking a fairly high-profile team in Sacramento for the better part of a decade.
Nonetheless, at almost 34, Bibby's days as a starter are numbered, and he's no longer capable of dictating the flow of the game as he once did.
Enter Baron Davis.
A herniated disk that kept him out of training camp is what ultimately forced the Cavaliers to sever ties with Davis. Varying reports have Davis sidelined for as many as 10 weeks and as few as four.
Worst-case scenario, Davis won't be completely recovered until mid-March. While that hardly makes his one-year, $1.4 million deal seem worth it, try to think on the bright side like Mr. Grunwald.
By that point, New York will have played approximately two-thirds of its schedule, and we'll have a real sense of how things are stacking up in the Eastern Conference as far as playoff berths are concerned.
Given Davis' history of fragility, the Knicks training staff will likely encourage a slower rehabilitation process. Since players are so often inclined to rush into game action, this will ensure that Davis is as close to 100 percent upon his arrival and not in jeopardy of any setbacks.
Since Davis will not have taken part in a single game in a Knicks uniform at this juncture, he will not feel burdened to make a hasty return.
Expectations regarding Davis' productivity are as tempered as they've ever been. With all eyes on him during his Garden debut, he'll certainly be looking to recapture the limelight that has become foreign to him as of late.
What better way to reintroduce yourself to the home crowd—and NBA fans in general—than by making a grand entrance and stealing the show amidst the league's elite?
A healthy Davis is something very few teams in the East could contend with when they've already got Amar'e Stoudemire and Carmelo Anthony to worry about; when Davis' explosiveness is at its peak, opposing defenses have their hands full.
And we've seen Davis carry a team on his back. Just imagine what he's capable of while surrounded by some of the greatest superstars the sport has to offer.
Career averages of seven assists and two steals lend themselves perfectly to Mike D'Antoni's up-tempo offense and the team's re-dedication to defense. The fact that Davis is a lifetime 17 PPG scorer is simply icing on the cake.
A duo of Douglas and Bibby is respectable, but a platoon that includes Davis has the potential to be downright scary. The type of momentum that a refreshed Davis could provide a team—especially one of this caliber—making a push for a leading playoff seed cannot be overlooked.
At this stage of the game, many have written Davis off as a gamble, but at the veteran's minimum, he could very well be a safe bet.
It's the prospect of such upside that savvy fantasy participants salivate over. Stashing an unwanted player who pays you back tenfold down the line is about the closest feeling to hitting the jackpot in the world of make-believe professional basketball.
Will the Knicks hit it equally as big with the addition of Baron Davis? The wait will be over in four weeks...or two-and-a-half months.