Chicago Bulls: Reintroducing Ronnie Brewer and "The Bench Mob"
December 20, 2011
Jonathan Daniel/Getty Images
There were plenty of reasons that the Chicago Bulls made it to the NBA Eastern Conference Finals last season.  Good coaching, tough defense, the coming-out party of F Luol Deng and the youngest-ever league MVP, Derrick Rose. 
You also had your share of unsung heroes.  Among them was center Kurt Thomas, who bolted to Portland for a two-year deal.  Thomas was a part of the group known to Chicago Bulls fans as "The Bench Mob."
With the exception of Thomas, "The Bench Mob" includes C.J. Watson, Taj Gibson, Kyle Korver, Omir Asik, Brian Scalabrine and Ronnie Brewer.  This group can arguably be a starting five for a team in rebuilding mode.  
This year, rookie Jimmy Butler joins the group of future and former starters.
What makes "The Bench Mob" different is the fact that each player adds something unique to the mix.  Not many teams can boast about a bench anywhere near as strong as the Bulls' bench. 
Allow me to introduce you to "The Bench Mob"...
Kyle Korver is the sharp-shooter that every team must have.  His defense leaves something to be desired.  He fits well with Derrick Rose's drive-and-kick skills, and after a full season under coach Tom Thibodeau, Korver should be a bit more comfortable.
Brian Scalabrine is the player at the end of the bench that each successful team needs.  He was a great locker room guy who was a calming influence on Joakim Noah last season.  He also can still hit the open three-pointer.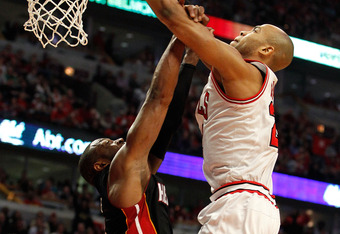 Gregory Shamus/Getty Images
Taj Gibson is a poor man's P.J. Brown.  Steady, reliable and intelligent.  Many have questioned his ceiling, but in earnest, Gibson can start for two-thirds of the teams in the league. 
Every team that doesn't have Dwight Howard or Andrew Bynum would love to have Omir Asik.  He is a defensive dynamo with huge upside.  His problem last season was confidence on both sides of the court.  Plagued by foul trouble, Asik must play in control for the Bulls to have the size to get past the Miami Heat.
C.J. Watson appeared to have worked on his ball-handling during the offseason, based on the improvement I saw in the Bulls' preseason game at Indiana.  He's a perfect complement to Derrick Rose that can score at will if you're not paying attention.  Too bad he's only 6'1" because otherwise, he could play more off the ball with Rose at the point.
Rounding out "The Bench Mob" is Ronnie Brewer.  An injury kept him from competing for the starting 2-guard spot, but Brewer coming off of the bench was a huge gain for the Bulls.  He is a lanky defender who should have earned some All-Defensive Team votes last season.  He's not a great three-point shooter, but he can create other ways to score with his awkward shooting stroke. 
If you started "The Bench Mob" against the Torontos of the NBA, they would have a reasonable advantage, thus giving Chicago Bulls fans reasons to be optimistic this season.