2011 New York Giants: At the End of the Day, Antrel Rolle Should Shut His Mouth
December 20, 2011
Losing to the Redskins was not a viable option for the New York Giants on Sunday.  In fact, experts had pegged the diminutive chance of a Washington victory at a pessimistic one percent.  In reality, there was only one prognosticator responsible for calculating these odds.  The faulty prediction was just another chapter in the ongoing saga of Giants safety Antrel Rolle.
Since joining the team last year, Rolle has appeared in a weekly spot for New York's flagship sports station, WFAN, to discuss the weekly "ins and outs" of the club throughout the season.  Wasting no time, he littered the airwaves with proclamations of the team "finding their inner dog" and questioning if teammates were ready to play on certain Sundays.  However, over the past two years, Rolle's sizable yap has continued to run faster than "The Roadrunner."
Earlier this year, before their opening loss against the 'Skins, Rolle stated that, "If we played them [Redskins] 100 times, they might win five."  Furthering his opposing bulletin board fodder, Rolle stated that he was "not at all" impressed by Washington quarterback Rex Grossman. 
In an effort to outdo himself, Rolle rehashed his earlier statements from September by clarifying he was misquoted.  The second-year Giant claimed, " I said 99 [out of 100]."
Apparently, he had forgotten about his lengthy harangue when he suited up on game day.
During the excruciatingly pathetic display, Rolle appeared as one of the poster boys of the downtrodden loss.  Amid all his pregame prophecies, the once-confident gasbag spent his Sunday afternoon missing tackles and chasing after receivers as if he were "The Coyote."  After the eventual 23-10 loss, one would expect a plaintive Rolle when speaking to the media at the end of the day.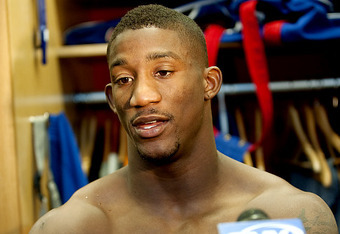 Instead, he looked for the nearest bus to throw members of his cadre under.  Ask cornerback Corey Webster about the tire tracks still on his back after Rolle's barbs from last week. 
This week, when asked about the secondary's deficiencies, he snapped, "There weren't any breakdowns."  After further questioning about cornerback Prince Amukamara getting smoked all day by Washington's receivers Rolle said, "Then that's just Prince getting beat.  There weren't any breakdowns."  Ouch.
While he was correct about the rookie's struggles, for a guy who crows "teamwork" and "unity" every Tuesday with Joe and Evan, he appears to be a Big Blue hypocrite.  Yet, his finger-pointing wasn't reserved for the secondary.
Continuing to deflect the blame elsewhere, Rolle essentially called out anyone with "little nicks and bruises that don't practice, but then play on Sunday.  Comments like this seem to have be directed at running back Ahmad Bradshaw and defensive end Justin Tuck.  But, Rolle immediately threw up his best defense, which was apparently lacking on Sunday, and admitted, "I don't even know who doesn't practice half the time."
So would Rolle change his usual ardent tune to a somber admittance of defeat on this week's radio spot?  Of, course not!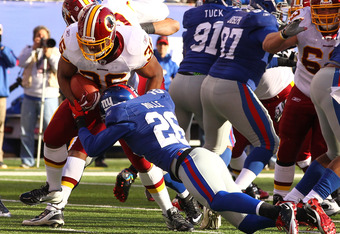 Al Bello/Getty Images
After failing to clarify his challenge to teammates about practicing, he accused WFAN hosts of "attacking" his performance.  Obdurately, Rolle refused to take any of his comments back regarding Washington or his teammates.  After have having ample opportunities to admit his mistakes, he irreverently stuck to his guns.
For a team that is always preaching discipline, Rolle seems to think he has been ushered into some sort ascendancy, where the rules don't apply to him.
Making boisterous predictions is one thing, however calling out sheep in your own flock is another.  His passionate pregame battle cries do little to inspire, when after the game a crooked judgmental finger is coming from the same direction afterwards.
The posturing and swagger of Rolle have officially become a problem.  In addition, his perfunctory effort on the field is now embarrassing.  If he has any inclination to save face, he needs to have the coaches and fans flashing ebullient smiles when it matters most.
At the end of the day.