Boston Celtics Season of Mystery to Begin on Christmas
December 19, 2011
Christian Petersen/Getty Images
Admit it folks. 
Whether you're a die-hard Boston sports optimist or someone who enters every Boston sports team's season with thoughts of collapses or last-place finishes in your mind, you've got no real clue about the upcoming Celtics season. 
It's the season of "if."
Yes, one could say that about any upcoming season of any sports franchise, and things never go exactly as planned, but this upcoming Celtics season truly leaves you scratching your head. 
First of all, there's the dramatically shortened preseason and training camp that has players upset and coaches scrambling to prepare .
Then there's the Celtics' roster, which was already chock full of injury concerns entering training camp, and will continue to be throughout what should be a grueling season that features multiple back-to-back games.
Now you can add in the loss of Jeff Green, who was expected to play a key role in the upcoming season. Green's loss certainly hurts, but it's not the Green injury that will ultimately determine the Celtics' success or failure this season. 
It's everyone else's health that will. 
Losing Green could be a big problem. It could create a lack of depth and increased minutes that lead to other injuries to even more important players.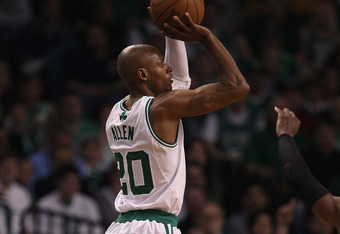 Elsa/Getty Images
The Celtics enter the season with a roster as talented as almost any in the league. Is there another team that currently features three future Hall of Fame residents in their starting five? 
While everyone—myself included—has predicted that the schedule coupled with the advanced age of Paul Pierce, Ray Allen and Kevin Garnett will cause fatigue, injuries and losing streaks, it doesn't have to end up that way. 
What if the Big Three stay healthy? 
That's a frightening prospect for opposing NBA teams, because while veteran players need rest they also don't need as much practice as younger ones do. 
With the exception of the frantic pace of the season, the odds are pretty slim that Ray Allen, Paul Pierce and Kevin Garnett are going to encounter anything too unforeseen on the basketball court this season. 
If all three are healthy, that would make the Celtics pretty tough. Throw in Rajon Rondo—who is one of the better defensive point guards in the league, as well as a very good passer—and the Celtics could be even more difficult to defend. The team in general is going to play sound defense from a fundamental standpoint. There will be some nights when their legs won't allow them to keep up with the league's fastest paced teams, but those teams still have to rebound in order to get out on the break. 
Run-and-gun basketball has a major weakness. It's totally dependent on a team's ability to get defensive rebounds and make good outlet passes. You can't "crash the boards" collectively as a team and still get out on the break. The Celtics are aware of this. The tandem of Jermaine O'Neal and Chris Wilcox, who will split time playing center, won't be called on to do a ton. They absolutely must rebound the ball effectively, which will go a long way toward helping Boston control the pace of games.  
There are other role players on the team who could play key roles as well, such as Brandon Bass, who came to the Celtics in exchange for Glen Davis.
Finally, the Celtics will make a signing of some sort to replace the injured Green. That signing could be any number of league-minimum type of free agent.
The 2011-2012 Celtics are a team that could be far better than many think, or they could go in the complete opposite direction. So much is dependent on a collection of somewhat unknown variables surrounding age, experience, health and an altered season. It all starts on Christmas Day with a noon tip-off against the division rival New York Knicks.