Lakers Rumors: Gilbert Arenas to Los Angeles Would Trigger Kobe Bryant Trade
December 18, 2011
Christian Petersen/Getty Images
The Los Angeles Lakers could potentially pursue scorer Gilbert Arenas before the start of the regular season on Christmas Day, and if they do sign the former Wizard, you can wave goodbye to Kobe Bryant in LA.
According to ESPN's Marc Stein, "Arenas' hometown Lakers continue to give the impression that they're hesitant to launch into a Gil experiment. This, after all, is a time of high sensitivity in Lakerland in the wake of Lamar Odom's exit and Pau Gasol's uncertain future with the team."
But the possibility of LA management taking a shot at Arenas remains alive, especially considering that they would be able to get him for cheap. After all he's an LA guy, and he wants to play for a winner.
If Arenas does in fact suit up in purple and gold at some point this season, you can bet the Black Mamba won't be anywhere near.
Arenas is set to turn 30 this January, and Bryant is already 33 years old, so a legitimate argument can be made that the Lakers would be looking to get younger and cheaper.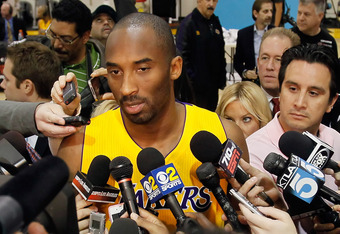 Jeff Gross/Getty Images
Bryant is already a little ticked given that management hired coach Mike Brown without his consultation, traded away Lamar Odom for virtually nothing and failed to bring in superstar point guard Chris Paul. In addition to that, Bryant and his wife are currently going through a divorce for which he has no prenup to fall back on.
Bringing in another ball-handling scorer type of player would only further push Bryant to the brink.
For those who discount Arenas as a ball-handling scorer type, consider this: there was a stretch from 2004 to 2007 when Arenas averaged 25.5, 29.3 and 28.4 points per game for consecutive seasons, something that few players have ever done before.
And as reported by Stein, the Lakers have already shown they are uncertain about the future of big man Pau Gasol, who was a featured piece in LA's vetoed trade for Chris Paul.
That disallowed trade winded up costing the Lakers sixth man Lamar Odom, and now the rebuilding process in Hollywood is in full swing.
Could Kobe really be out in LA? 
The odds aren't good unless the Lakers front office makes the highly questionable move to sign Arenas before Christmas.
Arenas wants to be a Laker for obvious reasons, but LA isn't sold on him yet. This is because they know that signing Arenas would not only add a potential major headache to their roster, but it would also likely cost them one of the greatest players in NBA history in Kobe Bryant.