NBA Rumors: Why the Denver Nuggets Must Re-Sign Arron Afflalo
December 18, 2011
Doug Pensinger/Getty Images
The Denver Nuggets have yet to re-sign shooting guard Arron Afflalo, but they would be smart to secure him before it's too late.
Afflalo, Denver's starting 2-guard last season, is one of the most underrated players in the league. He's an elite perimeter defender and is insanely efficient on offense.
Last season he scored 12.6 points per game while shooting 49.8 percent from the field, 42.3 percent on threes and 84.7 percent from the free-throw line.
His effective field goal percentage (FG% weighted to account for three-pointers) was a ridiculous 58.1 percent, highest among all shooting guards who played at least 45 games.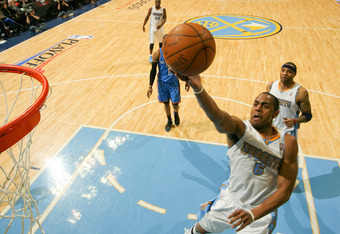 Justin Edmonds/Getty Images
Aside from his great production, the Nuggets also need to bring him back to fill the gaping hole at their shooting guard spot.
With Wilson Chandler and J.R. Smith stuck in China, Denver is lacking bodies on the perimeter. They traded for sharpshooter Rudy Fernandez, but he's much better suited for a sixth man role.
The Nuggets obviously realize that Afflalo was an important part of last season's 50-win team, so they are trying to bring him back. General manager Masai Ujiri sounds optimistic about their chances.
"We're moving and it's going good," Ujiri said. "He's our final piece. We're going to close and try to make sure we get that done. He's a huge part of our team."
For Denver's sake, I hope this deal gets done. If Afflalo ends up leaving, they will suffer severely.