Mike Milbury Being Exiled from TV Is Good for the NHL and Player Safety
December 18, 2011
Bruce Bennett/Getty Images
Mike Milbury has been placed on indefinite leave from his talking head role on CBC's Hockey Night in Canada, as well as his gigs on NBC and Versus, after being charged with assaulting a 12-year-old peewee hockey player. 
Regardless of what ends up happening in court, Milbury is done. His broadcasting career is over. You can't come back from the public image of a grown man assaulting a little kid, not with dozens of former coaches and players angling to replace him. 
This is a great thing for the NHL. 
Getting Milbury off the air helps to advance the cause of player safety, something Milbury is firmly against.  
Milbury lives in a world where blind side hits to the head are perfectly fine (unless they are against a Bruin), where it is OK to goon and rough up star players, run goalies and attempt to injure other players.  
He is stuck in the mindset of late '70s and early '80s hockey, which was when he played the game. 
Milbury is infamous for climbing into the stands at Madison Square Garden and fighting with fans, including beating a fan with a shoe. 
When coach of the Boston Bruins, Milbury selected enforcers over skill players for the 1991 All-Star Game. The NHL would change the rules for selecting the All-Star roster after this debacle, taking the power away from the coach.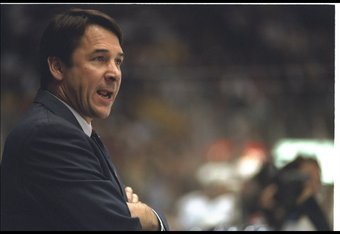 Glenn Cratty/Getty Images
In other words, he liked Slapshot not for the comedy, but as an actual model for a modern NHL franchise. (Actually, that might explain his tenure as general manager of the Islanders, where he single-handedly ruined a once-great franchise with horrible drafting, trades and contracts.) 
Milbury is also one of the more influential broadcasters in hockey, using his pulpit on Hockey Night in Canada (the premier NHL show), as well as his analyst roles on NBC and Versus, to preach old-school hockey.
Or at least his version of old-school hockey. 
Now I like big hits and fights as much as the next fan, but the problem is that this isn't the '70s or '80s. It is 2011, and we know a lot more about concussions and head injuries than we did 30 years ago. 
The NHL today is facing an epidemic of concussions.
According to Hockey Night in Canada, there are $87 million dollars worth of NHL players on injured reserve due to concussions right now. 
As we near the Christmas break of the 2011-2012 season, we have Claude Giroux (the NHL's leading scorer) and Milan Michalek (tied for first in goals) both out with concussions.  
Sidney Crosby famously missed the second half of last season and the first two months of this season with a concussion, and now has taken himself out of the lineup again due to lingering symptoms. 
Ryan Miller, one of the NHL's best goalies, was taken out by Milan Lucic and suffered a concussion. 
Chris Pronger already has been ruled out for the rest of the season and the playoffs after suffering a concussion. He might be forced into retirement by this injury. 
Marc Savard was forced into retirement by his concussion. 
This is just a skimming the surface of the list of players felled by concussions in the last few years.  
Milbury used his soapbox on almost a daily basing to campaign against any rule changes that would reduce the risk of injury, arguing that it would lead to a no-hitting league. 
Now on a personal basis, I'm happy to see Milbury gone.  
He was a horribly biased broadcaster from the "yell louder if you don't have any facts to support your argument" school of debating, who had no place on CBC.  
I'm not saying that the CBC broadcasters have to be homers for the Canadian teams, but I'd appreciate if my tax dollars weren't paying for a retired goon to consistently bash the Canucks and Habs and praise the Bruins, regardless of whether they are playing that night or not. 
And his misogyny was a relic of decades past as well.
If the NHL is trying to grow the game and get better broadcasting contracts, maybe it would help if one of their premier analysts wasn't constantly attempting to insult players he doesn't like, or other analysts he disagrees with, by calling them girls. 
But in the end, I'm really just happy Milbury is banished from the airwaves from the player safety angle.  
Without Milbury constantly attacking any attempt to change rules (or enforce existing rules) to prevent headshots, and defending any player who is up for suspension due to a headshot, public support for these safety initiatives should improve.  
And hopefully the NHL will be forced by public opinion to recognize the concussion epidemic and continue to try to reduce headshots. 
Just like many teams have Milbury's tenure with the Islanders to thank for their current rosters due to his horrible trades as general manager, hopefully we'll have Milbury's horrible decisions as a peewee coach to thank for new player safety initiatives.
At least in a roundabout way.