Philadelphia Phillies Re-Sign Jimmy Rollins: Cole Hamels Extension Next?
December 17, 2011
Drew Hallowell/Getty Images
According to a multitude of reporters, the Philadelphia Phillies have agreed to terms with shortstop Jimmy Rollins on a three-year, $33 million contract with a vesting option for a fourth year worth the same. Rollins, the team's longest-tenured member, seemingly waned from his previous demands of a five-year deal or a four-year contract with a fifth-year player option.
That's great for the team, considering that Rollins doesn't have five years left in the tank.
With Rollins back, this spells a few things. First and foremost, Freddy Galvis will not start for the Phillies anytime soon. He'll be stuck in Triple-A Lehigh Valley for the next three or four years, yet he'll still be only 24 years old should Rollins' new contract stand for four years and call for Galvis to start following its conclusion.
Then again, the Phillies could also use Galvis as a trade chip in any sort of deal should one be necessary next July or even sometime in the next few years. His defense is superb and his offense is gradually improving, and should it climb even higher next season, he'll be a hot commodity.
Whether Dontrelle Willis' signing with the team was a courtship to bring Rollins back to the City of Brotherly Love is a question for another time, but it sure helps nevertheless. However, the biggest question remaining in the minds of Phillies fans is this: will the team extend Cole Hamels next?
Until Vance Worley worked himself into the Phillies rotation, Hamels was the team's last homegrown player in the starting rotation as well as the rotation's youngest member, which consisted of Roy Halladay, Cliff Lee, Roy Oswalt, Hamels, and Joe Blanton on Opening Day of last season.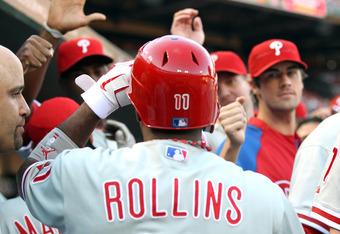 Jamie Squire/Getty Images
All of those pitchers were acquired via trades or free agent signings except Hamels, and all were at least 30 years old except Hamels.
Now that Hamels is one of the premier starting southpaws in the game, it begs the question: what will it take for the team to keep him beyond next season?
Phillies GM Ruben Amaro, Jr. stated in an interview with NBC HardBallTalk's Craig Calcaterra at last week's Winter Meetings that the team would like to keep Hamels a lifelong Phillie, but that re-signing Rollins was his priority. Now that that's come to pass, how much will Hamels extension talks heat up?
Hamels' career numbers have been compared to those of Los Angeles Angels of Anaheim ace Jered Weaver, who signed a five-year, $85 million extension with his team late last season. But with Hamels being a lefty, his value automatically increases. and the fact that he's an ace drives it up even further.
It's been said that Hamels should command an extension comparable to Weaver's, but with Hamels being one of the best starters in the 2013 free agent class alongside Matt Cain and Zack Greinke, he could command even more, possibly becoming a $20 million-a-year player.
There's little doubt that Hamels will attain at least five years from the Phillies in an extension, but the price he'll come at if extended is vague. Will he take a hometown discount and sign for an extension around the price of Weaver's, or will he demand a contract worth an amount similar to one he'd make in free agency?
If the Phillies sign Hamels to an extension with an average annual value worth over $20 million, they would be the first team in major league history to have three starting pitchers on their roster making over $20 million a season. Will they offer that kind of contract to their organizational gem, or will they let the season play out first?
If I were Ruben Amaro, Jr., I'd lock him up now. He's vastly improved since his 2009 fall and will continue to do so should he stay on his current track. If he does even better next year, imagine the money he'll command in free agency next year. If the team wants to remain young and competitive beyond next year, they need to lock Hollywood Hamels up before it's too late.
Here's hoping Amaro knows what he's doing.