Philadelphia Phillies to Sign Dontrelle Willis: Are They Going for a New Look?
December 13, 2011
Jared Wickerham/Getty Images
According to espn.com's Jerry Crasnick, the Philadelphia Phillies have agreed to terms on a one-year, $1 million deal with pitcher Dontrelle Willis. The deal also contains incentives for performance bonuses.
The 30-year-old Willis, who pitched for the Cincinnati Reds last year, went 1-6 with a 5.00 ERA, a 1.52 WHIP and fanned just 57 batters in 13 starts consisting of 75.2 IP, his highest total since 2007, when he pitched for the Detroit Tigers.
Having struggled since his trade from the then-Florida Marlins along with Miguel Cabrera to the Tigers, Willis has bounced back a bit, though he is nowhere close to putting up numbers comparable to those of his NL Rookie of the Year season in 2003.
This is an interesting move, as the Phillies currently don't have a vacant spot in their starting rotation.
Headed by Roy "Doc" Halladay, the rotation is rounded out by Cliff Lee, Cole Hamels, Vance Worley and either Joe Blanton or Kyle Kendrick.
Had the Phillies non-tendered Kendrick by last night's midnight non-tender deadline, this deal could make more sense, but unless a separate trade is in the works involving Worley, Blanton or Kendrick, or if Willis is pitching in the bullpen, there is little sense made in signing the D-Train.
If Willis is going to be used in the bullpen, it could spell the demotion of Justin De Fratus or Michael Schwimer back to the minors for now. Then again, this deal could have been the reason why Ben Francisco was shipped off to Toronto.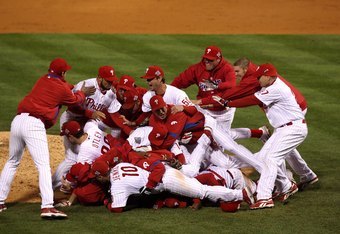 Jim McIsaac/Getty Images
While all of the above could be tangible reasons for signing Willis, my thinking is that the Phillies could be attempting to go as small-market as the can in an effort to rekindle their 2008 success.
They've made small signings and trades that have seen the likes of Laynce Nix, Ty Wigginton and Jim Thome come to Philadelphia. While all three are valuable bench pieces and will strengthen the backup corps significantly, they aren't necessarily difference-making players.
In 2008, the Phillies won the World Series with a starting rotation led by Cole Hamels and followed by Brett Myers, Jamie Moyer, Joe Blanton and Adam Eaton (ugh).
Their offensive roster consisted of many of the same players today, but players like Pedro Feliz and (at the time) Carlos Ruiz were far from impacting the team.
Their bullpen was led by a closer by the name of Brad Lidge, who had a remarkable 41-for-41 save season, but the rest of the bullpen behind Ryan Madson as the set-up man was nothing special.
Since Ruben Amaro, Jr. took over as Phillies GM after the 2008 season, the team has made higher-profile moves. 
He began by signing outfielder Raul Ibanez to a three-year, $31.5 million deal, but his desire quickly rose, and at the trade deadline that year, they acquired Cliff Lee for prospects.
Then, in the 2009 offseason, they traded Lee and acquired Roy Halladay, and received Roy Oswalt at the 2010 trade deadline. They then re-signed Lee after the 2010 season and acquired Hunter Pence at the 2011 deadline.
I could see Amaro shipping off one of Blanton or Kendrick for a prospect or two, or Worley in a blockbuster deal along with Domonic Brown for an All-Star-caliber player, like David Wright or maybe even Hanley Ramirez if Rollins negotiations somehow don't work out. But the way I see things, Amaro's trying to go small-ball like in 2008 and win a championship with a balanced team led by a few significant All-Stars, but the remainder being inexpensive yet clutch players. Maybe I'm crazy (likely the right answer), but who knows.
How do you see this deal turning out? Is it smart or stupid? Are the Phillies indeed trying to emulate their 2008 success? Please share your thoughts in the comments below!
UPDATE: Willis will indeed pitch out of the bullpen, according to the Philadelphia Inquirer's Matt Gelb.