Do the Cavaliers Have the Worst Wing Players in the NBA?
December 16, 2011
Mike Ehrmann/Getty Images
I wrote about the departure of Baron Davis yesterday. I pondered the wisdom of paying your most talented player to not play for your team when it's becoming clear that the Cavaliers have no intention of using their newfound cap space on anyone.
I know that Davis could be out for up to three months with the back issue which is basically the whole season at this point. But I still question the wisdom that the Cavs have displayed.
Much like the Browns of a couple years ago, this roster is so devoid of talent. I mean honestly...have you looked at the roster?
While the Cavs have "decent" talent at point guard (Kyrie Irving, Ramon Sessions and Boobie Gibson), power forward (Antawn Jamison and Tristan Thompson) and center (Anderson Varejao), the wing positions might be the worst in the NBA.
The wing positions (shooting guard and small forward) are the home to many of the star players in the NBA: LeBron James, Kevin Durant, Kobe Bryant, Dwayne Wade, etc. They are the positions that most teams rely on to carry the scoring load.
The current players the Cavs have slotted to start are Anthony Parker and Omri Casspi. Their back-ups will include Gibson at times, Alonzo Gee, Christian Eyenga and Manny Harris.
[Pausing for thought trying to come up with something...anything to say next. Honestly it's pretty difficult. This is actually a pro basketball team. Wow.]
Parker is a nice player though he probably can't beat his sister in one-on-one. I know the Cavs like his leadership, but I really don't understand the point of having an older veteran guy like Parker on the roster to take minutes away from younger guys.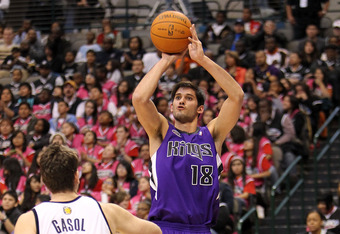 Ronald Martinez/Getty Images
Oh yeah, that's right. There aren't any younger guys worth taking minutes from. My bad.
I think I like Omri Casspi. He was pretty productive on my fantasy team a couple of years ago. He can stretch the floor and brings a unique skill set to the table that the Cavs didn't have last year. (Don't I sound like a coach with that last sentence?)
But don't confuse Casspi with an All-Star caliber player. Where would he rank among the starting small forwards in the NBA? I'm too lazy right now to do the work to find out but I'd say probably not in the top half.
I'm very excited to see him play, but I'm not holding my breath that he's taking this team to new limits.
So with the back-ups we then have a combo-guard who really just shoots threes, an undrafted second-year guy who somehow showed up at training camp with a burn on his foot, an athletic freak from the Congo who magically grew two inches this summer and Alonzo Gee.
Boobie Gibson is my favorite Cavalier player. (That is until I see Irving play then he'll probably take my heart. Also Boobie blocked me on Twitter for unfollowing him during the lockout. I'm not bitter.) The thing that I love about Gibson is how tough he plays for his size and with his skill set.
If Ramon Sessions gave half the effort Boobie does on defense he'd be a starting point guard in the league (and maybe if he had any semblance of a jump shot).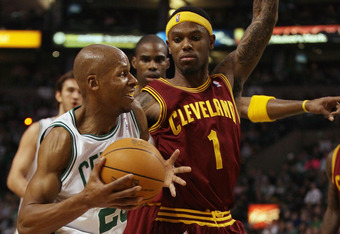 Elsa/Getty Images
Boobie plays hard, is a fantastic shooter, and makes the team better. The site 82games.com had him rated as the third best player on the Cavs last season (not that that says a lot).
Once again, nice player, not settin' the world on fire.
I like Manny Harris but there's a reason he didn't get drafted. And I've never heard of anyone ever burning their foot. Was he walking across hot coals or something?
Christian Eyenga might turn out to be an amazing basketball player. But does anyone really know? The success rate for these kind of raw foreign guys can't be very good. I'm excited to see how he's improved, but my expectations are not high.
And there's Alonzo Gee.
So as I look back and peruse this list I'm still left to wonder why the Cavs so desperately needed to free up that extra $8 million in cap space this season if they weren't planning on using it.
And the thing is that there are players out there available.
Nick Young. Arron Afflalo. OJ Mayo via trade. I just don't understand.
Do the Cavs have the worst wing players in the NBA?
I don't know.
But we have Alonzo Gee...which means we can't be far off.
You can follow Benjamin Flack on Twitter @ClevelandFlack