Phoenix Suns: Impressions from the Suns' Scrimmage at Grand Canyon University
December 15, 2011
Christian Petersen/Getty Images
The Phoenix Suns' scrimmage Wednesday at Grand Canyon University gave a slight taste as to what we may see heading into the shortened season. 
It's difficult to take a scrimmage seriously when it's meant to be a teaser trailer of sorts for the fans, trying to generate buzz around the team. It's also hard to gauge how what happened on the court will translate to the regular season given the fact that players are trying to avoid injuries before the season, and scrubs are playing harder for a chance to possibly make the roster. Nonetheless, I'd like to hand out my impressions of the exhibition.
First of all, I would like to point out that Cedric Ceballos was back with the Suns fulfilling his duties as MC for the fans. Ceballos was hospitalized in November after suffering what his publicist called "a series of small heart attacks," according to ESPN. It was great to see Ced back interacting with the fans and being an integral part of the game atmosphere.
The rosters for the game were split as follows:
Team Black: Steve Nash, Marcin Gortat, Channing Frye, Jared Dudley, Josh Childress, Marcus Landry and Ronnie Price (who replaced Zabian Dowdell on the roster—it was reported by the Arizona Republic's Paul Coro that Dowdell was released Tuesday morning due to knee pain that kept him out of training camp).
Team White: Sebastian Telfair, Shannon Brown, Hakim Warrick, Grant Hill, Robin Lopez, Garret Siler, Dwight Buycks, Jeremy Hazell and the Suns' first-round draft pick Markieff Morris (who didn't play).
I was truly disappointed that Morris did not play in the scrimmage. Being one of the biggest critics of the Suns' drafting him instead of his brother Marcus Morris, I was curious to see how Morris would play. I suppose fans will find out once the season starts.
Anyhow, regardless of Morris not hitting the court, it certainly appeared that Team Black had the upper hand in the scrimmage, with two-time MVP Steve Nash and his pick-and-roll partner Marcin Gortat. However, the game turned out to be more or less even between the two teams.
Solid play from Nash, Gortat and Dudley got Team Black off to a fast start in the first quarter, but the lead was squandered in a close battle. (The scrimmage consisted of 10-minute quarters instead of the usual 12 minutes.) Team Black led at halftime 37-33 and won the game by a final score of 68-61.
At one point in the first quarter, Shannon Brown attempted a lackadaisical jump shot, which was promptly stripped away by Dudley for a turnover.
In addition, Brown got off to a fast break, and the collective "ohhhHHHHHH" of anticipation from the fans was met with disappointment when Brown missed an uncontested dunk attempt.
Despite these two mental lapses, Brown played solidly and showed fans that he can create his own shot off the dribble and knock down lengthy jumpers with consistency.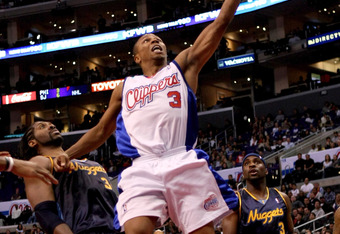 Stephen Dunn/Getty Images
Sebastian Telfair certainly did not impress me with his play. Drafted out of Abraham Lincoln High School in Brooklyn (which my dad remembers calling "Stinkin' Lincoln" when he grew up there), Telfair was a highly touted prospect that many believed to be the next star point guard to come to the NBA.
Obviously the hype hasn't panned out for Telfair. His career stats after seven NBA seasons with five separate teams: 7.8 PPG, 3.8 APG and 1.6 RPG, while averaging just 39 percent field-goal shooting, 31.4 percent three-point shooting and 73 percent shooting from the free-throw line.
In the scrimmage, Telfair threw two lazy passes that were picked off rather easily for steals by Nash (who Suns fans could agree is not the best defender out there). Known for his impressive ball-handling skills and flashy passes, I was disappointed to see none of that during the scrimmage, which does not come as a good sign.
Going into the "what I learned" column is that Josh Childress should NOT shoot three-pointers. He missed at least seven attempts from behind the arc before finally knocking one down.
Childress will likely see more playing time this season in order to rest veteran Grant Hill and to replace Mickael Pietrus, who was traded to the Toronto Raptors for a draft pick. Although the trade got postponed because of swelling in Pietrus' knee, the Suns are still expected to move Pietrus even if the Raptors deal does not go through.
Anyway, Childress will be far more effective in helping this Suns team if he slashes to the basket more often to create opportunities for himself and for his teammates.
In my opinion, Childress plays far better around the basket, and by driving the lane he creates open shots for more competent three-point shooters such as Jared Dudley and Channing Frye.
Watching Childress hoist up numerous bricks was just as frustrating as watching a fan miss all of his free-throw attempts in a contest for free tickets during a timeout, which is definitely not a good sign. Let's hope he was just having an off night.
Again, it's difficult to surmise meaningful impressions from a scrimmage, but nonetheless it did manage to show some negatives and positives. Most (if not all) of the players seemed fresh and relaxed. Nash is of course in great shape and ready to lead the offense. Hopefully some of his court savvy will rub off on Telfair over the course of the season.
It will be interesting to see what the Suns rotation looks like entering the season, but I would guess that the starting lineup will be Nash, Brown, Hill, Warrick and Gortat (with Dudley and Frye as the key contributors off the bench).  
In my opinion, Dudley offers too much leadership and skill off the bench to stack the starting lineup by slotting him as the starting shooting guard.  Even though it appears to be his job to lose at this point, I would like him better in a 6th man role, still getting the bulk of the minutes.
The Suns' season will tip off Monday, Dec. 26, at US Airways Center against the now Chris Paul-less New Orleans Hornets.