MLB Free Agents 2012: Michael Cuddyer Is Now Ideal Target for Cleveland Indians
December 14, 2011
The 2011 baseball "hot stove" is about to boil over. As the Cleveland Indians weigh their potential trade/free-agent options against limited financial resources, the market just got thinner with Josh Willingham signing in Minnesota.
After acquiring veteran Derek Lowe to shore up the back end of their starting rotation and re-signing oft-injured Grady Sizemore to return in center field, the team has yet to fulfill their biggest offensive need. Whether GM Chris Antonetti wants to admit it or not, the Tribe need a right-handed bat with some pop. You simply cannot field a starting nine with six lefties.
The left-handed-heavy Indians lineup, which has struggled historically against left-handed pitching, will continue to get eaten alive by opposing bullpens if another right-handed stick isn't added to help balance the order.
With the outfield again set to consist of Sizemore in center, Michael Brantley in left and Shin-Soo Choo in right, the ongoing question remains how the front office will upgrade Cleveland's inconsistent offense. The organization has made it no secret that they support Matt LaPorta, but that he will have to win a job just to make the roster out of spring training.
The Tribe are toying with the idea of making catcher Carlos Santana a first baseman, but his hitting value is behind the dish. Backup catcher Lou Marson, while great defensively, leaves a lot to be desired for a team looking for more offense.
On the other corner of the infield, highly touted rookie Lonnie Chisenhall will presumably battle for the starting job at third with veteran Jack Hannahan and utility man Jason Donald. All three provide valuable qualities for the Tribe at third, as Chisenhall has great offensive potential, Hannahan is a defensive wizard, and Donald is a grinder who showed resurgence at the end of 2011. Chisenhall is bound to take his lumps over the course of an entire season, however, and neither of the other two are proven full-time players.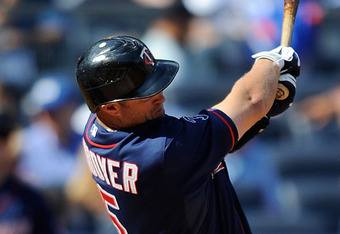 Patrick McDermott/Getty Images
With Sizemore's lingering injuries woes, LaPorta's undetermined future and a potential revolving door at third, just who can help the Tribe overtake Detroit in 2012? Look no further than the Minnesota Twins' Michael Cuddyer.
A 32-year-old free agent, Cuddyer is one of the most versatile players in the game, having played all three outfield spots and each infield spot excluding short. Although he has seen the majority of playing time at first and right in recent years, Cuddyer has also played extensively at third, and even started 17 games at second last year.
Cuddyer is exactly the type of player that Tribe management loves. Most importantly, he would serve as the valuable right-handed bat Cleveland is supposedly coveting.
In the wake of the Sizemore signing, it's almost glaringly obvious that the Tribe should spend whatever they must to acquire a player like Cuddyer. The possible advantages of having a guy like this on the team in 2012 are countless. If Sizemore gets injured again, Michael Brantley can shift to center, and Cuddyer could be slotted in left. If Chisenhall struggles early, he can be sent down to develop more in AAA, Cuddyer can fill in at third and manager Manny Acta could maximize the true value of Hannahan and Donald as solid bench players.
Lastly, the acquisition of Cuddyer would likely grant him the first base job, and provide the lineup with an established veteran who can hit for decent power, average and drive in runs. If Sizemore, Brantley or LaPorta succumb to either injury or ineffectiveness, Zeke Carrera and Shelley Duncan won't be leading the team to the playoffs. The Indians need a viable replacement who can fill multiple potential voids.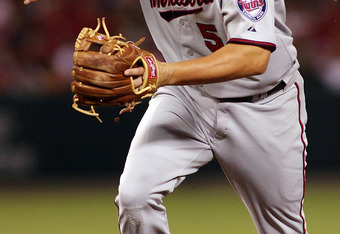 Jeff Golden/Getty Images
A lineup of Brantley, Cabrera, Choo, Santana, Hafner, Cuddyer, Sizemore, Kipnis and Chisenhall would provide nice balance from both sides of the plate, and contains good power and speed. A look at Cuddyer's numbers since he became a full-time starter show a model of consistency. Excluding an injury-plagued 2008 season, Cuddyer has averaged 21 HR, 87 RBI, 89 R, a .278 BA and a .344 OBP since 2006. Although he's not a major threat to steal, his 52 career stolen bases in 68 attempts show that he's smart on the basepaths too.
The Cleveland front office recently postponed contract extensions for their young talent after tendering the contracts of all seven currently arbitration-eligible players. According to Indians beat reporter Jordan Bastian, the team will owe around $60 million in guaranteed and arbitration contracts in 2012. With the team payroll set to increase to around $70-75 million, there's no reason why management shouldn't or couldn't offer Cuddyer the three-year/$36 million deal he wants.
With the Twins likely out of the running after signing Willingham, the Indians need to match the Rockies' offer and show both Cuddyer and their fans that they're serious about winning in 2012.
Core offensive stars Shin-Soo Choo and Asdrubal Cabrera can both become free agents after the 2013 season. That management has claimed (h/t News Herald) the team has a two-year window to win the World Series, however, shows that it could be preparing for life without either or both after 2013. If this is indeed management's mentality, then it can't fret about potentially overpaying for invaluable veterans when the time to win is right now.