Chicago Bulls: 3 Finishing Touches They Must Make to Win 2012 NBA Championship
December 14, 2011
Streeter Lecka/Getty Images
It is being widely reported on various media outlets that Richard "Rip" Hamilton will sign a contract with the Chicago Bulls almost immediately when he is first permitted to sign a contract with any team under the new CBA rules.
The addition of this former champion will be the Bulls' first real move in the offseason.
Sure, the Chicago front office has asked around about trades, talked with free agents and maybe even made a contract offer or two; however, the only fish we have landed is a red snapper. The problem with this red snapper is that he, like the fish, is best smoked. 
Brian Scalabrine is the world's biggest victory cigar and only plays when the game is a 25-point sure-thing blowout.
Hamilton, on the other hand, will play a lot and will fill the starting shooting guard spot. Though he is not the slam-dunk All-Star upgrade over Keith Bogans that Bulls fans dreamed of, he is a vast upgrade on the offensive end and maybe only a slight downgrade on the defensive end.
Rip will help spread the floor for Derrick Rose, work magic off of screen plays and adds another capable scorer to the Bulls' starting lineup. Hamilton's signing will be a good step towards the final assembly of a true championship favorite.
However, there is still much more left for management to do.
The Bulls still have two voids to fill. First, the loss of old-faithful, Kurt Thomas. Second, the need for a bench scorer (missing since Ben Gordon's departure).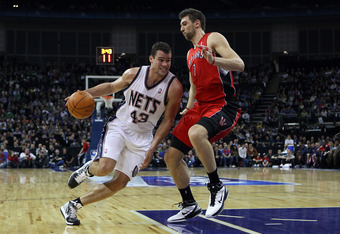 Julian Finney/Getty Images
Big Sexy's veteran savvy and offensive game will be sadly missed. Thomas was the Bulls' only center with the ability to spread the floor offensively and hit a mid-range jumper. Chicago will need to replace him soon.
The three candidates that come to mind are Kris Humphries, Joel Przybilla and Troy Murphy. Humphries is the most athletic of the bunch and the youngest, Przybilla represents the biggest and is a true center and Murphy is the best outside shooter.
Przybilla makes the most sense if Chicago is trying to replace the size, but if they are looking for scoring and up-tempo production then I think they should go after Kris Humphries because of his ability to run and gun with the second team unit.
If the New York Nets are able to trade for Dwight Howard and Humhpries is not moved as part of that deal through a sign-and-trade, then the Nets will have no money and will have to renounce his rights. That is where the Bulls should slip in.
Humphries is only 26 years old and could provide the Bulls with depth at the power forward spot offensively, as an undersized center if necessary, due to his motor, and as a small forward if an opponent is throwing a big lineup at Chicago and the Bulls want to run with Deng at the shooting guard spot...
Regardless of which of the above three bigs the Bulls do sign, filling that fifth big spot in the rotation is an important hole Chicago needs to fill. It is one decision that management needs to put extra consideration into when remembering how big of a role Big Sexy played during the Noah and Boozer injuries.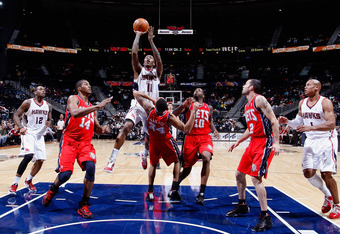 Kevin C. Cox/Getty Images
Second, with the starting shooting guard spot filled and the fifth big vacancy addressed, what the final element management needs to focus on is to find a bench scorer.
Last year, the bench mob dominated opponents defensively, and therefore was able to outscore their opponents when on the court.
While this is a good game plan for a Bulls victory, the bench needs a scorer capable of putting up points in bunches. An offensive explosion from the bench adds to the tempo of the game, takes pressure of the starters scoring load and keeps offensive pressure on the opponents second string defense.
Management could attempt to fill this bench-scoring void via free agency or through a trade. However, there aren't that many free agent targets available to fill this role, as many have signed elsewhere. Potential  targets that remain include Chris Douglas-Roberts, Nick Young, Arron Afflalo and Josh Howard.
Anything with Young or Afflalo is very unlikely, because Chicago doesn't have the cap room to outbid their current teams and those teams will probably not be willing to trade those players.
Chicago could also wait for JR Smith to return from China and try to sign him at a discount due to his injury while playing overseas.
Actually, the best-case scenario is for the Bulls to land Jamal Crawford. He is a free agent so the Bulls could sign him if he were willing to take the MLE.
If not (which is the more likely situation), then the Bulls could send Ronnie Brewer and Keith Bogans to Atlanta for Jamal Crawford in a sign-and-trade which would pay him $7M-$8M per year. Atlanta could then cut Bogans for the salary cap savings and would have Brewer as an expiring contact trade bait sometime next year.
It's being reported by ESPN that the Knicks and Pacers are in discussions with Atlanta about trading for Crawford, but nothing has come to fruition.
The Bulls should make a hard push on that news alone, if only to prevent division rival Indiana and conference rival New York from getting Crawford and becoming a better offensive team.
Crawford would be the ideal sixth man for Chicago with his ability to score, spread the floor, create his own shit and handle the ball.
Should Crawford end up elsewhere, an addition of Young or Afflalo would be outstanding (preferred over a Crawford addition in any situation because Rip could be the sixth man no matter how unlikely).
However, it is more likely that the Bulls will sign a player like Josh Howard or are able to trade Bogans to Milwaukee in a sign-and-trade for Douglas-Roberts so that Milwaukee can benefit from the cap savings of cutting Bogans.
Regardless of who or how Chicago brings in another scorer to add some offensive firepower to the bench, Bulls management needs to make sure that they do something. Simply signing Hamilton and relying on Watson, Brewer, Korver and Gibson for bench scoring output will not be enough.
Chicago needs an offensive spark off the pine. Chicago needs Jamal Crawford.
If the Bulls make the moves suggested above, then Chicago would have a very well-rounded team (maybe the strongest 1-12 in the league) to challenge this year's NBA Championship:
PG: Rose and Watson
SG: Hamilton, Crawford and Korver
SF: Deng, Butler and Korver
PF: Boozer, Gibson and Humphries
C: Noah and Asik (and Przybilla if Humphries is not signed)
Completing the three aforementioned moves to (1) sign Rip Hamilton as starting shooting guard, (2) sign Kris Humphries as the fifth big and a bench scorer and (3) trade for Jamal Crawford as the scoring sixth man would propel Chicago into the ranks of the NBA's elite.
The Bulls' roster would represent an absolute complete team from top to bottom, would not have any glaring holes like last year and would have three new offensive tools to help the Bulls put points on the board when Rose, Deng and Boozer are not getting it done offensively.
These moves would make Chicago both an offensive and defensive threat. Simply put, it would make Chicago a true title favorite.