Boston Bruins: No Chara? No TT? No Problem. Bruins Blank Kings, Show Depth
December 14, 2011
Elsa/Getty Images
The Injury bug started to make a visit to the B's, but it seemed that it wasn't that serious.  A mild bug if you will.
Big Z
Captain and defensive Juggernaut Zdeno Chara is out on a day-to-day basis after getting his knee awkwardly buckled on an incidental collision with Columbus Blue Jackets, Antoine Vermette.
The diagnosis is that there doesn't seem to be any damage and Chara stated it was better than expected, but wanted to take precautions.
This from the Boston Globe:
"Nobody wants to miss games. It's something I take a lot of pride in and any time I can play, I'll play. Through injuries or sickness or whatever it is, but you also have to be smart because you don't want to do something that will cause serious problems or things that can hurt you in the future.''
Soupy
Top checking defense man, Greg Campbell, is out with a fractured foot from the same game after taking a shot off it on Saturday.  When last seen, he was wearing a walking boot.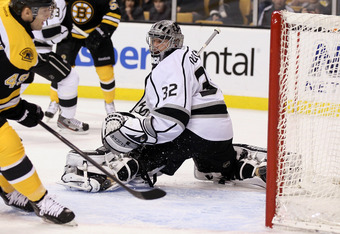 Elsa/Getty Images
Paille is Back
Daniel Paille was out since Thursday with Concussion-like symptoms, but felt good over the weekend and was able to play.  He played a TOI of 11:30.
Marshy Fired Up, Pevs got the GWG
After being fined $2,500 for a slew foot on Penguins defense man Matt Niskanen, Brad Marchand had to use this to his advantage to step up and get back into what he does best: agitate and score.
Marchand tallied two goals on the night to get him into the double digits for scoring after earning his 10th and 11th goals of the season.
His first was off Patrice Bergeron's face off win and he waste no time to fire it in traffic.
His second of the game was a hook and drag move in front of King's goalie Jonathan Quick and Marchand then backhanded it over Quick's left side.
Rich Peverley notched the game-winner on great cycling between Peverley, Zach Hamill and Benoit Pouliot.  Hamill passed the puck cross ice and Peverley tipped it past Jonathan Quick on a virtually open left side.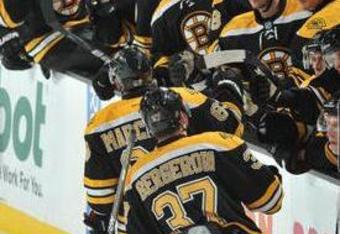 Rask Takes To The Pipes
Backup net inder, Tuukka Rask, is playing very well despite the poor start largely due to the lack of scoring support.
So far, Rask has a GAA of 1.82 and a save percentage of .939.  Although he has only started in 10 games, the fact that he had a very poor start makes this point very impressive.
He improved his game with his first shutout of the season and his ninth of his career.  Not bad for a 24 year-old.  So far, he has not been scored on in four periods (he played the final period in the Columbus game and stopped all 11 shots).
Should starting goalie, Tim Thomas decide to hang it up, it's looking to me that Rask will be the future of the Spoked B between the pipes.
The Bruins took their second win in as many games after losing as any in the recent week.
Time to Show Depth
With the win over the Kings, the Bruins are going to have to prove they have depth as they face a healthier Ottawa Senators in their second game in as many nights.  That and they have to travel, but the trip is about 312 miles to get to Canada's capital city so there's a bright side to a not so bright situation.
Daniel Alfredsson is now back in the line up and has earned four points in his last five played albeit, three of those games, he was held off the score sheet.
The good thing about the game against the Kings was that all the defense men playing were able to spread out the minutes save for Dennis Seidenburg who played the monster share with 27:05 TOI.
Andrew Ference and Johnny Boychuk put on major minutes as well with 24:42 and 22:38 respectively.
At any rate, the next game will be Ottawa's chance to avenge their 5-3 loss over the B's when they were the first of 10 games that the Bruins opened the flood gates of wins and goals to make it a November to remember.
This is Cory Ducey saying "Hit Hard, But Keep It Clean."