Gus Malzahn Reportedly Leaves Auburn for Arkansas State
December 14, 2011
The loss of Gus Malzahn was a foregone conclusion, but that hardly makes his departure any easier for Auburn fans to stomach. 
One of the best assistant coaches in the business was going to be ripped from the Tigers sidelines at some point. It seems as though that time is now as reports are coming in that he will be the next head coach of the Arkansas State Red Wolves. 
James Bryant of AStateNation tweeted the news on Tuesday evening.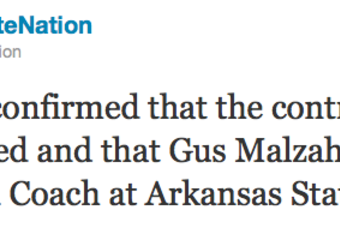 KATV News in Arkansas stated that the 2010 Broyles Award winner is currently making $1.3 million annually at Auburn. One would have assumed that the Red Wolves' contract would be significantly north of that figure. 
Malzahn is a native of the state, but is in high demand as one of the most coveted offensive minds in the game, and was courted heavily last year by Vanderbilt and Maryland. As it seems, he will be taking a hit to the wallet by getting a team of his own. 
The Birmingham News reports the deal with Arkansas State is for $850,000 a year. It seems that it is worth coaching closer to his home and having the reigns of his own team. 
There is no word yet as to whether Malzahn will travel to help coach the team as Auburn plays in the Chick-fil-A Bowl game against Virginia on New Year's Eve.
While Auburn has taken a hit on offense, you have to consider the turnover of seasoned starters on that side of the ball where the team suffered.
Malzahn is still considered one of the most prolific minds without a team of his own, and now Arkansas State has him. There is much to celebrate when you are a Red Wolves supporter. For once, Auburn has lost out to a smaller program.