NFL Week 15 Picks: Oakland Raiders and Teams Whose Playoff Dreams Will Disappear
December 13, 2011
Jonathan Daniel/Getty Images
The Oakland Raiders are running out of time to take hold of the AFC West. The surging Broncos have forced them into second place in the division and as their two-game skid turns to three, the postseason will be nothing more than a mirage.
The Raiders went all in this season and orchestrated a blockbuster trade to bring in Carson Palmer in an effort to win now.
Unfortunately, they take on a Lions squad this week who'll dominate them in every phase of the game. The Raiders have allowed 80 points in their last two games. With Ndamukong Suh returning this week, the ferocious Lions defense is going to be too much to handle for the Silver and Black.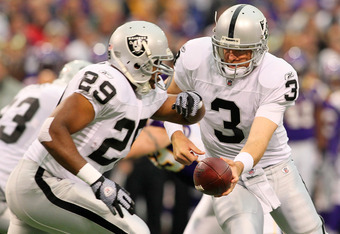 Adam Bettcher/Getty Images
While Michael Bush is a decent second back, the team is not the same without Darren McFadden. The Raiders have to go into Arrowhead next week and then they take on the Chargers in Week 17.
The Raiders will likely remain one game out of first, but with a limited amount of chances to make a move, this is going to be another disappointing week for the reeling Raiders.
Here are two teams that will join them in their misery.
Matchup: Seattle Seahawks
It's crazy to think that the Bears are in this position, but the injury bug was unkind to Chicago to close out this season. They had a playoff berth in the bag, but injuries to Matt Forte and Jay Cutler have made them a wild-card long shot.
They got Tebowed last week and will fall victim to Marshawn Lynch's "Beast Mode" this week. Lynch has over 100 yards in four of his last five games and not surprisingly, the Seahawks are 4-1 in that span.
The Bears have one of the most unfortunate stories of the 2011 season and after this week, people will no longer wonder whether the Bears can get by and sneak into the playoffs without their top two offensive players.
Matchup: New York Jets
Until the Eagles are mathematically eliminated from the playoffs, there will be this notion that they are going to pull off the impossible, win out and earn a miracle playoff berth.
This will be the week that removes all doubt. They take on the Jets and if and when they lose, their nine losses will boot them out of the playoff picture entirely.
The Jets may only have two wins on the road, but the Eagles have only won once at home. The Eagles show flashes of the team we thought they were at the beginning of the season, but with the Jets realistically in position to secure a playoff berth, they aren't going to let the dejected Eagles steal away a victory.