Is Dwight Howard the Best Orlando Magic Player Ever?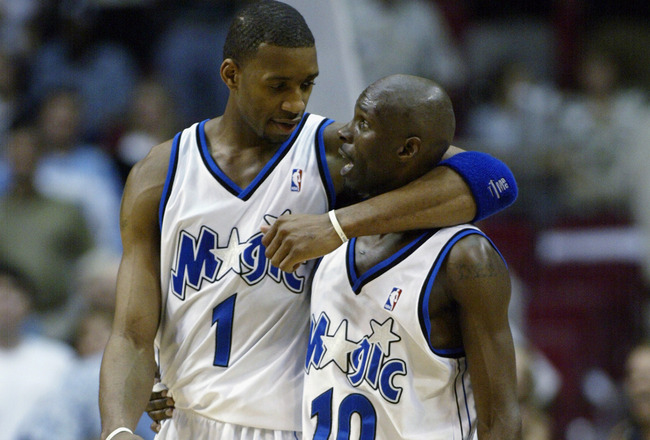 Andy Lyons/Getty Images
As Orlando Magic fans contemplate the end of the Dwight Howard era, I would like to reflect back through Magic History and look at the most productive magic players of all time.
The statistics are based on the player's production as a Magic player. Total Points, assists, rebounds blocks and steals were considered. Percentages were not taken into account.
I apologize in advance to the Michael Ansley fans who will not be rewarded for his offensive rebounding percentages.
10. Scott Skiles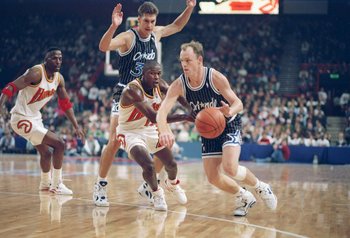 Michael Cooper/Getty Images
The Magic all-time assist leader only played for the Magic for five seasons. In that short time, he compiled a total of 2,776 assists.
Scott Skiles racked up 30 assists in Orlando's 155-116 victory over the Denver Nuggets, breaking the previous NBA single-game assists record of 29.
He still holds that crown to this day.
9. Jameer Nelson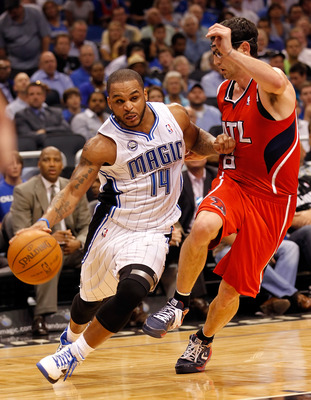 J. Meric/Getty Images
Jameer Nelson has filled in somewhat sufficiently during his career with the Magic, thanks to playing alongside the most dominant center of his time.
He's never averaged more than six assists per game. Considering that he feeds three to four alley-oops to Dwight Howard per game, that doesn't say much about his ability to get the rest of the team involved.
If Howard is dealt, I expect this total to decline.
8. Bo Outlaw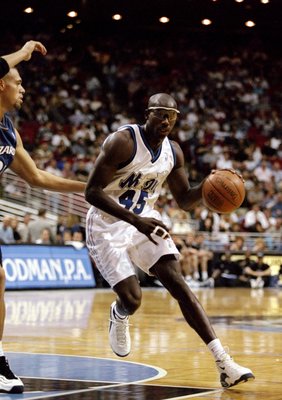 Andy Lyons/Getty Images
Bo Outlaw exemplifies the "Heart and Hustle" years of the Orlando Magic. He loves the Magic organization and continues to do charity work for them today.
He's landed on this list because he has compiled the third most blocks and the fifth most rebounds in Magic history.
7. Horace Grant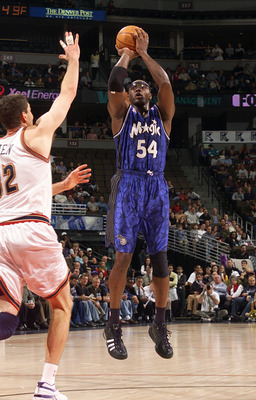 Brian Bahr/Getty Images
Horace Grant had his best years in Chicago, but he clearly wanted to play with Shaq. Shaq was frequently double teamed which benefited the goggled one.
Horace amassed 3,353 rebounds, 879 assists, 415 blocks and 426 steals for the Magic men. He did his part in bringing the Magic to the 1995 finals.
6. Darrell Armstrong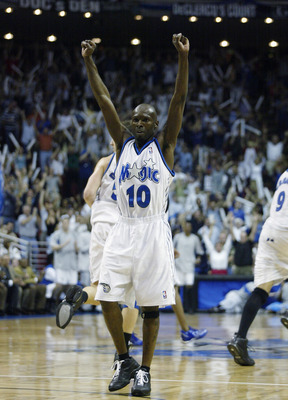 Andy Lyons/Getty Images
Darrell Armstrong signed on as an undrafted free agent with the Magic in 1995 and won the most improved player in 1999.
He compiled a 16-point, six-assist season in '99 and a 16-point seven-assist campaign in '00. He makes this list as second overall in Magic assists, eighth in points and second in steals.
He did pretty well for being the working man's walk-on player.
5. Shaquille O'Neal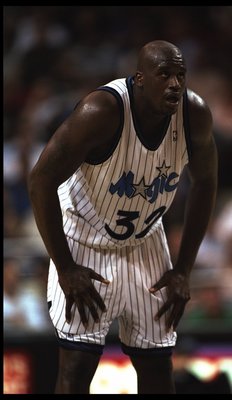 Getty Images/Getty Images
There is not much to be said about Kazaam that hasn't been said before. Had Orlando not been the "dried up pond" that it was, imagine the possibilities.
In only four years with the Magic, he is still fourth in points, second in rebounds and second in blocks.
4. Penny Hardaway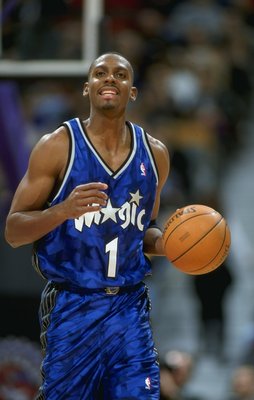 Robert Laberge/Getty Images
Penny Hardaway literally earned himself a spot on the Magic roster.
Chris Webber was the Magic's natural No. 1 pick in the 1993 NBA Draft to play alongside Shaq, until Penny made a last minute flight to Orlando to work out for them.
It worked out well for both the Magic and Penny, and the move nearly won them a title.
Penny still ranks fifth in points, third in assists and third in steals.
Lil' Penny was fun, too.
3. Tracy McGrady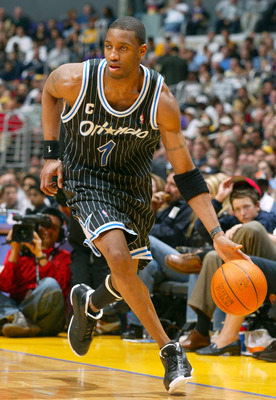 Lisa Blumenfeld/Getty Images
Me-Mac was many times a one-man show.
His hands were clearly tied with a large portion of the Magic's salary cap used on Grant Hill.
He doesn't get enough respect for keeping the Magic a respectable competitor during his time there.
In only four seasons, he has managed to be the team's fourth-leading scorer, sixth in total rebounds and seventh in total assists.
2. Dwight Howard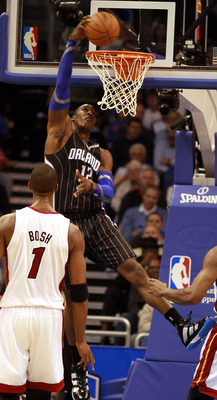 Marc Serota/Getty Images
The 6'10" Superman II has had the benefit of a center poor league and may have been better suited as a power forward in years past.
Being a beneficiary of the times he plays in, he is the most athletic and dominant big men today.
He leads the team in rebounds, blocks, and is second in scoring.
His imminent trade leads me to believe that this is where he will stay on this list.
1. Nick Anderson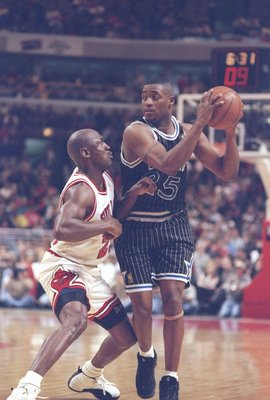 Jonathan Daniel/Getty Images
Nick Anderson was the Magic's first draft pick of all time.
The Magic naturally struggled as an expansion team, but Nick excelled during his years there.
He may be nationally known as the player who missed four consecutive free throws in the 1994-95 finals to lose Game 1 to the Houston Rockets.
However, in Orlando, he will always be a player who stuck it through the bad years as well as the good.
He is the Magic's leading scorer, steals leader, fifth in blocks and fifth in assists.
Keep Reading

Orlando Magic: Like this team?