Tim Tebow Makes a Believer out of Elway, Fox After Latest Mile High Miracle
December 12, 2011
Doug Pensinger/Getty Images
John Elway has faced some serious heat in his first season as the Vice President of Football Operations. Many of his press conferences have included "clarifications" on his stances after public backlash.
The Tim Tebow faithful have been out to get the legendary, Hall of Fame quarterback with every critique and criticism despite the honesty and the basis in reality that Elway's assessments have come from. No matter, the Tebow believers have let Elway's "lack of faith" have it, as the wins and comebacks have piled up for what looks like a playoff-bound Denver Broncos team.
After Tebow's latest come-from-behind, overtime victory, Elway has come out and publicly endorsed Tim Tebow as the quarterback of the future for the Broncos.
In his weekly postgame radio show on Denver's 102.3 The Ticket, he had some encouraging words for his young, improving quarterback about his leadership, courage, confidence and improvement:
"Everyone believes that something good's going to happen," Elway said. "And, obviously, Tim's been the guy that's led that thinking. He's just such a strong believer. He's really got everyone else believing if you stay strong, stay positive, something good's going to happen."
Call Elway a "believer" in the unconventional, scrambling, wunderkind that is Tim Tebow.
The thing about Tim Tebow for the Denver Broncos right now is that he has the whole team behind him. His team believes in him as a winner and as a quarterback. All of the Broncos have elevated their game to a new level amidst Tebow's leadership and confidence. They have stepped up their play from mediocre under Kyle Orton in the first five weeks (1-4) of the NFL season to greatness.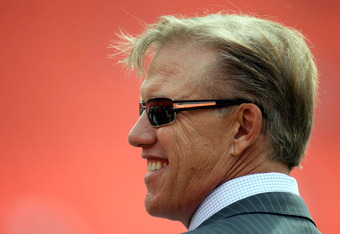 Marc Serota/Getty Images
Since becoming the starting quarterback in Denver, the Broncos have won seven out of eight games, three in overtime, and collectively have raised their play especially under pressure, late in games when it matters the most.
Tebow's stats have been anything but stellar, but time and time again, win after win, the Broncos players one-by-one come back to "believing."
Believing in each other.
Believing in Tim Tebow.
And believing in a greater power enabling them to do something that is unprecedented.
Do I believe God helps the Broncos win? I cannot explain how almost every single game that the Broncos play if they are within striking distance to win they routinely win. They have had interceptions, strip sacks, missed field goals, a player who goes out of bounds to stop the clock, so many "coincidences" over and over again.
It doesn't feel like a coincidence anymore.
Elway is acknowledging more and more the great impact that Tim Tebow has had on the Broncos as a team:  "If you look at just this season, and you look at the impact he had on just this season — not only athletically, of him running around and throwing the football — his presence has been just huge, (as well as) his confidence and his competitiveness."
The intangibles of Tebow, his presence, his confidence and his competitiveness have done wonders for the Broncos this season. Not only the intangibles in the physical, but also in non-physical.
Elway went on to say: "The transformation and the importance that he's had, by no means can you put a number on how important he's been to this team. I think he's rallied everybody around him."
The Broncos players are believers too.
Backup tailback Lance Ball told reporters: "I can't explain it, but somebody is on our side."
Head coach John Fox started off his postgame press conference thanking the good Lord. Fox also said: "I think we are rewriting the book on 'Keep fighting.' Our guys never blink. They believe."
John Fox has joined the fray of believers in the Broncos organization, who believe that no matter what happens they have a chance to win if it's close and there remain seconds on the clock.
Tebow reiterated: "We believe, and we believe in each other."