Chargers vs. Bills: 5 Things We Learned from San Diego's 37-10 Win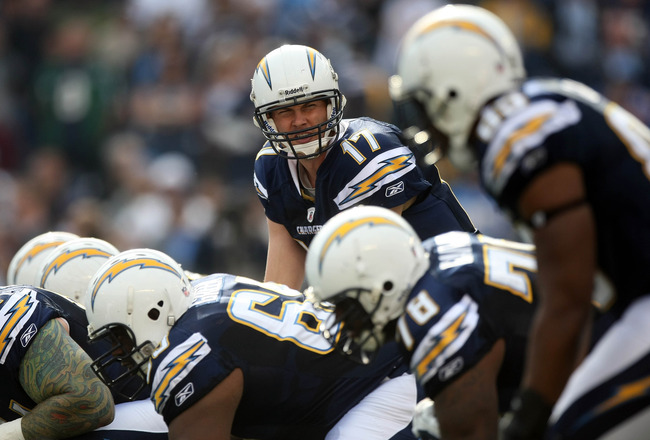 Donald Miralle/Getty Images
Are the Chargers back? It sure looks like it.
Good news: The season isn't over.
Bad news: Tim Tebow is trying very hard to end it.
As of now, the Chargers are two games behind the Broncos in the AFC West with only three games left. In order to make the playoffs, the Chargers need to win two of three, the Raiders need to lose one of three, and the Broncos need to lose two of three.
Never say never San Diego fans. It could happen.
On a positive note, here are five things that were learned from the Chargers' rout of the Bills.
Philip Rivers Loves December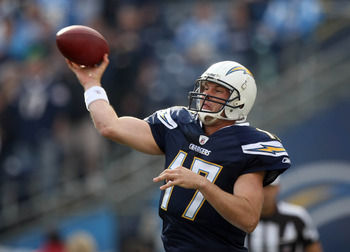 Donald Miralle/Getty Images
Philip Rivers' stats in the win against Jacksonville last Monday: 22-of-28 passing for 294 yards and three touchdowns.. He also had a passer rating of 146.1. It was by far his best game of the season.
That must mean we're in December.
Rivers started out hot in Sunday's game against the Bills. He completed his first nine passes, including a touchdown to Antonio Gates. Six different receivers caught passes in the first half. His performances in the last two weeks have left Chargers fans wondering where all this was during their six-game losing streak. Finally he was looking like the old Philip Rivers.
The second half came along, and we got a glimpse of this season's Rivers.
On 3rd-and-7, Rivers dropped back to about the 5-yard line. On his wind-up to throw the ball, he lost it. The ball was recovered by the Bills in the end zone, which made the score 16-10.
It wouldn't matter. One of the best things about Rivers is his passion. When he came back out after his mistake, he began firing. He had three straight completions to Vincent Jackson and a second touchdown pass to Antonio Gates to finish off the drive.
December is the time the Chargers are amazing, but is that it? Or is it the fact that Philip Rivers has all of his weapons healthy?
Either way, a win is a win. If San Diego can keep winning and somehow make the playoffs, Philip Rivers may be the hero of San Diego once again.
Norv Turner Is Play-Calling for His Job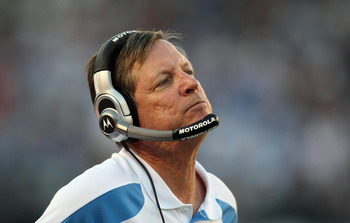 Donald Miralle/Getty Images
To start the second half, the Chargers had complete momentum. The score was 16-0. Everything was going San Diego's way.
It all changed.
With about five minutes into the half, the Bills narrowed the score to 16-10. San Diego got the ball back and were stopped on a three-and-out. They lined up in punt formation for fourth down but a direct snap to Eric Weddle led to a first down. A fake punt that extended the Chargers' drive that ultimately led to a touchdown.
A play Norv Turner would never call.
So why did he do it? Well, he doesn't have anything to lose. He's finally coaching the way he should. San Diego fans loved the call, but Norv, one play doesn't save a job.
Even Norv Turner wakes up in December.
Ryan Mathews Is Progressing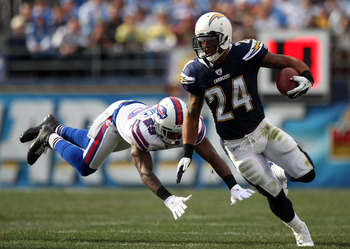 Donald Miralle/Getty Images
That's three straight 100-plus yard games by Ryan Mathews. Stats are stats. He looks good on paper, but he looks great in the game. He's exploding through open holes for big gains and is finishing runs with power. Now what he needs to work on is his second-level running.
That was what Union Tribune writer Kevin Acee tweeted after a big run by Mathews in the first half:
"Maybe R. Mathews will get better in 2nd level, but LT ('07 or earlier) woulda scored about 15 TDs this season on runs Mathews been tackled."
In my opinion, the No. 1 area that Mathews is getting better at is staying healthy. He's been 100 percent the last couple of games, and his production has gone up. Building up strength is key in the NFL.
If Ryan Mathews can continue to progress and stay healthy, the Chargers offense could look exactly like it did today for many seasons to come.
Healthy Receivers Make a Difference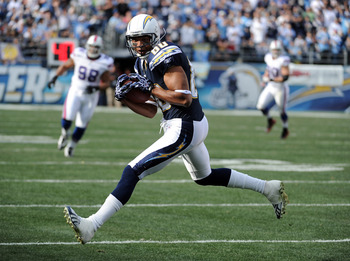 Harry How/Getty Images
San Diego finally has all of its weapons healthy. Philip Rivers made sure the ball was spread around to each one of them.
Malcom Floyd didn't really light up the stat sheet Sunday but he might be the missing part of the Chargers' offense. More attention that goes to him opens other receivers up. Having him on one side and Vincent Jackson on the other allows Antonio Gates, who had two touchdowns Sunday, to create space and make plays.
Vincent Jackson is an absolute stud.
Not only can he get open and elevate for the ball, but he's one of the only receivers in the NFL that can create momentum by himself. As I mentioned earlier, Jackson had three straight catches at one point in the game. That was the time the momentum went back to San Diego. He's just like Floyd. Even if he doesn't rack up stats, he still has a big effect on how the game plays out.
Antonio Gates caught his 75th touchdown of his career against the Bills. He's continued to create havoc to defenders in every game he's played in. Gates will surely be a Hall of Famer one day.
San Diego's Isn't Finished Yet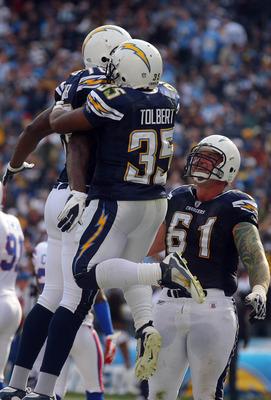 Donald Miralle/Getty Images
Ask Philip Rivers what his team's record is, and he'll tell you 6-7. As bad as that record is, the Chargers are not out of playoff contention yet, surprisingly.
The reason: They're 2-0 in the last two weeks.
As of now, the Chargers are just thinking about winning. They don't care what the scores are as long as they come out with a W.
The scary part: If the Chargers continue to roll the way they have the last two games and DO make the playoffs, they could be in great position.
San Diego can upset a lot of teams in the postseason.
Reality: Tim Tebow. Period. He may be the reason that the Chargers don't make the playoffs. Even if San Diego wins out, they still could come in second to the Broncos or Raiders. After their performance today, I don't see the Raiders doing much more this season.
The San Diego Chargers got their 400th franchise win Sunday. Their roller-coaster season continues next week when they take on the Baltimore Ravens. They'll finally face a legit team.
We'll see if the Chargers can continue winning and make a strong effort at making the playoffs.
Keep Reading

San Diego Chargers: Like this team?